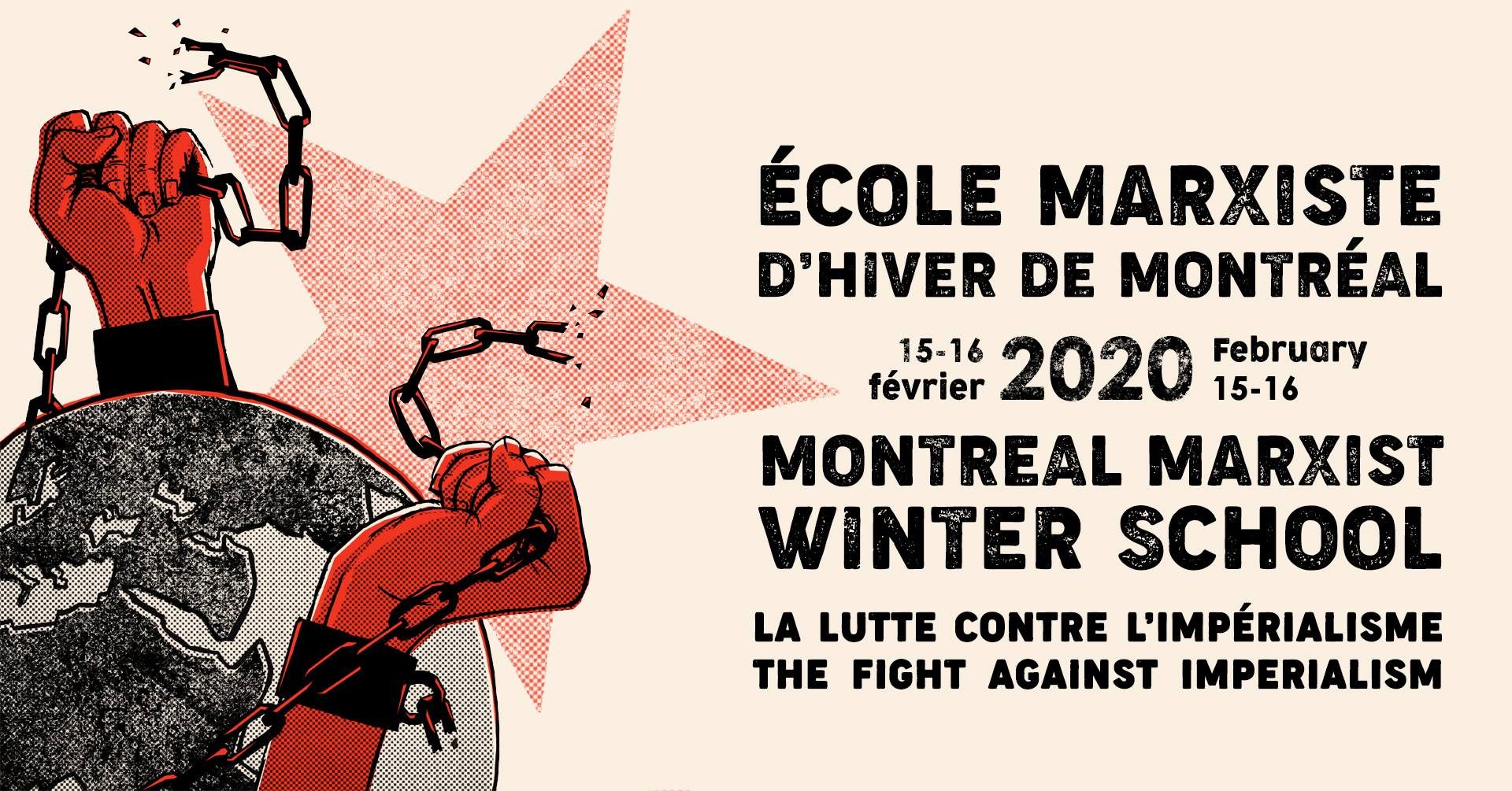 Join us for the 10th annual Montreal Marxist Winter School!
The theme for the 2020 school will be "The fight against imperialism." We have a great line up of presentations based on this theme with a series of international speakers we will be bringing into Montreal to lead these discussions.
The Marxist School has grown impressively over the past few years, becoming the biggest Marxist meeting in Canada with around 240 people participating at the 2019 school. We expect to continue this great tradition and attract hundreds of participants for 2020.
Register today!
15-16 February, 2020
Université de Montréal, Montreal
3200 Jean-Brillant Building
Agenda
Saturday, February 15th
8:00am : Credentials and a warm welcome
9:00am: Iran and the Conflict in the Middle East, presentation by Hamid Alizadeh
12:30pm: Lunch
1:30pm: two sessions (choose where you go)
The Colonial Revolution, by Erik Demeester
The Vietnam war: A Marxist analysis, by Tom Trottier
6:00pm: Dinner
7:00pm: Social at Saint-Houblon Bar (5414 Avenue Gatineau)
Sunday, February 16th
9:00am: two sessions (choose where you go)
Socialist solution to the Israel-Palestine conflict, by Joel Bergman
Marxism and the Indigenous Struggle in Canada, by Rob Lyon
12:30pm: Lunch
1:30pm: Revolution and counter-revolution in Latin America, by John Peterson
5:00pm: End
To reserve your spot, you can pay using major credit cards and Paypal below:
You may also register by sending an e-transfer to finance@marxist.ca with a clear note indicating what you are paying for, your full name and what city you are from. Alternatively, send a cheque made out to Fightback to: Fightback, Mailbox #184, UPS Store, 283 Danforth Ave, Toronto, ON M4K 1N2
Accommodation: For those who need a place to stay in Montreal, we recommend reserving a place at the HI-Montreal Hostel. The cost is approximately $25 per night. Note: We do not have reserved places here so the spots will be limited and you should book yours right away!
The hostel is located at: 1030 Rue Mackay, Montréal, QC, H3G 2H1.
To reserve: http://www.hihostels.ca/quebec/342/hi-montreal/index.hostel
If you cannot find space at the HI-Montreal Hostel, we recommend that you try booking here:https://aubergebishop.ca/
Travel: We have booked a charter bus which will be leaving Toronto for Montreal on Friday, Feb. 14th at 3:00 PM from Chester station and leaving Montreal back to Toronto on Monday, Feb. 17th at 11:00 AM. The cost of the return trip is $85, and you can book your space by paying the fee along with school fee above. Reserve asap if you wish to get a spot on the bus! For anyone who does not make it on the bus or cannot leave at that time, we will be organizing carpools which will be departing at various times.
For more information contact fightback@marxist.ca or 416 461-0304