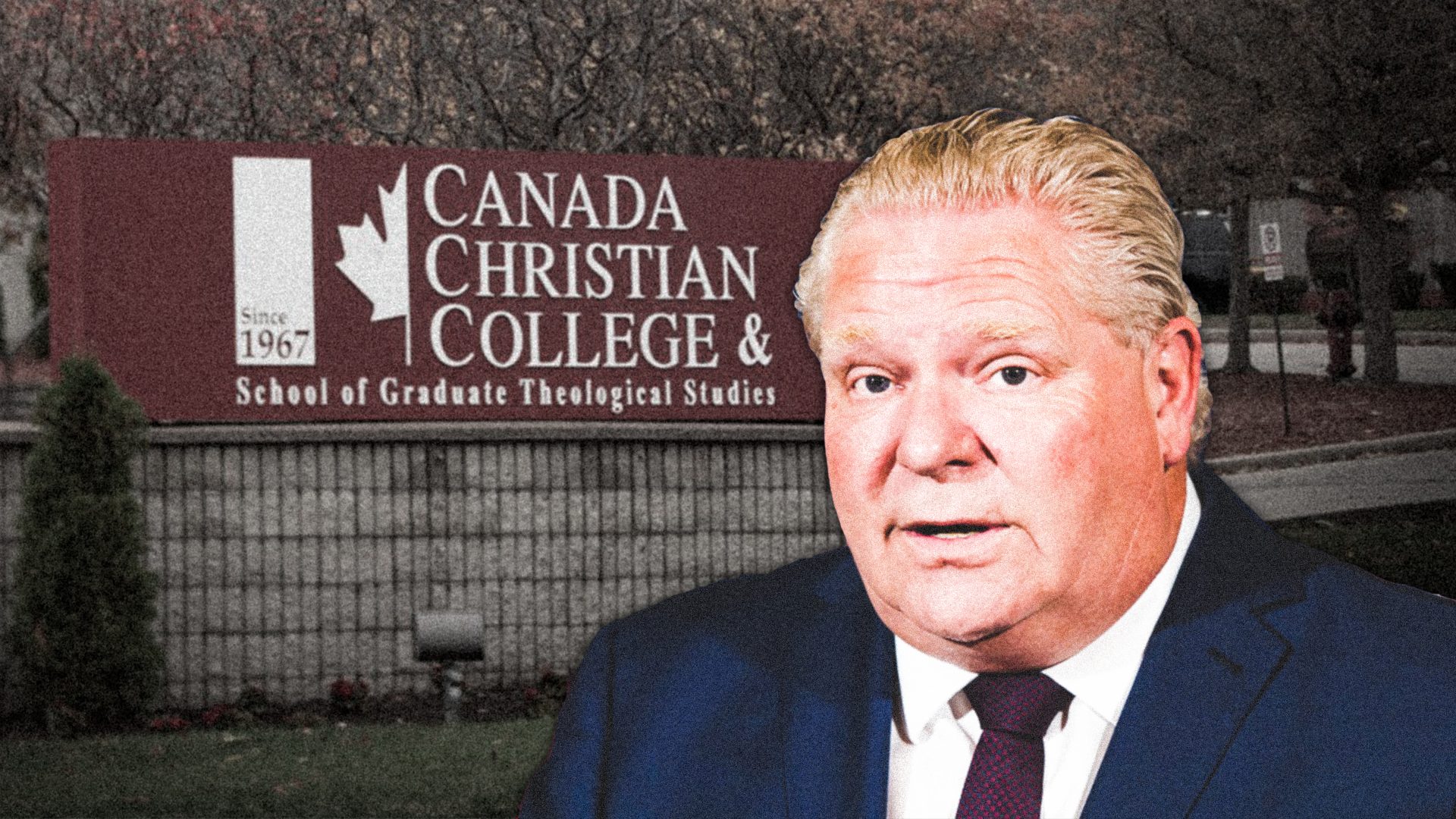 While COVID-19 ravaged Ontario's hospitals, schools and shelters, Premier Doug Ford found time to fast-track legislation giving his far-right homophobic and Islamophobic allies at the Canada Christian College full degree-granting powers.
On Nov. 24, City TV News reported the Ford government passed a motion to limit time debating legislation granting the evangelical Canada Christian College full powers to grant arts and science degrees.
Previously, the school—headed by arch-social conservative and Ford ally Charles McVety— could only grant degrees in religious studies, as per 1999 legislation.
The Toronto Star called Ford's move to expand the college's degree-granting powers a "gift." LGBTQ+ activists also rightfully condemned the move, citing McVety's long history of hateful statements and campaigns.
Most notably, McVety was yanked off the air by the Broadcasts Standards Council in 2010 for claiming a cabal of gay people are behind sexual education policies, owing to their "insatiable appetite for sex, especially with young people." He doubled down on this subsequently when his advocacy group, the Institute For Canadian Values, claimed a proposal to equalize Canada's age of consent law "makes it legal for adult men to engage in anal sex with children."
McVety also hosted Dutch far-right politician Geert Wilders at his college in 2011, and claimed Muslim people have a "mandate for a hostile takeover" and are waging "'demographic jihad." The college chair previously claimed that Haiti's 2010 earthquake was caused by "voodoo and witchcraft" and "Satan worshippers", which is not how earthquakes work.
In addition, McVety's school premises and resources are seemingly used to assist far-right San Antonio doomsday preacher John Hagee's television broadcasts and political efforts. Hagee is a notable promoter of theories that Hitler was a "hunter" sent by God to carry out the Holocaust, in accordance with Hagee's own "blood moon" prophecies.
Expanding the college's degree-granting powers could also provide McVety and his inner circle with a much larger pool of potential revenue.
The college and McVety have, however, already been accused of misusing the revenue brought in by the college—which is also a registered charity. McVety himself reportedly took out a $590,000 loan from the college for his own personal use, while thousands more were taken out by his son. Both account for much of the school's reported deficit. Photos also appear to show the college's charitable funds were used to purchase ATVs, luxury boats, cars and jet skis for use by McVety and his inner circle.
Payment for services rendered?
The college also provided space to Doug Ford's Progressive Conservative (PC) leadership campaign, after McVety vocally supported Ford at several campaign events.
As noted previously, Ford secured the leadership of the PCs in part by promising McVety's supporters, "We will make sure—I can guarantee you we'll make sure—the church has a voice. All the time." McVety has remarked since that he and the premier remain close.
Just last November, Ford was joined by Finance Minister Rod Phillips at McVety's 60th birthday party, where Ford called McVety his "friend" and applauded his "faithful service" at the Canada Christian College.
While McVety may be an occasional liability, the governing PC party caucus seems to understand it needs his base to hold onto power. Notably, despite past cases of Tory politicians marching in Pride to soften their images, not a single Tory MPP voted for a recent motion condemning McVety's hateful comments.
Not a penny for McVety!
While Ford's government cut grants for low-income students and wages for workers, it has leapt at the chance to lavish public money on McVety and his inner circle. McVety and people like him are a clear constituency Ford needs to maintain while he serves Bay Street.
This move is yet further proof that the reactionary nature of the Ford regime remains unchanged, despite a recent bout of liberal gushing from the Toronto Star. And the solid support Ford has maintained from the PC caucus is yet another reminder that there are no decent Tories.
Neither McVety nor the Canada Christian College should be trusted to administer anything. Their medieval views and corrupt organizations must be swept away, along with the Ford government itself.