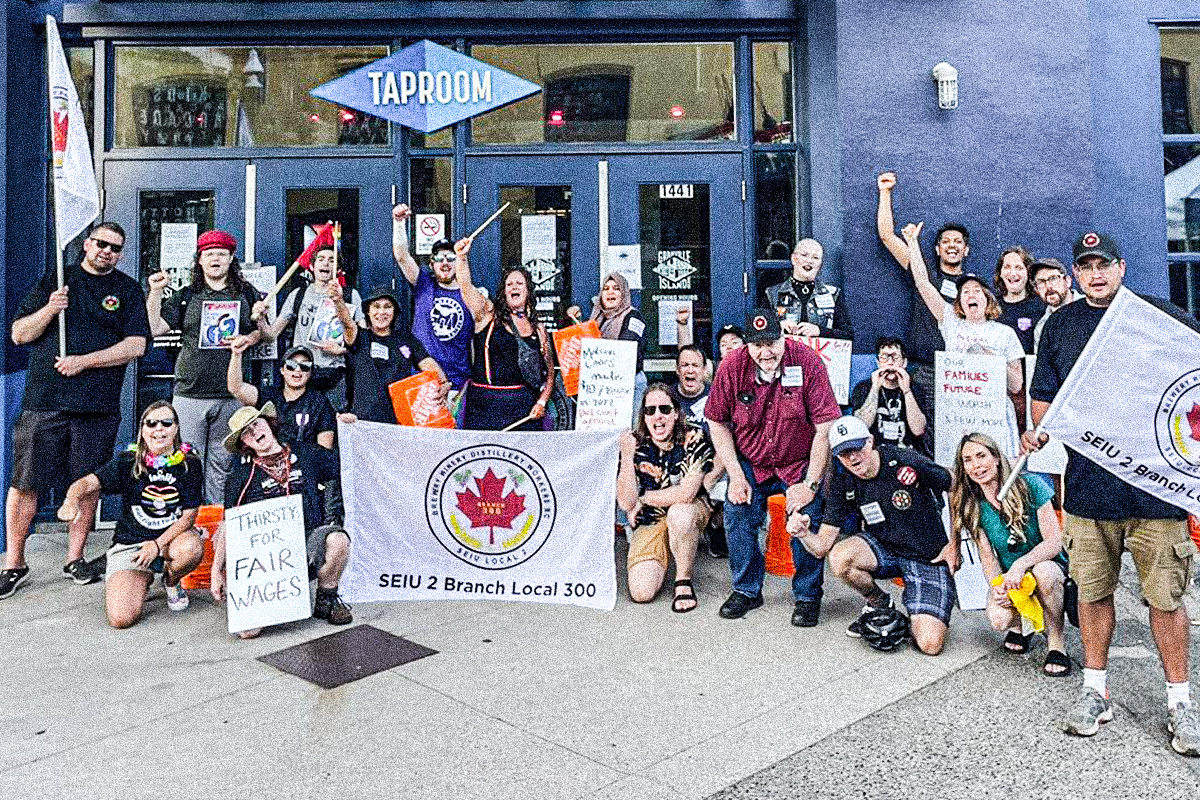 Workers at Granville Island Brewing in Vancouver, B.C., organized with Service Employees International Union (SEIU) Local 2—which represents approximately 20,000 service workers across Canada—have been on strike since July 8 against wage cuts.
Living in one of the most expensive cities, not just in Canada but in the world, has only gotten more unaffordable with inflation. B.C.'s Consumer Price Index (CPI) was up 3.45 per cent from May 2023 compared to 2022. The price of food has increased 7.7 per cent and shelter 5 per cent. Rent specifically has gone up a whopping 17 per cent, and the average rent for a one-bedroom apartment in Vancouver is now $2,800 a month.
The average worker at Granville Island Brewing (GIB) makes just $20.97 an hour, with wages starting at $16.75. As workers have pointed out, they're not even paid enough to buy the beer they make. Negotiations for a new contract had been ongoing since May, but were at an impasse over the proposed wage increases. The union is asking for a wage increase to $24.08 over three years. This would bring wages up to the current calculated "living wage" for Vancouver, though given inflation, in three years time it will still be below a living wage. In reality, this proposed wage increase would simply defend against a cut to real wages caused by inflation. The employer is unwilling to meet even this modest demand. After bargaining stalled on just the second day of negotiations, management decided they would rather shut down the brewery indefinitely than meet the unions' demands, seemingly trying to turn the strike into a lockout.
In an interview with CityNews, Farya Abdiannia, a worker at the brewery, pointed out the absurdity of the situation. "They can afford to shut down the entire site on a busy day but they can't afford to pay us–it doesn't make any sense." This sentiment was echoed by another worker, Aaron Nakonechny, who said "Molson is willing to lose thousands of dollars every day rather than pay a selection of its workers literally cents."
But this makes perfect sense from the perspective of the bosses, who could certainly afford the wage increase that the union is asking for, and much more. GIB is owned by Molson Coors Beverage Company, which is the fifth-largest beer company in the world. The company made $10.7 billion in net revenue last year, and CEO Gavin D.K. Hattersley increased his compensation by $836,718 from 2021 to 2022. He now makes over $9 million a year. The goal isn't simply to sell beer, it's to squeeze profits out of the labour of their workers. To that end, they will try any method to crush the strike.
GIB workers' demands are not just for higher wages. "We are trying to protect good jobs for workers in Vancouver, but the brewery seems to be solely interested in profits," Aaron Nalconechny said in an SEIU press release. "They are pushing to replace our labour in some areas with lower-paid, non-union, temp work." This tactic is not unique to Molson. Many companies attempt to replace unionized labour with low-paying contract work as a way to avoid living with the result of previous class struggle. Longshore workers in B.C. are currently on strike and they too are fighting against the use of contractors to do work that should be done by ILWU workers.
The brewery workers have not been alone in their struggle. The B.C. NDP has been conspicuously absent from the picket line, and have not even released a statement. But workers from IATSE, BCGEU, CUPE BC, TSSU, LiUNA, and the ILWU have all shown up to the picket line in solidarity, as have representatives from the B.C. Federation of Labour (BCFED). "The support has been incredible," Aaron said in an interview with Fightback. Several people on the picket line expressed that they saw their fight not just as one for a contract for the brewery workers but as a part of a larger working-class struggle. When asked by Fightback if they had a message they wanted to share with workers across Canada and the world, Bones, a retail worker at the brewery, said that "any company that makes more money than you, their job is to get as much money from you as possible, so if you don't fight for what you need, you're not going to get it." Chester, an organizer with SEIU said that "workers standing up shows the kind of power that they have, and should be an example to other workers that they should have the courage to step up and organize."
As of now there has been no advancement in negotiations, and management has not been shown to be acting in good faith, even blatantly lying, saying that they already pay a living wage. While the union is not currently calling for a boycott of Molson products, it is something they are considering if management continues to stall bargaining. The workers must stand strong in the face of these tactics and the labour movement must continue to support them. With workers at Capilano University, Fraser Valley transit workers, Teamsters 213, and of course B.C. port workers on strike, there is great potential for solidarity on the picket lines and with joint rallies. The only way that workers can fight back against the bosses in the face of an ever-deepening crisis is to fight together.
Victory to SEIU Local 2!
Strike to win!
The workers united will never be defeated!