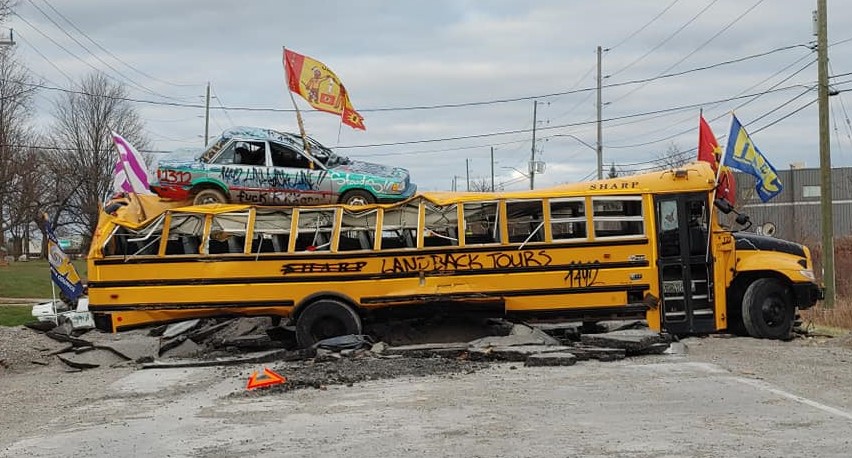 Toronto Sun columnist Lorrie Goldstein suggested military force should be used to stop Indigenous protesters at 1492 Land Back Lane—where, for months, Six Nations members have occupied land stolen from them to block incursions by Foxgate Developments.
'We would have called in the army years ago'
On Feb. 27, Goldstein argued that recurring disputes between developers looking to expand onto land stolen from the Six Nations of the Grand River and members of the Six Nations themselves recur because police show "violent" protesters "incredible leniency."
Since Douglas Creek Estates tried to develop a similar subdivision in 2006, Goldstein writes, "private property," "business" and "innocent citizens" have "become cannon fodder."
"Why?" Goldstein continues:
"Because the Ontario government and its provincial police force are terrified of a repeat of the 1995 fatal shooting of unarmed Indigenous protester Dudley George by acting OPP sergeant Kenneth Deane during another land claim protest at Ipperwash. Deanne, now deceased, was later convicted of criminal negligence causing death and ever since provincial and federal governments of all stripes have been far more interested in 'keeping the peace' — whatever that means — during Indigenous protests, than they are about enforcing court injunctions to end illegal activities such as occupations of private property and railway and highway blockades."
As noted before, Dudley George was a member of the Chippewas of Kettle and Stony Point First Nation. He joined a demonstration in 1995 to demand the return of land stolen from the First Nation during the Second World War. On Sept. 6, 1995, he was shot by a police sniper during a nighttime raid. That raid was insisted upon by then-premier Mike Harris who reportedly told his inner circle, "I want the fucking Indians out of the park."
Goldstein concludes that had Six Nations protesters demonstrated in a major city rather than Caledonia, things would have ended more quickly because: "We would have called in the army years ago."
Lies and slander
Despite what the Sun claims, the real violence seen at 1492 Land Back Lane has been police violence.
As spokesperson Skylar Williams noted in November, 100 police first attacked demonstrators on Aug. 5, 2020, when land defenders were forcefully arrested and assaulted. On Oct. 22, police moved in again and fired rubber bullets at them.
At no point in between did police stop surrounding the area. At no point did the police, the government or the developers engage either the demonstrators or the traditional governance in meaningful consultations. Instead, the company—with the support of local government—reportedly tried to get the band council to denounce the land defenders, effectively with extortion. Police, meanwhile, attacked supporters of the occupation.
Those attacks have continued even though, as the Sun itself reported, barricades have been lifted. This week, a Six Nations woman was arrested in front of her two children by Hamilton police on "mischief" charges after delivering food to the land defenders. Police have similarly arrested academics, journalists and others previously.
Hypocrisy
While the Sun insists more force be used against the Indigenous demonstrators, it has spent months offering softball coverage to right-wing anti-lockdown lawbreakers—notably Adamson Barbecue owner Adam Skelly during his so-called "Barbecue Revolution." 
Additionally, while the Sun claims the Indigenous protesters are violent, it has had no problem previously offering friendly coverage to violent far-right groups like the JDL, Le Meute and others.
And back in 2018, the National Newsmedia Council found Sun columnist Sue-Ann Levy's falsely claimed "illegal immigrants" were slaughtering goats in a Toronto hotel—quoting a comparison to a "9/11 training camp." Soon after, someone tried to burn the hotel down.
The Sun will happily offer friendly coverage to right-wing thugs and stoke racist rage. The Sun, however, wants to see 1492 Land Back Lane crushed because it's a case of Indigenous people standing up to big business and its friends in the Canadian government.
Solidarity needed
For months, the land defenders have stood their ground against police provocations, injunctions and Premier Doug Ford, who threatened to "come out swinging" against them. 
The land defenders have been aided by solidarity marches and demonstrations across the province, many endorsed and assisted by CUPE Ontario, the OFL and others. These actions are vitally important, but must be escalated to defend against further attacks—like the attacks the Toronto Sun is encouraging.  
Crucially, the same right-wing media and the same Canadian state attacking the land defenders are also looking to abandon communities during the ongoing pandemic, all in the interests of profit. Today the Sun argues that the land defenders need to be crushed because they are an inconvenience to private property and business. Tomorrow it will be teachers, students, health-care workers, factory workers or some other section of the working class and the oppressed. An injury to one is an injury to all.