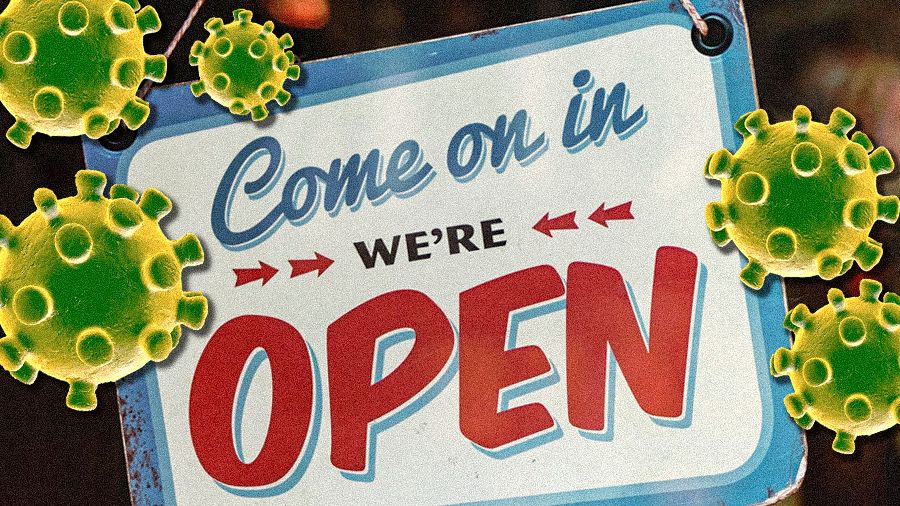 The right-wing premiers of Quebec, Ontario and Alberta are empowering non-essential businesses to recall their staff while new COVID-19 variants spread—putting some of the worst paid, least secure workers at enormous risk.
While these provinces lead daily COVID-19 case counts, while individual gatherings remain highly restricted and while hospitals remain vulnerable, business, we are told, can't wait. 
Mutant strains spreading, thousands more deaths expected
Across the country, health officials are warning of a coming "third wave." Canada's top doctor, Theresa Tam, warned on Feb.18 that another spike in infection rates is a "distinct possibility" as new variants are becoming more widespread.
Dr. Brooks Fallis warned on Feb. 12, "Canada is sleepwalking into a third wave, which could be the worst one yet", as these emerging variants appear more easily transmitted and more lethal. While provincial and federal governments fail to deploy vaccines to all who need them, Fallis warned, there's an additional chance that new, mutating strains could evade existing protections.
Ontario's active and total COVID-19 cases currently lead the country. Since Jan. 1, cases of the D614G strain as well as the B.1.1.7, B.1.351 and P.1 strains have all been found across the province's main cities, despite lagging sequencing. In Toronto, York University models predict total COVID-19 deaths will double by May 2021.
Likewise, models by University of Calgary biology professor Dr. Gosia Gasperowicz noted that—even with "lockdown" measures in place—daily B117 or "UK strain" infections will surge through March. The model anticipates daily infections will rise to 2,000 by April 3. 
Quebec, meanwhile, passed the "grim milestone" of 10,000 COVID deaths on Feb. 8. Meanwhile, the province continues to report more than 800 new COVID-19 cases per day. By March, experts warn, the spread of new variants could mean 2,000 new infections daily.
Yet Jason Kenney, Doug Ford and François Legault think now is the right time for staff in non-essential businesses to return to work.
Reopening 
Starting Feb. 16, most of Ontario was set to return to the government's "colour-coded" system, followed by Toronto, Peel and York on Feb 22.  Under that system, each of Ontario's 34 health units are ranked by colour based on positive test cases, weekly infection rates, ICU numbers and the like. That means even in "grey" units—the most severely-restricted public health units—many non-essential services can open.
The "colour code" system was called "scientifically illiterate" late last year. Experts noted that moving to "grey" came with the absurdly high standard of 100 weekly COVID-19 cases per 100,000 people in a given health unit. Yet reportedly, the Ford government's main change to the earlier system would "allow some degree of in-person shopping at non-essential stores at all levels, including the grey-lockdown level."
On Feb. 19, after weeks of warnings, Premier Ford finally opted to extend Toronto and Peel's "stay-at-home order" until March 8. In York Region, meanwhile,  where infection rates are higher than in Toronto, will still see precautions eased.
In Alberta, on Feb. 8, Kenney's United Conservative Party government moved to re-open bars, restaurants and gyms. Should hospitalizations fall to 450, the current plan would move Alberta into stage 2, reopening hotels, banquet halls, churches and casinos.
Likewise, in Quebec, while the government extended lockdown measures and its curfew on Feb. 8, Premier Legault also announced the reopening of many non-essential businesses. Under the new measures, non-essential retail, personal care salons, malls and museums can open across the province. After a flood of grim statistics, The Globe and Mail reported the Quebec government is now "delaying" some parts of the reopening—like indoor food sales in red zones—until after March break.
A 'calculated risk'
Legault told reporters Quebec's reopening  is a "calculated risk"—intended "to give our merchants a little bit of oxygen." And immediately, many business owners leaped at the chance. 
Reacting to the mall reopening, the CEO of La Vie en Rose told the Montreal Gazette, "Right. Now I have five days to recall 800 employees" in a rush to sell the company's remaining inventory.
Other employers, however, called Legault's approach too cautious. Association Restauration Québec VP François Meunier complained, "Dining rooms cannot remain closed forever when everything around them is reopening even partially."
Alberta's reopening, Global News reports, similarly follows weeks of pressure by the hospitality industry, after many businesses were ordered closed by "soaring" infections in December. The Alberta Hospitality Association further demanded that Kenney "commit to no more shutdowns."
The Ford government's reopening also follows weeks of pressure from business group allies. They include the Canadian Federation of Independent Businesses, the Retail Council, and the Ontario Chamber of Commerce. 
The CFIB is now demanding Ford go further, allowing all businesses to reopen at 20 per cent capacity. The association appears to have Ford's ear: he touted the CFIB's talking points in a Feb. 16 email, seeking donations from deep-pocketed supporters to help his party further "slash red tape."
Meanwhile Ontario Chamber of Commerce CEO and former Ontario Liberal Party director Rocco Rossi told BNN further precautions must pay mind to business inventories. 
"Businesses build inventories, and they can't afford this many months into the crisis to be left hanging." Rossi said. "If we've got inventories in place that you've got to clear out or you decide to restock and the next day they say, 'oh well at this number you've got to shut down', that's just not going to be good enough."
Laying the ground for more workplace infections
Last year, the Ford, Kenney and Legault governments were all criticized for rushing to allow businesses to reopen at the expense of public health. And Canada's wealthy appear to understand reopening now will mean a similar rise in infections and deaths.
After arguing, on Jan, 29, that reopening serves the "national interest," The Globe and Mail's Feb. 8 editorial noted the current reopening could also multiply new infections, with few means to keep it in check. 
The editorial noted:
The virus has a long incubation period, which means infections aren't seen until long after they have happened. As such, any tap on the brakes in response to rising case numbers will be days or weeks delayed. At the same time, the return of kids to in-person classroom learning, happening in much of Ontario, threatens to create new vectors for infection. And the quiet multiplication of more infectious variants means that each individual case will, all else equal, spawn a greater number of new cases.
Crucially, during this second wave, workplace infections have been a leading driver of new cases, especially in Ontario. Reopening non-essential businesses now can only exacerbate that trend. It will mean many of Canada's least secure, worst paid workers are forced to interact with the public in malls, bars, and salons.
To make matters worse, many of these workers lack rights to paid sick days entirely in Ontario and Alberta. Peel Region Medical Officer of Health Lawrence Loh told the Globe that no paid sick days leads to fewer workers isolating when they need to: "Lack of paid sick days is a deterrent to isolation, it's a deterrent to detection and it's a deterrent to them getting the support they need."
Asked about this, Doug Ford called demands for paid sick days "totally irresponsible."
In Quebec, meanwhile, workers are given a legal minimum of just two paid sick days—far too few given that COVID-19 symptoms can last for months, even after a person tests negative.
Workplace non-compliance is another factor likely to drive COVID-19 infection rates to rise during the reopenings. Even under lockdown, when only essential businesses were allowed to open, inspectors in Ontario found nearly half of companies in key areas broke COVID-19 rules.  In Alberta, similarly, negligent meatpacking and oil bosses have exacerbated workplace infections. In certain non-essential sectors where social distancing is less possible, the risk of infection will only rise further.

'Non-essential' business isn't worth dying for
Many have noted the risks associated with forcing more service sector workers in non-essential businesses back to work, without even adequate right to paid sick days.
The Ontario NDP rightly criticized the Ford government for pushing more workers back to work during the second wave, while they risk losing pay should they miss work to protect their health. However, Ford has shown few signs he intends to change his mind. On Feb. 16, an Ontario NDP motion to introduce paid sick days was defeated by a united block of Tory MPPs.
Currently, both Unifor and the Ontario Federation of Labour are holding out hope that Tory MPPs will change their minds and opt in favour after phone "zaps" to MPPs' offices. This same strategy was employed in 2018, when the Ford government took away workers' rights to paid days off and, unfortunately, we know the results. Ontario's Tory MPPs know Doug Ford got them elected, leaning on the right wing of the party base. To date, the only Tory MPPs who've opposed Ford publicly have, in all cases, moved even further to the right.
In Quebec, TUAC reiterated a demand that employers restore pandemic pay at key essential businesses, while public health restrictions remain in place. But little has been said regarding the reopening.
The Alberta Federation of Labour (AFL), meanwhile, noted the province's current reopening plan risks massively increasing infections, while only 30 per cent of Albertans have access to paid sick days. 
As a solution, the AFL's president only pledged to "galvanize support for a zero COVID strategy" to "challenge leaders in other sectors" to take the pandemic seriously. While a "zero COVID strategy" would probably be preferable to the Kenney government's current strategy, Jason Kenney is under no moral obligation to adopt it. 
Nor, for that matter, are employers obligated to adopt a "zero COVID strategy". Across the country, they've shown again and again they're willing to drag out the danger for as long as it's profitable. On Feb, 17, in  Red Deer, Alberta,  UFCW members led a protest outside the Olymel Food Processing Plant as its total COVID-19 case count topped 340. Union President Thomas Hesse told CBC News, "We're here because no workplace that's unsafe should ever be allowed to operate in society and surely people need to be put ahead of pigs." However, while the plant was slated to close, that action was moved to the end of the week.
Mass work refusals needed
In all three provinces, bosses and their right-wing governments have shown indifference to workers' lives. They will continue to demand that workers clock in and take enormous risk until there is an organized response.
Workers facing crowded, unsafe workplaces must be assisted in exercising their rights to refuse unsafe work. Isolated workers in non-essential businesses may be intimidated out of exercising their rights. As such, the organizations of the labour movement must connect with these workers to help them stand up for themselves against reckless employers. 
For a model, on Feb, 17, the OSSTF supported a work refusal by teachers at Mississauga's John Fraser Secondary School, in response to the Ministry's penny-pinching reopening that puts teachers and students in harm's way. While once again, the ministry did not uphold the refusal, in the immediate term the workers were safer outside the workplace than in. And the employer was put on notice.
In Ontario, especially, assisting these workers would be a far more effective use of resources than the current strategy of calling Tory MPPs, asking them to find a heart.
Beer, gambling, fancy underwear from La Vie En Rose and other non-essential products and services are not worth dying for. Communities must be organized against this reckless "reopening" until working conditions are safe and those who are sick can isolate and protect their health. These employers will continue to undermine workers' health in the pursuit of immediate profit until workers refuse to generate that profit. We need the leaders of the labour movement to step up and support mass work refusals for workplace safety.