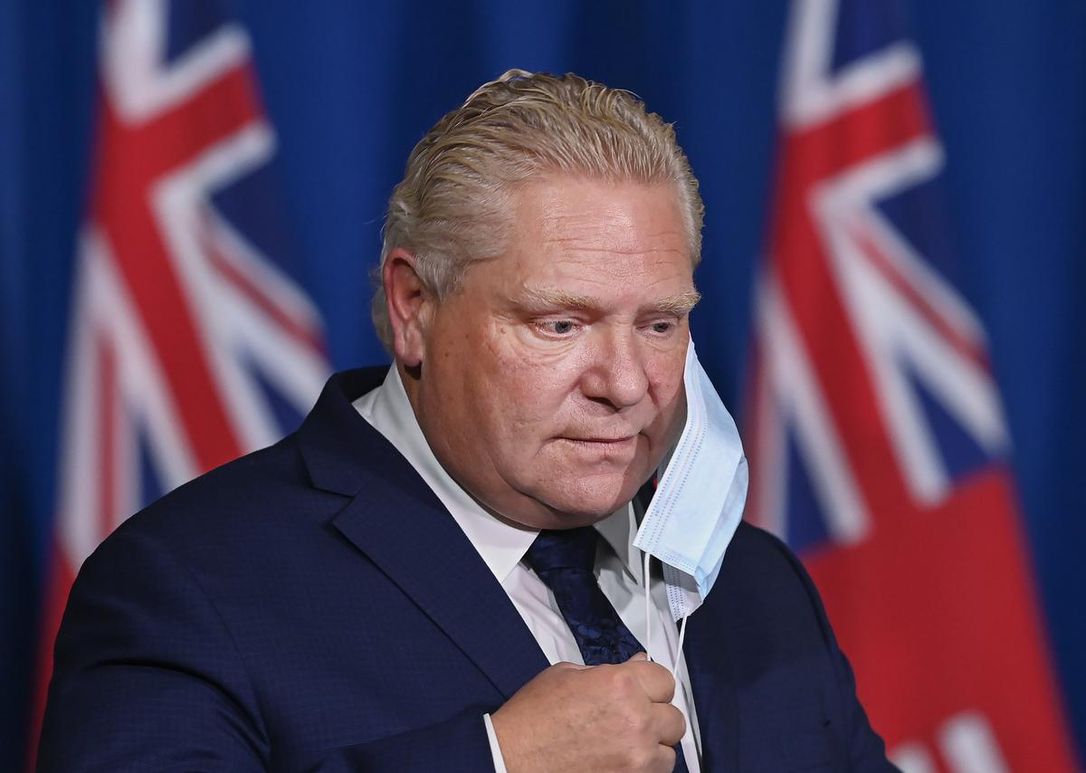 Shortly after Ontario first registered more than 1,000 new cases of COVID-19 in a single day, Ontario Premier Doug Ford announced new guidelines for businesses. Inexplicably, the measures, announced on Nov. 6, include significant reopening even as the second wave of the pandemic spirals out of control, allowing bars, restaurants, gyms, casinos and movie theatres to open. These reduced lockdown measures reflect the capitulation of the Ontario government to corporate interests that put profits ahead of the lives of people.
Under the new colour-coded system for COVID-19, each of Ontario's 34 public health units will be put into one of five categories based on positive tests, weekly infection rates, community transmission, capacity in hospitals and ICUs, and reproduction rate of the disease. Green (prevent) is the lowest category for lockdown measures, while yellow (protect), orange (restrict), red (control) and grey (lockdown) represent increasingly higher restrictions. Grey signifies total lockdown and the closing of all "non-essential" businesses.
Under all categories except lockdown, gyms and indoor dining establishments can remain open with modified guidelines in place. Schools and daycares will stay open under the plan, but if a local public health unit declares an outbreak they may call for the closing of individual classrooms or schools.
Public health experts have blasted the new system as dangerous and "scientifically illiterate". While supporting the general concept of clear metrics for restrictions, Dr. Colin Furness, an infection control epidemiologist at the University of Toronto, called the thresholds for lockdown "unacceptable". Amir Attaran, a professor of law and public health at the University of Ottawa, described the standards as "absurdly, dangerously high."
To be assigned the red (control) level, a public health unit must have a weekly incident rate of more than 100 cases per 100,000 people. Under the jurisdiction of Toronto Public Health, which is responsible for 2.9 million residents, this would mean the city must see more than 2,900 new cases a week before restaurants would be closed. Such criteria, Attaran notes, "aren't met in the vast majority of the United States … What the province is saying is that the situation in Ontario has to deteriorate beyond most of the United States, which as we know is a disaster, before they will implement that degree of control."
Ford capitulates under pressure
Since the announcement of the tiered system, COVID-19 infections have continued to explode across Ontario. On Nov. 11, the province reported 1,426 new cases, marking the fourth record high in five days. These new infections drove the seven-day average of daily cases to 1,217, the highest at any point during the pandemic.
The Ford government's decision to reopen businesses and its high thresholds for lockdown reflect growing pressure from corporate interests and a right-wing backlash within the Conservative Party. The last lockdown ordered by Ford began on Oct. 2, weeks after the second wave started in earnest. From a public health perspective, this lockdown began far too late. Data from Public Health Ontario show that confirmed COVID-19 cases began a steep rise in early September, following the lull of the summer months. But even this delayed lockdown enraged business interests and the right wing.
Toronto Sun columnist Brian Lilley railed against Ford for imposing lockdown measures on businesses. "Ford is supposed to be there to defend small business owners and right now, they find themselves without a champion at Queen's Park," he wrote. Lilley's Oct. 23 column shared criticisms by chef, restaurant and grocery store owner Mark McEwan who called on Ford to lead the province back to opening up. Ford told Lilley that he had "great respect" for McEwan, but that the latter was "not a medical professional. He's a business owner." Lilley's retort: "Exactly, he's a business owner and part of a growing number who say the lockdowns have to end." On Oct. 24, Burlington MPP Jane McKenna and Milton MPP Parm Gill publicly joined local mayors in releasing a letter that criticized putting Halton back into a modified Stage 2 lockdown. In response, Ford claimed that it was his idea for McKenna and Gill to write the letter!
Our use of the word "capitulation" to describe Ford's reopening of businesses, at the behest of those seeking a more laissez-faire approach to COVID-19, may strike the reader as odd. Is Ford not a right-wing conservative? We would certainly agree with this description of the premier.
However, Ford's unpopularity at the onset of the pandemic—after years of policies attacking workers, students, and almost every other group in Ontario—compelled him to more closely follow the advice of public health officials compared with his conservative counterparts, such as Alberta Premier Jason Kenney. The Globe and Mail on Oct. 30 published an article in which it contrasted the two premiers. "Even as Alberta posts roughly double the active cases per population as Ontario," it noted, "Mr. Kenney has imposed few restrictions, while Mr. Ford has severely limited businesses in the largest cities over the past month." As COVID-19 cases in Alberta surged and Kenney became one of Canada's least popular premiers, Ontario fared better and Ford saw a boost in popularity.
Now, these contrasts are vanishing as Ford adopts the same disastrous "wealth before health" approach as Kenney. The Globe reported that Ford asked public health officials to develop a plan for possibly easing restrictions in November when they expired in hot-spot regions, noting, "This can't go on indefinitely." At the same time, he appears to be wavering between those calling for fewer restrictions and those calling for more. Hours before Toronto unveiled stricter lockdown measures, including a ban on indoor dining and the closing of meeting and event spaces, Ford said he would not rule out another full province-wide lockdown.
Bold response needed from workers
Ontario NDP Leader Andrea Horwath said she is "concerned" that Ford's easing of restrictions will only lead to longer and deeper lockdowns later on. She accused the premier of "giving up the fight against COVID-19" and "gambling with people's lives", adding that Ford "claims he's doing it in the name of business, but putting us all at risk of another real lockdown isn't good for businesses, the economy, or working folks."
Horwath hits on an important truth: that the choice between protecting people from the virus and protecting the economy is a false one. An MIT study of the 1918-19 flu pandemic showed that U.S. cities which responded with stronger social distancing and public health measures also saw improved economic recoveries. Economists are drawing similar conclusions from COVID-19. A recent survey of 32 macroeconomists found that 74 per cent believed the United States would be in a better economic position today if lockdowns had been more aggressive at the start of the crisis. Vietnam, praised for its strong response to COVID-19 and relatively low infection rate, is also looking to experience one of the highest economic growth rates in the world in 2021.
Even from a capitalist perspective, the idea of reopening the economy as COVID-19 infections surge is madness. Allowing the pandemic to get out of control will only lead to a worse and longer economic downturn. Those who advocate laissez-faire policies to COVID-19 believe they are focusing on the economy; in fact, they are merely engaged in extreme short-term thinking.
It is one thing, as Horwath does, to express concern. It is another to accurately describe the disaster that Ford is bringing to Ontario—one that will infect and kill huge numbers of people—and to aggressively put forward an alternative. The Ontario NDP says the issue is about money: that Ford's government does not want to pay for smaller class sizes, expanded public health-measures, paid sick days, or direct support to small businesses. Again, there is much truth here. The Ontario government received an influx of funding from the federal government, but did not spend this money on smaller class sizes. Queen's Park could have gotten a handle on the pandemic early on through aggressive testing and contact tracing. Unfortunately, Ford's abysmal response on these fronts meant the opportunity was lost.
Stopping the spread of COVID-19 and preserving the livelihoods of working people require a bold socialist response. Small businesses that have been forced to shut down because of the pandemic should not have to pay rent, but should receive genuine rent forgiveness. We need workers' control to ensure all possible health and safety measures are implemented in workplaces. We need to shut down all non-essential businesses for the duration of the pandemic and provide guaranteed wages for all those who are furloughed—many of whom could be employed as contact tracers to stop the spread of the virus. Workers themselves must decide what workplaces are essential and what can safely reopen. Those in essential services must receive double hazard pay. A militant push by the labour movement and the NDP to enact such measures could transform the situation and halt the virus in its tracks.