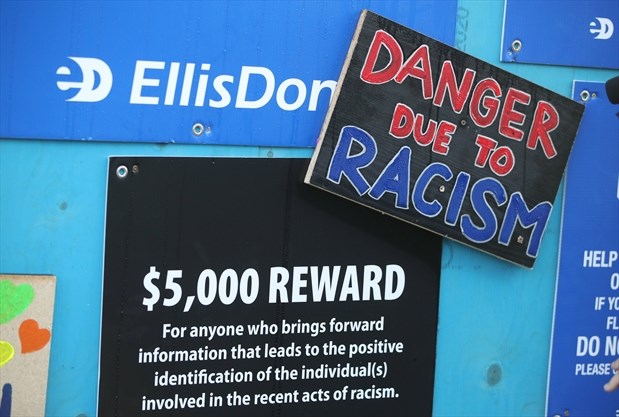 This autumn has seen an alarming rise in racist violence and threats across Toronto that have put working class communities at risk. With more than 220,000 union members in the city, the labour movement must respond to defend working class lives.
On Sept. 12, 58-year-old volunteer caretaker Mohamed-Aslim Zafis was stabbed to death outside a Rexdale mosque. The man charged with the stabbing is Guilherme "William" Von Neutegem. Soon after he was named, he was quickly identified as a likely Nazi sympathizer without prior connection to the victim.
Subsequently, police noted they were unable to "exclude" possible ties between the killing of Zafis and the Sept. 7 death of Rampreet "Peter" Singh, a homeless man found dead from "multiple sharp-force injuries" under a nearby bridge.
Since that time, a downtown Toronto mosque closed after receiving "extraordinarily violent" threats—without plans to reopen.
Meanwhile, nooses have been placed at multiple construction sites since June, with multiple nooses found at construction sites around Michael Garron Hospital. Last week racist graffiti was also scrawled on one of the hospital construction sites' portable washrooms.
A protest on Oct. 9 prompted EllisDon management to admit they believe it isn't just the work of individual racists, but a "small but organized racist group within the Canadian construction industry."
So far, management has offered a reward for information, resources for additional surveillance and performed a "healing ceremony."
Workers have been treated to statements by Ontario's main construction employers about how difficult it will be to stop the attacks, while the racists continued to tamper with their job sites.
The wave of racist incidents led to a protest by healthcare workers. SEIU member Ainsworth Spence told CBC News, "This is a very diverse hospital. It's a diverse community, so clearly it's meant for maximum impact because it's going to be seen by the folks who are going to be impacted the most."
But she noted neither the hospital management nor the construction company have even agreed to meet with SEIU to discuss workers' safety. "Clearly nothing has been done, so sure, thank you for your statements… but also there needs to be concrete action," she said.
It's unlikely a ring of equipment thefts or something else that directly threatened company balance sheets would continue for four months without charges or concrete results. While the bosses have been pressured to denounce the racist acts, they have shown little willingness to do much else. They can't be relied upon to defend workers.
These provocations threaten workers, especially those from more oppressed communities. An injury to one is an injury to all.
The labour movement in Toronto, which has some of the largest union locals in Canada, needs to mobilize to defend these layers from the far right. We need mass protests, we need community defence and, if necessary, strike action in any workplace that the racists have made unsafe.