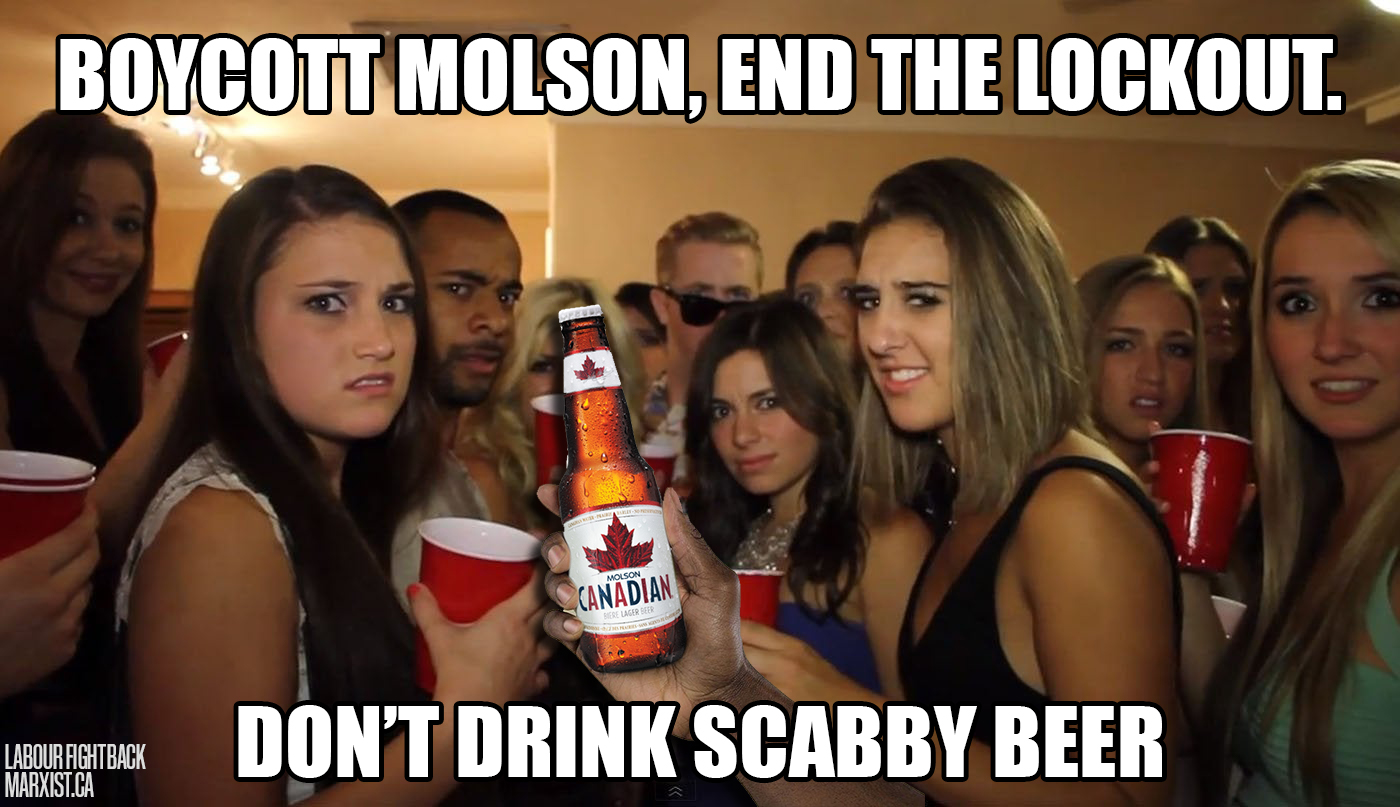 The Molson Coors Beverage Company has locked out 300 workers at its Toronto brewery after union members rejected the employer's latest contract offer. The proposed agreement included major attacks on pensions and scheduling. Molson appears ready to bring in scabs as part of an all-out attempt to break the union and starve them into submission. The entire labour movement must mobilize to support the brewery workers and defend good union jobs.
Members of the Canadian Union of Brewery and General Workers (CUBGW) Local 325 overwhelmingly voted to reject Molson's proposed three-year offer on Thursday and Friday, with a final tally of 208-69. Brewery workers have not had a collective agreement since their previous contract expired on Dec. 31. In response to the vote, Molson locked out workers the very next day on Feb. 20.
Molson spokesperson Frédéric Bourgeois-LeBlanc said in an emailed statement that the company has "implemented a contingency plan to ensure the Toronto brewery will remain open and we will continue to brew, package and ship beer to meet consumer demand." He did not specify whether this included the use of non-union replacement workers, i.e. scabs. But the implication is clear.
The main dispute in the lockout is Molson's attempt to shift all but the most senior workers from defined-benefit to defined-contribution pension plans. This is the same issue that lay at the heart of the seven-month lockout at the Regina Co-op refinery last year and is part of a growing trend. The bosses prefer defined-contribution plans because they require fewer obligations to their employees, while workers take on more risk.
Molson's proposed contract, which it called its "best and final" offer, included raises in each of the three years and a $1,000 ratification bonus. However, it appears to retain the two-tiered wage system that has been in place since 2010, which caps the wages of new hires at 84 per cent of the previous pay scale. The union is correctly calling on the company to eliminate the two-tiered wage structure.
A further grievance for CUBGW Local 325 is Molson's attempt to introduce a new scheduling system. The so-called "continental" schedule requires employees to work seven days straight, alternating between day, swing and night shifts. Workers then receive days off at the end of each seven-day block. In an interview with the Toronto Star, Local 325 president Guarav Sharma said the shift to a continental schedule could lead to 12-hour weekend shifts for brewery workers with no overtime pay. These are clearly sweatshop conditions which will destroy the health and family lives of workers.
The Toronto brewery is one of Molson's largest in Canada, following a $24 million USD expansion a decade ago. However, Molson Coors has seen a significant loss of revenue during the COVID-19 pandemic. In February, the company reported a massive $1.37 billion loss in the fourth quarter. To compare, during the same period last year it reported a profit of $163.7 million USD. Molson Coors has blamed COVID-19 restrictions in large entertainment venues such as sports arenas for the decline in profits. Either way, it is determined to make workers pay the price.
"Especially during a pandemic, lockouts should be unthinkable," Fightback noted in our article on another ongoing lockout, at a Newfoundland car dealership. But the cold logic of the profit motive leaves no room for mercy or compassion. The Molson bosses see an opportunity to increase profits by breaking the union, by attacking pensions, and by imposing a new scheduling system to squeeze more surplus value out of its workforce. If that means locking out hundreds of workers in the cold during a deadly pandemic, so be it.
The fight of Molson workers to defend good union jobs is the fight of the entire working class. An injury to one is an injury to all! If we allow the bosses to use scabs to crush brewery workers then the conditions of all workers will be on the chopping block. For that reason, the whole movement must support locked-out brewery workers in every way possible.
Boycotting of all Molson products is an excellent first step to build solidarity and educate the broader working class about the importance of this fight. A boycott can be a useful tactic if it is an auxiliary to strong picket lines. Boycott Molson! Don't drink scabby beer!
Further steps should include joining brewery workers on the picket lines in order to stop scabs and the distribution of scabby beer. The struggle must also be spread beyond the plant itself. Teams can be sent out to leaflet Molson-branded locations, plus the Beer Store and LCBO, to build support. Solidarity actions across Canada and internationally could build further support for the Molson workers, particularly if organized by delivery drivers or workers at other breweries.
All of these tactics can help raise class consciousness and bolster the confidence of the workers. Together we can stop the bosses' union busting in its tracks.
End the lockout! Support brewery workers!
Boycott Molson! Don't drink scabby beer!
Victory to CUBGW Local 325!
List of Molson products to avoid during boycott
Don't drink:
Aguila
Aquarelle
Arnold Palmer Spiked Half & Half
Bella Amari
Black Horse
Black Ice
Blue Moon/Belgian Moon
Blue Moon LightSky
Bohemian
Cape Line Sparkling Cocktails
Carling
Clearly Kombucha
Colorado Native
Winterfest
Cool
Coors
Coors Banquet
Coors Edge
Coors Light
Coors Organic
Coors Seltzer
Extra Gold Lager
Creemore Springs
Crispin Cider
Cristal (Peru)
Cusqueña
Foster's
George Killian's Irish Red
Granville Island Brewing
Hamm's
Henry Weinhard's
Henry Weinhard's Gourmet Sodas
Henry's Hard Soda
Herman Joseph's Private Reserve
Hop Valley
India Beer
Keystone
Laurentide
Leinenkugel's
Mad & Noisy
Mad Jack
Miller Brewing Company
Icehouse
Magnum
Mickey's
Miller Genuine Draft
Miller High Life
Miller Lite
Miller64
Milwaukee's Best
Olde English 800
Steel Reserve
Molson
Molson Canadian
Molson Canadian Cold Shots
Molson Dry
Molson Exel
Molson Export
Molson Stock Ale
Molson Ultra
MOVO
Old Style Pilsner
Old Vienna
Peroni
Red Dog
Redd's
Redd's Apple Ale/Redd's Hard Apple
Redd's Wicked
Revolver Brewing
Rickards
Saint Archer Brewing
Saint Archer
Saint Archer Gold
Smith & Forge Hard Cider
Sol Cerveza
Sparks
Standard Lager
Terrapin Beer Company
Vizzy Hard Seltzer
Wanderoot
---