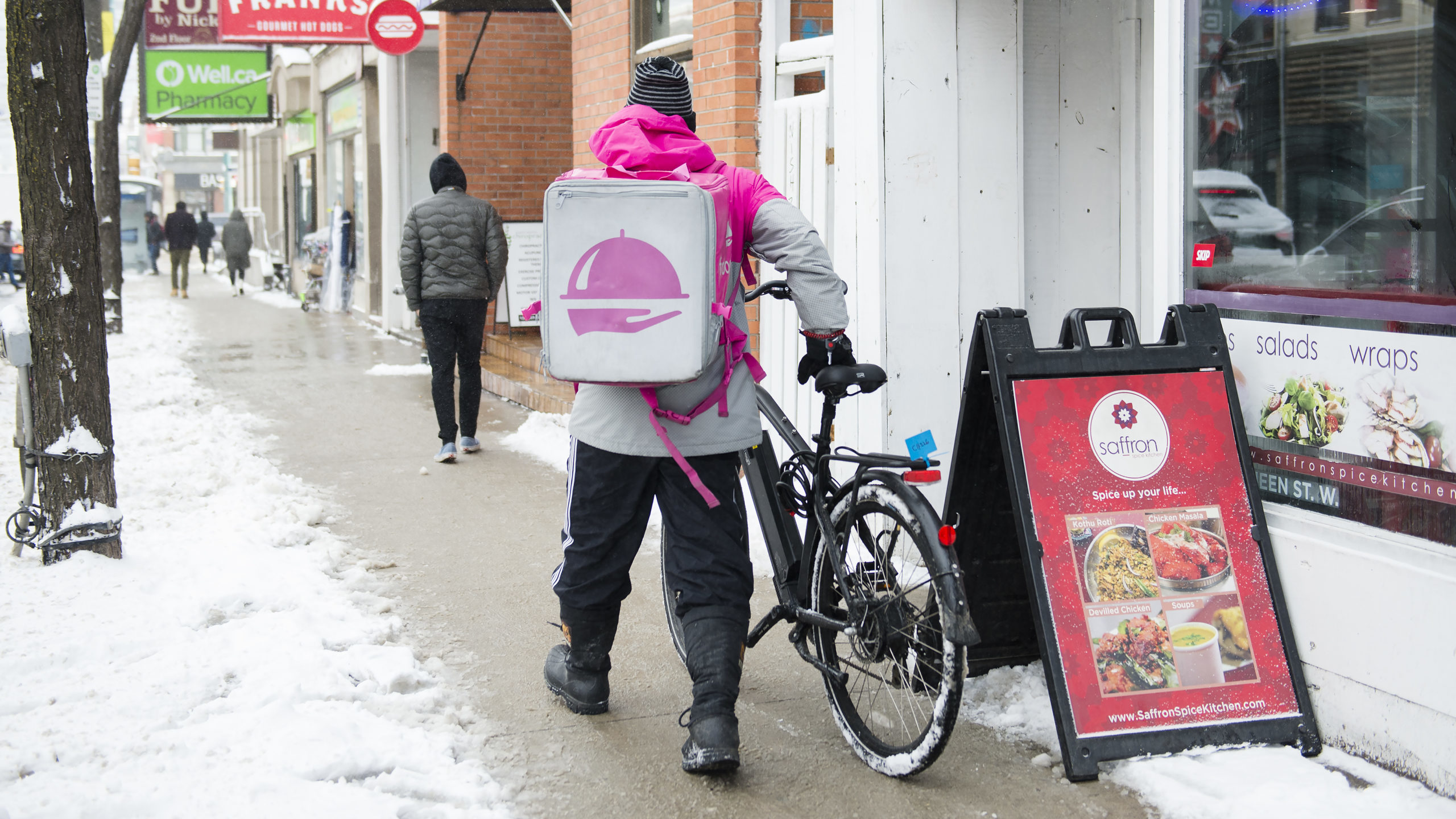 In a shameful act of union-busting, Foodora announced it will be ending its Canadian operations as of May 11. The announcement came two months after the company lost a fierce unionization battle with Foodsters United, CUPW Courier Local 104. If the union had received certification, it would have set a precedent for gig economy workers across Canada and internationally. Foodora and its parent company Delivery Hero decided they'd rather close up shop than treat their workers fairly.
Couriers were given just two weeks to find an alternative means of survival in the midst of a pandemic and crashing economy. It's unclear whether UberEATS and other food delivery services will have the capacity to take in the influx of laid-off couriers. Foodora's refusal to recognize their couriers as employees will make it more difficult for these workers to apply for Employment Insurance and the Canada Emergency Response Benefit.
The struggle so far
Toronto Foodora couriers launched their union drive on May Day 2019. Their main demands included union recognition, health benefits, and fair pay. Since then they faced a barrage of misinformation, stalling tactics, and legal challenges from the company. Despite these hurdles, the couriers mounted a stiff campaign, plastering the city with "VOTE YES" posters and leading a march to the Foodora office. The company countered by sending misleading information to the couriers' apps, claiming that voting YES "could cost you up to $1,100 in union fees", when in reality, the average courier would be paying less than a third of that. Foodora also warned that unionization would impact "flexibility in scheduling", a thinly-veiled threat that Foodora would make it more difficult to schedule shifts if the union was certified. Couriers were sent notifications like these and a link to an anti-union website every time they logged in to start their shifts.
After the union certification vote in August, Foodora took the case to the Ontario Labour Relations Board (OLRB), claiming that couriers are "independent contractors" and therefore ineligible to form a union. Even though Foodora couriers have almost all the responsibilities of a regular employee, the company managed to stretch out the case for more than six months, hoping the union drive would lose momentum. To the contrary, the movement spread to more gig economy workers, including Uber drivers who filed to unionize with United Food and Commercial Workers (UFCW).
Faced with no options other than altering their business model, Foodora pulled the rug out from under workers at the eleventh hour, throwing away millions of dollars in investments just to prevent union certification. As one last lie to their workforce, Foodora claimed that their decision was due to "strong competition", even though demand for food deliveries is at an all-time high. This is more evidence that Foodora was never arguing in good faith; they'll say anything to protect their profits and stonewall workers. They would rather forego profits in Canada than risk allowing a positive example of workers' organizing to spread to their operations in other countries. They know that if the union is certified, it will not just create a precedent in Canada, but inspire precarious workers around the world to do the same. So they burned down the village in order to save it, in a callous act of scorched-earth policy.
What next for gig economy organizers?
The struggle for workers' rights isn't over – it's only begun. None of the couriers' hard work was in vain. They built an impressive organization, raised the consciousness of the workers, and set a precedent for winning battles in the future. They showed that it's possible to mount a successful unionization campaign in the gig economy. This is reminiscent of the struggle to win recognition for industrial unions in the 1930s, a struggle that was bitterly opposed by the bosses at the time and involved armed guards, mass strikes, and street fights.
The fight continues with UberEATS, DoorDash, SkipTheDishes, and others. Toronto Uber drivers have already filed for unionization with the UFCW, and a landmark case is making its way through the Supreme Court of Canada. If the Court takes Uber's side, despite the precedent set by the OLRB, the class struggle will become even more explosive. If workers can't organize in safe, legal channels, the fight will move to the streets.
Workers don't need permission from the ruling class to organize. If the capitalists won't grant us basic rights like paid sick days and a living wage, we'll fight for them through any channel available to us. Foodora's disgusting actions just show how capitalism is rigged against workers. We need to fight not just the most exploitative bosses in the gig economy, but against the capitalist system that makes their existence even possible. We need a socialist society where all these exploitative relationships would be swept away by the organized working class. No matter what the capitalists do, they won't be able to stop the rising tide of class consciousness across Canada and the world.