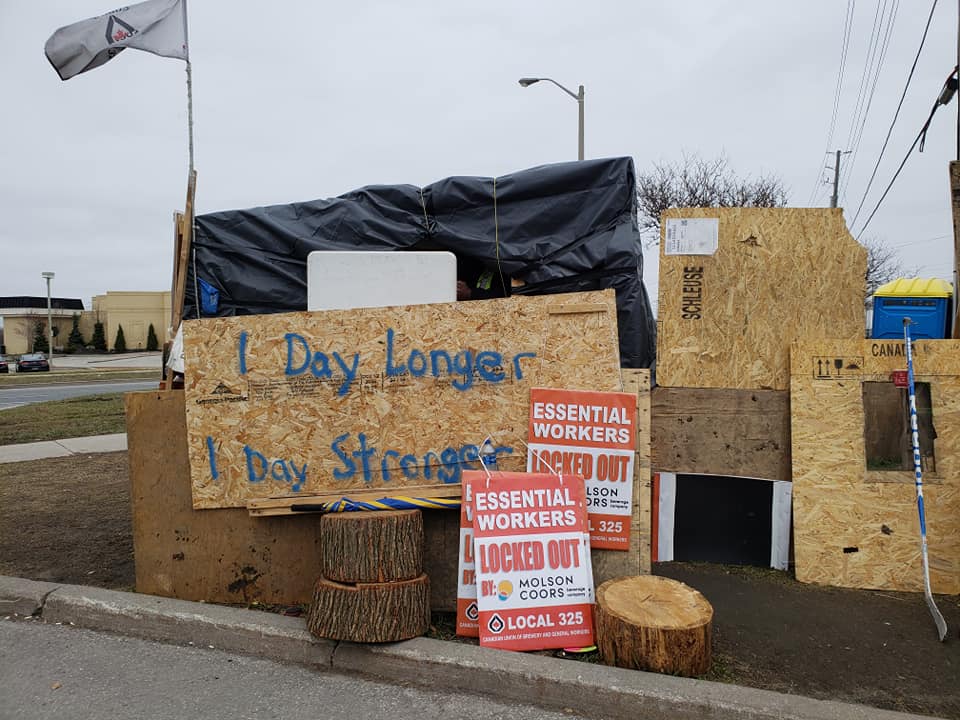 After a six week lockout that started on Feb. 20, just more than half of the Canadian Union of Brewery and General Workers Local 325 members voted to ratify a new contract with Molson company.
The deal was approved this past Saturday and Sunday, with a close vote of 149 (56 per cent) voting to accept the contract and 117 (44 per cent) voting to reject it.
Labour Fightback is sorry to say that the new collective agreement concedes on the majority of the Molson management's issues. The union leadership gave management what they wanted with the two-tier wage structure, which will cut the living standards of newer workers. It will also shift employees to a defined contribution pension system, which unlike a defined benefit plan, moves pension funds into the market. Defined contribution pensions have been a part of a growing trend among bosses who prefer this to reduce their obligations to their workforce, while workers take on far greater risks. The deal also gave Molson what they wanted on a new "continental" scheduling system that could see some employees work 12-hour shifts.
For weeks workers at the Etobicoke brewery picket lines had explained that these concessions would ruin their lives. These are the major issues that they fiercely opposed throughout the lockout. Unfortunately, this deal was recommended by the Local 325 executive, but we believe this climbdown was not necessary.
This defeat was not necessary
Workers had held the picket lines strong for six weeks, 24/7, with rotating shifts. The solidarity movement was growing and many workers were eager to spread solidarity to their workplaces and beyond, as we saw with solidarity visits from dozens of unions.
This new agreement has elicited frustration and anger from several workers.
One worker requesting to remain anonymous,sent a private message to a Labour Fightback activist:
"I voted against it. I feel like the tier-one employees got more time for their pensions and the rest of us just lost six weeks of wages for nothing. I'm disheartened by it, not looking forward to going back in on Tuesday especially with this new COVID lockdown/variants."
More comments rolled in from workers on the Facebook group "Molson Lockout Solidarity: Victory to CUBGW Local 325!" which includes 670 union members. One worker stated "Strong No" after posting a picture of their computer monitor where they rejected the tentative agreement.
The closeness of the vote shows the majority either opposed the deal, or just found it hard to oppose their own leadership. With 44 per cent of workers opposing the climbdown by the bargaining team, this amounts to a significant opposition to the leadership's concessions. But large sections of the 56 per cent who voted for the new agreement only voted because they followed the authority of the leadership, and came to the conclusion that if the leadership thinks this was the best deal, there is no hope of winning anything better. Leadership comes with authority, and the slight majority of workers, despite fiercely opposing the Molson management's concessionary demands for six weeks, trusted their union leadership to make the right decision in the end. We can confidently say that this was a disappointing decision that has led to a clear defeat.
Labour Fightback has supported Local 325 members during these past six weeks, with several visits to the picket lines, and leading a solidarity campaign, promoting a public event with 100 in attendance on Zoom and 900 watching in the livestream. We have been inspired by the sacrifices of Local 325 members who braved cold and sickness to stand up for themselves, their families and other workers, as we reported throughout the campaign.
Labour Fightback commits itself to supporting workers in struggle whenever they stand up and fight back. We have to fight for class struggle, militant tactics, democratic trade unionism and escalating solidarity so that the working class can win and not suffer disappointing defeats like what we have just witnessed.
If you want to make sure that disappointing defeats do not continue, please join us in our struggle, write to us to get involved: fightback@marxist.ca