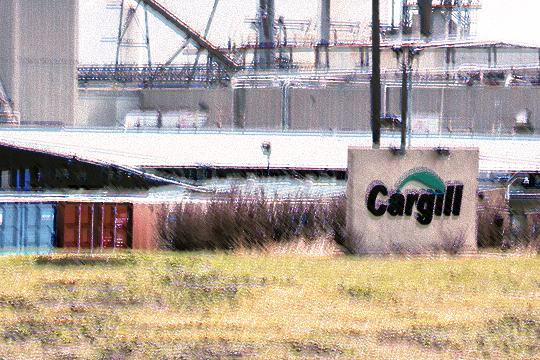 High River Cargill workers voted 97 per cent to strike against benefit cuts and workplace hazards—after the company's negligence led directly to some of Canada's worst COVID-19 outbreaks.
On Nov. 4, an estimated 1,400 United Food and Commercial Workers Local 401 members at Cargill's High River beef plant voted overwhelmingly to strike. The union issued a Dec. 6 strike notice as the workers chanted "Strike! Strike! Strike!"
Cargill, Bloomberg noted, "counts 14 billionaires among its ruling circle." Last year, its reported revenue exceeded $134 billion with an unusually large profit margin of 3.7 per cent—the largest in its 156-year history.
Still, Cargill thanked its workers with pay cuts. According to the union, through spring 2021, the company refused to reinstate its $2/hr pandemic premium pay or even mention COVID-19 at the bargaining table.
Management's initial offer, instead, aimed to further contract out work and cut its workers' vacation time. The company also insisted on reducing the powers of its Joint Health and Safety Committee and it refused to allow the committee any say over the pace of work ("line speed"). More recently, the union says, the company's benefit offer would cost workers more.
Cargill has shown again and again that it is willing to sacrifice workers' lives and put whole communities at risk to maximize its profits. The company will continue to do so until workers stand up for themselves.
On Nov. 10, the union warned the company a strike could extend beyond the High River plant:
"A boycott of the beef industry itself is a possibility. Consumers could be asked to avoid the consumption of beef until Cargill workers are treated fairly. There may be picketing and leafleting in front of other workplaces if they sell Cargill products. Albertans may even be confronted by picketing Cargill workers as they approach the drive-thru at McDonald's."
But workers should be very wary of backtracking by the union leadership. Recently, the leadership of UFCW 401—a massive local with more than 30,000 members—sought to tamper down the fighting spirit of Superstore workers after their own 97 per cent strike vote. From the union's earlier threat to unite strikes of Cargill workers with Superstore workers, the leadership looked to discourage the Superstore workers from fighting, saying any strike would drag on and they would be outmaneuvered. Predictably this led to intransigence by the bosses and a defeat for the Superstore workers. Cargill workers need to take control over their own strike to strengthen it from the bottom up and prevent a top-down defeat as seen at Superstore.
The best way to shorten the struggle against Cargill, as the ABCs of trade unionism advise, is to come out strong. Ninety-seven per cent of the High River plant's workers have already shown they're willing to fight. That plant alone accounts for 40 per cent of Canada's beef processing capacity, producing up to 4,700 heads of cattle per day. That breakneck production speed would grind to a total halt without these workers, giving them enormous power provided they're mobilized to use it. Any organized shutdown, in turn, must be supported in every working class community in order to defend working class lives.
Victory to the Cargill workers!