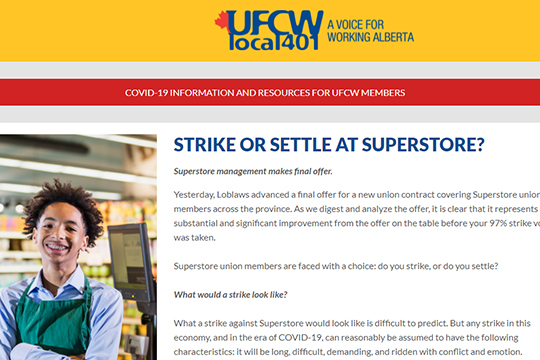 Last month, thousands of Superstore cashiers, cleaners and stockers sick and tired of barely surviving on minimum wage and being disrespected gave a resounding 97 per cent strike vote. This could have been the spark for a movement to get justice for all essential workers. Instead, the United Food and Commercial Workers (UFCW) Local 401 bureaucracy did everything in their power to tell the workers they were weak and isolated. Now, due to this criminally weak leadership, the potentially victorious struggle has been turned into a defeat.
Loblaws offers a slap in the face and the union leadership accepts
In the latest contract, Loblaws has refused to reinstate the hero pay or a general wage increase; instead, workers will have the potential to maybe see increases up to a maximum of 90 cents. After living through COVID-19 outbreaks in 30 out of 40 stores, cuts to the $2/hr pandemic pay and now skyrocketing inflation, the latest contract by Loblaws adds insult to injury. The union leadership has stated that "after a marathon week of bargaining, Loblaws made what it called its last, best, and final offer." Loblaws has made record profits during the pandemic with CEO Galen Weston taking home an additional $1.6 billion in 2020 alone. And yet they claim they don't have enough for the $2/hr pandemic pay!
The 97 per cent strike vote, delivered while Alberta was in the middle of a lockdown, expressed the real desire to fight back against the Loblaws billionaire bosses. Instead of building on this militant mood and preparing the membership to strike, the UFCW leadership launched a scare campaign.
Difficult decision forced onto the membership
Shortly after the positive strike vote, the UFCW leadership presented their membership with an ultimatum in a public statement titled Strike or Settle, which set the pessimistic tone: "What a strike against Superstore would look like is difficult to predict," the statement read. "But any strike in this economy, and in the era of COVID-19, can reasonably be assumed to have the following characteristics: it will be long, difficult, demanding, and ridden with conflict and emotion."
Strike and fail: this is the vision the union leadership presented to their membership. How could such a leadership be trusted to lead a strike when they were already admitting defeat? The statement the UFCW bureaucracy made was effectively that their membership would have no leadership if they chose to strike. It's a wonder that 33 per cent of workers still wanted to strike after reading such a scandalous statement!
Throughout their statement, UFCW leadership made multiple attempts to portray the membership as being too weak to strike. It continued: "7% of Superstore union members have indicated that they are committed to a strike of any significant duration. This is worrisome, as we don't know if picket lines will crumble in a short period of time".
The commitment of even a small layer of the membership to strike even after being told that it would be long, difficult, demanding and emotionally charged shows how strongly the workers felt about fighting back! UFCW leadership used the tactic of dissuading the workers again during the vote to accept or reject the Loblaws offer. Rank-and-file members have complained on the union Facebook page that instead of simply being asked "yes" or "no" to Loblaws' offer, the leadership added a laundry list of consequences for choosing "no". None of the consequences for accepting this terrible contract were mentioned. The leadership was clearly making a final attempt at scaring the workers away from striking. And they violated the democratic decision-making process of the union since the membership had no opportunity to debate the arguments of the leadership.
In the days leading up to the vote on striking or settling, the UFCW Local 401 Facebook page was alive with conversation between the workers. Rank-and-file members were calling for everyone to reject the insulting contract from Loblaws and addressing the concerns of their co-workers about striking. In this debate, the leadership was nowhere to be found. The most militant workers were left isolated and made to feel weak. Despite all this, 33 per cent of the membership stood up to the scare tactics and rejected the offer. Again, rather than showing weakness, the membership has shown its strength and resolve to fight over and over.
The ABCs of trade unionism explain that the only way to shorten or even avert a strike is to prepare for mass mobilization and show the employer that the union will not back down until their demands are met. There is an old saying in the trade union movement that the longer the picket, the shorter the strike. In their statement, the leadership said that "ten thousand workers could well have ten thousand different opinions"; they said this to suggest they could not mobilize enough people for an effective strike. While there may be different opinions about striking, it would be in the best interests of all 10,000 workers to win the demands for higher wages, stable work hours and reinstatement of the pandemic pay. If the Loblaws bosses will not listen to these demands through negotiation, which they haven't, the union must make them listen by preparing to strike and hitting the capitalist where it hurts: their wallets. It is the job of the leadership to explain this to the membership. In fact, the 97 per cent strike vote showed that there is already a mood to fight and this would have made the job of the leadership in mobilizing the membership much easier. The preparation alone would have sent a message to Loblaws that the union is serious about doing whatever is necessary to win the just demands of their hero workers.
The vision the union leadership presented makes it seem as though the nature of a strike is outside of the control of the union and its membership. Nothing could be further from the truth. This was negatively proven by the current defeat after a 97 per cent strike vote. This was not inevitable, but rather a direct result of the active sabotage of the leadership who presented a strike as an inevitable failure. When the leadership stated that this was "a difficult decision [that] left union members torn and frustrated", they ignored that it was made difficult by a leadership actively working against the membership's desire to fight.
Alberta supports its essential workers
The UFCW leadership claimed their market survey revealed that "customer support is unpredictable". The results of this survey should have been posted publicly to see exactly what results were found and how the questions were posed, as it is easy to phrase questions to garner the desired response. However, it is clear from the results mentioned that there was real support for the Superstore workers. Even the union leadership admitted that there is strong support for the workers in Edmonton. The pandemic has shown us who is truly essential in society. Albertans could not have survived without working class heroes like grocery clerks, nurses and mail drivers.
There is a growing sentiment in Alberta in favour of workers getting a fair share for their labour. When the health-care and hospital workers went on a wildcat strike last fall in response to the United Conservative Party's plans to slash 11,000 public health-care jobs, the majority of Albertans were on the side of the workers. The whole of the working class is facing the same, unbearable living conditions as the Superstore workers. A UFCW strike could have drawn in solidarity from the broader Albertan working class. However, while public support can play an important role, even more vital than popularity is the workers' ability to stop the bosses from making profit. This is how the Canadian working class historically gained the right to unionize, strike and fight for better working conditions.
How workers have won in the past
The UFCW leadership states that "as a labour movement, our gains are always realized over time and as part of a larger effort that spans years and multiple contracts". In fact, the most fundamental gains such as the right to unionize were not won through backroom deals and cowardice. They were won through mobilization of the rank-and-file membership for militant strikes. For example, in 1937, the United Auto Workers at the Oshawa General Motors plant won union recognition by waging a militant struggle, holding down a hard picket against strikebreakers until they were victorious. Their victory sparked a wave of strikes across the country that led to improved living conditions for the entire working class. These historical struggles show that the labour movement made gains from workers recognizing that their bosses would not listen to talk alone; instead, to win their demands, they had to seriously prepare for strikes.
The leadership claims that "every effort, every decision, and every breath we take, we are working to improve the lives of all Alberta workers". Apparently, this only applies so long as these efforts, decisions and breaths are taken behind bargaining doors and not shoulder to shoulder with the membership on a picket line.
A brave army deserves brave generals
The UFCW leadership stated that "it is clear that we will not have 'an army'" in an attempt to suggest the membership was too weak to strike. However, they follow this statement with these warnings:
"When speaking to your coworkers about the offer, try to avoid extreme positions. It is easy to yell go on strike"
"Ultimately, careful conversations about the pros and cons of each option will result in the best possible decision"
After settling with Loblaws, the leadership published a statement with another warning that "whether you're a union activist or not, that decision must be respected".
Sounds like there was an army! One that was knocking on the gates of the union headquarters! It seems that the UFCW bureaucrats were more afraid of this army of workers who were ready to fight than they were angry at the class enemy, Loblaws. These bureaucrats successfully disorganized the workers by making it 100 per cent clear that the leadership was opposed to struggle under any condition. Brave soldiers are willing to fight, but not if their officers are cowards. For this army to win, they needed generals who would prepare them for battle and fight alongside them, instead of acting as the last line of defence for the other side. The UFCW leaders scared the membership to retreat into a defeat. However, they can only hold back the membership for so long. As Leon Trotsky explained, "the laws of history are stronger than the bureaucratic apparatus." The crisis of capitalism will only further degrade living conditions and workers' rights. For workers to fight and win against the capitalists, they will have to launch a fight within their unions against these bureaucrats who, at the end of the day, would rather accept miserable contracts from the bosses than mobilize their membership.
In the interests of full disclosure, we reprint the scandalous statement below.
---
Full statement of the United Food and Commercial Workers Union Local 401:
STRIKE OR SETTLE AT SUPERSTORE?
Superstore management makes final offer.
Yesterday, Loblaws advanced a final offer for a new union contract covering Superstore union members across the province. As we digest and analyze the offer, it is clear that it represents a substantial and significant improvement from the offer on the table before your 97% strike vote was taken.
Superstore union members are faced with a choice: do you strike, or do you settle?
What would a strike look like?
What a strike against Superstore would look like is difficult to predict. But any strike in this economy, and in the era of COVID-19, can reasonably be assumed to have the following characteristics: it will be long, difficult, demanding, and ridden with conflict and emotion.
At any point, the Alberta government could intervene, and bad labour laws could result in prohibiting the strike or severely limiting your ability to picket. The government may choose to stop you from striking altogether by calling your work "essential" and claiming a work stoppage cannot be allowed in the current environment.
Further, your union has conducted a market survey on customer attitudes through Environics Research. Customer support is critical to a successful retail strike. The data the survey provided is preliminary, but suggests that customer support is unpredictable, if only because many Superstore customers don't know anything about the issues. Customers tend to be motivated by the price of the goods.
The survey pointed to the likelihood that customer support in Edmonton could be higher than in the rest of the province. And while a significant percentage of customers could have sympathy for Superstore workers, many others will still cross a picket line. Large numbers of customers shopping in stores will be disheartening and will significantly erode solidarity among picketers.
Ultimately, the survey revealed a mixed bag when it comes to customers and indicates that we will have a lot of work to do around earning customer support if we go on strike.
When it comes to union members, 3,000 of the 10,000 eligible Superstore union members voted to strike. Of those 3,000, just over 2,000 have signed up to picket.
Unfortunately; however, only about 700 workers, or 7% of Superstore union members, have indicated that they are committed to a strike of any significant duration. This is worrisome, as we don't know if picket lines will crumble in a short period of time.
We also know that Superstore is currently on a "hiring spree," with signs advertising employment opportunities popping up all over the place. It is clear that this push is part of a Company scab strategy to prepare for a potential strike. Sadly, using scabs in Alberta is legal and an option that Loblaws can explore. They are also asking existing employees to cross the picket line, and could lock employees out under Alberta law.
The last union strike against Loblaws was approximately two months long in Newfoundland, and it did not yield a successful outcome. The last big retail strike in Western Canada was against Saskatoon Co-ops, and it lasted about six months. The union managed to badly hurt the Company's business through the entire Christmas season, but the settlement some months later was very modest.
The good news is, notwithstanding these risks, we are convinced that the picketers we will have will be animated and passionate about their rights. If Superstore members wish to strike, your union is committed to assisting them in doing so and will be with them beyond a shadow of a doubt.
While it is clear that we will not have "an army," we will surely have a strong "rebel force" that will be able to irritate, agitate, and nip at the heels of a multi-billion-dollar giant corporation for months on end.
In short, Loblaws will know they are in a fight.
What does the Company offer say?
The Company offer represents a substantial and significant improvement from the offer they presented before your 97% strike vote. It also represents and includes many workplace improvements that were negotiated prior to the strike vote.
In fact, since the strike vote, the Company has retracted all of its province-wide concessions. We defeated the Company's desires to do away with the Sunday premium and to give more of our members' hours to supervisors. The reality is that your 97% strike vote had a major impact on the Company's position in bargaining.
Below are some highlights of the Company's offer:
New special rights protecting victims of domestic violence. Your life at work often intersects with your life outside of work and enshrining these rights in your collective agreement is another way for us to make a better world by making better workplaces.
New rights for those who wish to observe special days related to their faith. The observance of faith is very important to many of our Superstore members, and we know that protecting your rights to those observances is part of creating better workplaces.
The Company has doubled its retro offer. This development only emerged after your overwhelming strike vote and relentless pressure from your Bargaining Committee.
The Company has agreed to eliminate cash register receipts (BPS/BPA) that have a known association with higher cancer rates among women and children. A lot of people don't know about this issue, but it's your union's job to do its research and improve your health and safety rights at work while pushing to create a better and safer world.
A commitment to a Company-paid program to provide education to union members and improve rights at work. Empowering our members with the tools to improve their lives both at work and at home is a key element of our commitment to building better workplaces and a better world.
The creation of a new Company-funded program to monitor stores and ensure you get the representation you deserve. As we continue to make our way through the pandemic, it is vital that Superstore union members have access to enhanced representation to ensure their rights are respected and protected!
Drastic improvements to scheduling and shift allocations that will help provide increased hours for part-time employees.
A direct drug card for full-time employees.
Before the strike vote, the Company would not provide necessary benefit contribution levels to part-time benefit plans. After the strike vote, the Company has agreed to increase contribution levels so that the benefit plans can continue to be healthy. Remember, all sorts of basic benefits are available to part-time employees working as little as ten hours per week.
These sorts of benefits are something that is never seen in non-union part-time jobs. Sustaining these benefit plans is one of a number of major victories arising from your overwhelming strike vote.
A commitment to creating more full-time jobs and hiring for those jobs quickly and efficiently. More full-time opportunities mean better job security and an ability to make a living while working at Superstore.
The offer includes meaningful increases to wages, wage scales, and retroactivity. Since the strike vote, the Company has doubled its retro offer. Unfortunately, this is not a restoration of pandemic pay, but is a type of "bonus" for your work during the pandemic during which you did not receive extra compensation.
Since the strike vote, the Company has doubled its proposed wage increases for people that were stuck at the $15 minimum wage. A new wage scale has been created for these workers so that they are not "frozen" like workers so often are in non-union service industry jobs. This scale also credits employees with hours worked such that their immediate increases could be as much as $0.90 per hour.
The offer guarantees wage increases of 1.5% in the first year, 1% lump-sum payments in the second and third years, 1.5% in the fourth year, and 2% in the fifth year. Superstore's major competitor, Safeway, left increases in years 4 and 5 as an uncertainty and in the hands of an arbitrator.
No one can describe this as a "rich" deal. Compared to other union collective agreements; however, it is superior. Generally speaking, many Albertans lost their jobs during the pandemic. And between 2019 and 2020, many Albertans suffered a 6-10% decline in their income.
The real question when looking at this offer in the context of this economy and this pandemic is not whether it is "good" or "bad". The better question is whether it is good enough or adequate.
Our union strongly believes in Superstore workers, and we share the view that Superstore union members deserve much more. Given that this is the Company's final offer, can a lengthy and difficult strike be a worthwhile investment in an unpredictable outcome?
When reviewing the offer, some of the contents can be confusing and their interpretation may not be apparent. Please contact us directly if you have questions and want a further explanation about how the offer specifically impacts you.
How do you decide?
It's important that you carefully weigh the value of the offer versus the prospect of a strike. In our opinion, there is no more ability to negotiate with the Company. We have reached an either/or intersection. Either you accept their final offer, or you ask your union to commence a strike.
At times you will feel conflicted about what to do.
We urge you to discuss the options with your coworkers, your union representatives, and above all, with your family. These discussions will form the basis of a thoughtful and informed decision that is in your best interests.
When speaking to your coworkers about the offer, try to avoid extreme positions. It is easy to yell "go on strike", without considering what that will look like months down the line. Alternatively, it is easy to demand that people accept the deal without considering what the implications of the offer may mean in the future. Remember, ten thousand workers could well have ten thousand different opinions.
Please urge your coworkers to participate in voting. The outcome will be determined by the majority of those who vote, not whether a majority of the entire workforce has demanded a strike or a settlement.
Whether there is a strike or settlement, it is obviously important that the decision be a collective one and represent the will of Superstore union members.
That's what our union is all about.
How will you cast your vote?
We will be releasing information about the voting process in the coming days. There will be the opportunity to vote both in-person and online.
Online voting will be facilitated in a secure fashion with unique and individual voter identification assigned to those who opt to vote online. Voters' lists will be cross-referenced to ensure that every member receives only one chance to cast a ballot and to ensure the integrity of the voting process.
We will send out additional information about this process, including online voting instructions and in-person voting times and locations so that you have all of the information you need to fully participate in the process.
Telephone Town Halls
To assist you in making the decision between striking or settling, your union will be coordinating three special telephone town halls for Superstore union members next week to review our current situation. The town halls will take place on:
Tuesday, October 19 at 7:00 PM
Wednesday, October 20 at 12:00 PM
Thursday, October 21 at 7:00 PM
We will review the choices facing Superstore union members on these three telephone town halls, including a comprehensive review of the Company's offer, the likely dynamics of a potential strike, and the provincial bargaining environment in which we find ourselves.
Superstore union members will also have the opportunity to ask their questions about the offer and a strike on the town halls.
As always, all Superstore union members need to do to participate in the town halls is answer our phone call immediately prior to the start of each of the meetings. You will be automatically connected to the meeting so you can listen in and ask your questions, and you will receive a phone call on each of the three days we are hosting telephone town halls.
If you miss the call, you can listen and ask questions online by visiting https://gounion.ca/tth
Online Zoom Meetings
Additionally, your union will be hosting two online meetings for those members who are not able to make the telephone town halls using the Zoom meeting platform. Zoom is very easy to use and only requires that you click a link to participate in a meeting using either your phone or computer.
Our Zoom meetings will take place on:
Wednesday, October 20 at 9:00 PM
Thursday, October 21 at 10:00 PM
All Superstore union members are welcome to join the Zoom meetings, even if you participate in one of the telephone town halls. We will be reviewing the same information on the Zoom meetings and, again, members will have the opportunity to ask their questions.
We'll send out links to the meetings closer to the dates.
Doing what is right for you
Ultimately, careful conversations about the pros and cons of each option will result in the best possible decision. And what matters most is that you are empowered to make the best decision for yourselves and your families.
We will do everything in our power to ensure you have what you need in order to make that decision.