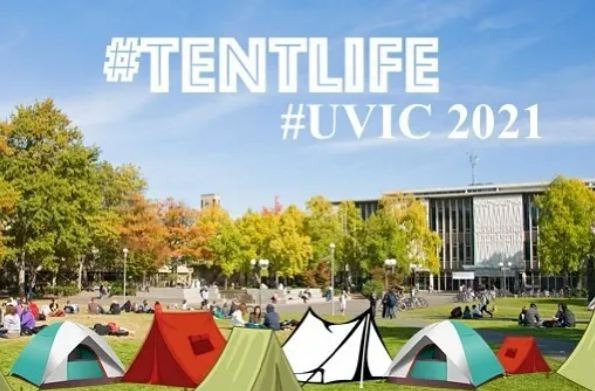 The crisis of capitalism continues to deepen. This has exacerbated the housing crisis and led to an increase in homelessness across the country. Rising inflation and interest rates will only make things worse. The housing crisis in B.C. has been particularly acute, with university students hit particularly hard.
According to British Columbia's 2020-2021 homelessness survey, 11 per cent of the province's nearly 9,000 homeless residents are below the age of 25. This data is a 24-hour snapshot of the estimated 23,000 B.C. residents who experience homelessness over the course of each year. One Vancouver study estimates that 3.5 people experience "hidden homelessness"—those who couch surf, live out of their cars, or otherwise don't have a permanent address—for every one person experiencing homelessness.
The province's biggest universities—the University of British Columbia (UBC), the University of Victoria (UVic), and Simon Fraser University (SFU)—are commonly thought of as rich campuses where the children of the ruling class want for nothing, but this is far from the truth. In 2019, there was a shortage of 14,300 student beds in Vancouver, including a waitlist of 6,000 students for housing at UBC alone. These waitlists are comprised of students who can afford to live on campuses, where costs average around $1,000 per month at UVic and UBC. Many students are cut out of this housing competition entirely and left to drown in the province's cutthroat rental market. Average rent costs are up 23 per cent in Vancouver since last year, and are predicted to climb 10 per cent in Victoria in 2022 as inflation soars to a 40-year high.
The student homelessness crisis is most acute at the University of Victoria, which has an enrolment of 22,000 in a city of 90,000. There are only 2,300 student residence beds available to rent. That's about 10 per cent of the student population. Despite their high proportion of student renters, the university has done little to help students navigate the expensive and exploitative rental market and ensure everyone has a place to live while they study. Many UVic students study out of their cars or tents. One student told Socialist Fightback that they started searching for an apartment to rent in the winter time, and were forced to rent it throughout the summer in order to guarantee a place to live in the fall term. This type of manipulative renting practice is common for UVic students, where so many experience homelessness that an anonymous group calling themselves Tent Life has dedicated a crowdsourced Instagram page to sharing the stories of students who have suffered from the homelessness crisis. Reports on their page include students losing their scholarships after they deferred enrolment to avoid homelessness, paying six months' rent up front, sacrificing groceries and other essentials, and fearing they will lose their study visas without a permanent address.
UVic's homelessness crisis is not a question of supply. Data from 2016 shows that about five per cent of the city's homes are empty. That's 8,330 empty homes and about 1,500 homeless individuals. Further, the University of Victoria itself owns 45 residential properties, in addition to a "boutique" hotel, for the purposes of investment, which they do not put towards housing students. The university grossed $3.6 million in investment income in 2019-20. Meanwhile, University of Victoria students who pay thousands of dollars a year in tuition are forced to "camp out full time," according to a recent CBC article. As one commenter points out, "camping out full time" is homelessness.
Neither the University nor the City of Victoria has put forward any solution beyond their sincerest sympathy. One UVic town hall with NDP MLA Murray Rankin features the minister's proposal to "provide more creative options in the housing market" such as secondary suites and dens. This would be to the benefit of landlords in a market already saturated with unsafe living arrangements which take advantage of vulnerable students and young people. Students report paying exorbitant rent costs to live in mouldy basements, apartments with no locks, and uninsulated garages. It's hard to imagine how Victoria's landlords could get any more creative.
Other post-secondary students in the province, like those who study at UBC and SFU, suffer from the same crisis as UVic students. UBC alone has a 6,000-person-long waitlist for student housing, making up a large portion of the total shortage of 14,000 student beds across the city of Vancouver. Socialist Fightback spoke with one undergraduate student who is at risk of homelessness. She described how she was given 1.5 months to find a new place to live. As an international student, she said international student housing has not only been unhelpful, they have ignored her attempts to contact them. Asked about bursaries from UBC, she said she is at risk of losing her pre-existing scholarships and funding if she can't find a new apartment, as she won't be able to attend in-person classes. She's been treating apartment-hunting like a full-time job, while actually working full time through the summer, and says most listings are either scams or taken by the time she can send a message. "What happens if I wake up on July 31st and still don't have a place to live? I can't afford to pay for a motel," she said. "If by some miracle—and it would be a miracle—I managed to get student housing, I would still be paying a ridiculous amount."
The student housing crisis isn't the only way B.C.'s post-secondary students experience poverty, even as they are faced with universally rising tuition costs. Student homelessness is coupled with a crisis of food insecurity on B.C. campuses. Some 40 per cent of UBC students report low to very low food security, and even more report regular fears of running out of food. The UBC food bank saw a 67 per cent increase in visits in 2021. UVic characterized usage rates as "very high." Those who access these services are often glamorized by the media as living a quintessential student lifestyle, as though they suffer less than non-students. The truth is that 50 per cent of UBC food bank clients support dependents, primarily children, and 23 per cent of food-insecure students receive no parental assistance with tuition and other essentials. Young people are not immune to the province's roughly 10 per cent poverty rate. Post-secondary students are part of the broader working class who struggle to find a place to live or enough food for themselves and their families.
The provincial government has done nothing to address the fact that its students are unable to pay for tuition, groceries, and a place to live. Tuition costs, alongside the cost of living, continue to rise under NDP Premier John Horgan. The Liberals before him were even worse, canceling needs-based grants and overseeing a tripling in the cost of education. The student unions which are meant to fight for the rights of post-secondary students have done little to address the crisis. The Victoria College Students' Society brags that they advocated for living with roommates as a way to cut costs. This does nothing to address the root of the problem. There are more than enough rental properties, but they are too expensive for most students.
Capitalism has completely failed university students. It cannot provide affordable education or affordable housing. Many students are homeless and unable to eat properly. Going to classes, obtaining a degree, and receiving a proper education are rather difficult if not impossible when one doesn't have a roof over their head and cannot afford to eat. Instead of acknowledging the crisis, the media portrays these as the hallmark sacrifices of a hard work ethic, rather than as the obstacles they really are. Some in the NDP and the student unions tell us to look for creative solutions, when what is really needed are practical measures to overcome the crisis.
The student unions must recognize that the vast majority of students are workers who face the same problems as the rest of the class. Only by linking up the struggle of students who experience homelessness, hunger, and poverty with the rest of the labour movement will we win. Student unions and the trade unions must take up the call for a socialist housing policy to deal with the crisis. Anything short of militant class struggle is woefully inadequate to address the breadth of crisis faced by B.C.'s post-secondary students and the broader working class.
End homelessness! For a socialist solution to the housing crisis!
For guaranteed housing for all students!
For cost of living grants to support students through university!
For free education for all!