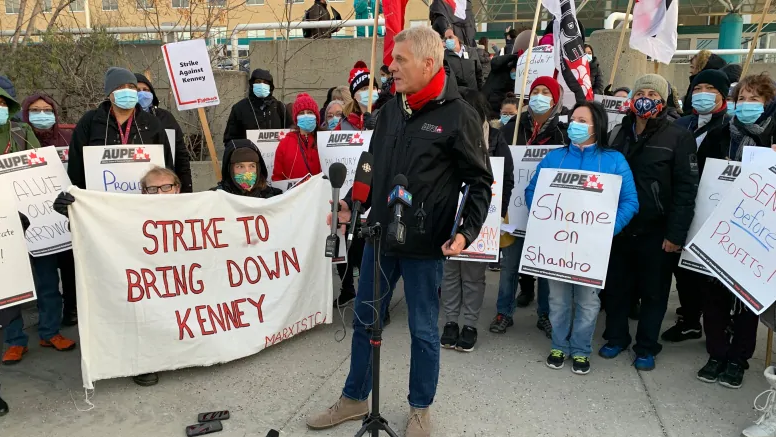 On Oct. 26, hospital and healthcare workers in Alberta staged wildcat strikes across the province. Housekeeping, food service, clerical, maintenance, and support staff refused to work, stayed home, and simply walked-off the job. Strikes took place in healthcare centres all the way from, but not limited to, Edmonton, Calgary, Lethbridge, Red Deer, Grand Prairie, Leduc, Drumheller, Fort McMurray, and Fort Saskatchewan. Nearly 50 different workplaces went out on strike.
Alberta Health Services (AHS) have already announced intentions to clamp down on strikers. Later the same day, they sent an email to staff stating that anyone joining the pickets "will be subject to disciplinary action." UCP Finance Minister Travis Toews was quick to come out against the strikes as well. In a media statement, he said "Alberta Health Services is taking immediate action with the Alberta Labour Relations Board to end this illegal activity. Those involved in this illegal action will be held accountable." He said that he expects "all Alberta unions [to] respect the bargaining process, stop putting Albertans' safety at risk and abide by the law." Never mind that the UCP have a rather poor record of "respecting the bargaining process." In fact, the UCP is currently in a legal battle with Alberta Union of Provincial Employees (AUPE), where the union has filed a complaint against them for bargaining in bad faith!
Just a few months after they got into office, the UCP passed Bill 9, or the Public Sector Wage Arbitration Deferral Act. Bill 9 allowed them to illegally and unilaterally postpone wage arbitration until a more opportune time for them. More recently they passed Bill 1 and Bill 32. Bill 32 effectively makes picket lines and striking illegal, while Bill 1 bans protesting on "essential infrastructure"—which is phrased vaguely enough that it could include anything. Based on this criteria, if a nurse was running late for work outside of a hospital, they'd be acting against provincial law. There is no bargaining in the system. The UCP will do anything it takes to get their way, through and through.
The walk-offs have come in response to the provincial government's move to lay-off up to 11,000 public health jobs through privatization. These cuts would mean the elimination or privatization of 10 to 16 per cent of Alberta's public healthcare positions. Only a few days later at the UCP general meeting, party members narrowly voted to endorse the creation of a hybrid public-private healthcare system—a move Health Minister Tyler Shandro stands to benefit from, as he and his wife own a private medical insurance company. These moves also serve to undermine public sector unions by eliminating mass numbers of unionized positions.
The UCP has attempted to justify these cuts by arguing that the majority of layoffs are currently in auxiliary positions in healthcare, like laboratory, linen, cleaning, and food services. In the past Shandro promised there would be no layoffs of front line staff for the duration of the pandemic. Now Shandro has changed tune, and said frontline layoffs will be "minimal". Shandro's own press conferences as well as a leaked AHS draft plan from July contradicts this. In fact it proposes eliminating 16,700 full and part time jobs; including hundreds of nurses. Even in non-pandemic times, this would all be a disaster, but COVID-19 makes the situation that much more dire. If enacted, these cuts would not just be devastating for the thousands of workers who'd lose their jobs, but for the entire healthcare system.
So far, the NDP leadership has been hesitant to support these strikes. Provincial party leader Rachel Notley has described them as "deeply concerning," and is continually referring to the picket lines as "chaos." She has called on the UCP to "get back to the table with Alberta workers," but this begs the question: What table? The UCP have done everything in their power to avoid collective bargaining from the very minute they got in office. There's nothing to indicate that they're willing to change their approach.
Statements like these only serve to bolster the position of the AHS and UCP, who want nothing more than to shut strikes down as quickly as possible. There can be no ambiguity or hesitancy about it. Notley and the rest of the NDP leadership need to unequivocally support striking healthcare workers and their unions. The fate of free universal healthcare is in the balance. If Kenney and Shandro have their way, healthcare will be wholly gutted and privatized to the point where the only public funding would be tax breaks for signing up to Shandro's private medical insurance company! Thankfully, after a wave of public pressure, Notley has walked-back her position, and come out in support of the strikers. In the future, there can't be this same hesitancy.
Strike to win!
Jason Kenney as his UCP lackeys have brought absolutely nothing but cuts and chaos to Alberta workers. They can't stand unopposed. We can't wait another three years until the next election while they make life in this province unbearable. These pickets need to be seen as the starting point to taking down the UCP government. The first step is to spread the strikes. Within individual hospitals, all non-emergency workers need to be mobilized, including nursing staff.
Above all else, the AUPE needs to act decisively in the coming weeks. They need to gather this explosive energy and give it an organized backing. President Guy Smith and the rest of the union leadership need to take direction from this initiative. The next step is for the AUPE to call for all-out, indefinite strike action across the province and across all sectors.
But even further, these workers need the widest possible support from non-healthcare sectors. Already, workers at the Edmonton Remand Centre have walked-off in support even though they're not threatened by privatization. This is a fantastic development that must be expanded. The Alberta Federation of Labour needs to mobilize its membership with solidarity strikes in support of these wildcats.
It is essential that union leadership across the province sets out clear direction. No worker can be left in strike limbo, unsure whether or not it's time to mobilize. Ambiguity threatens to leave this incredible energy alone to dissipate. Now is the time to act, and we must act strongly.
Strike against privatization!
Strike to bring down Kenney!