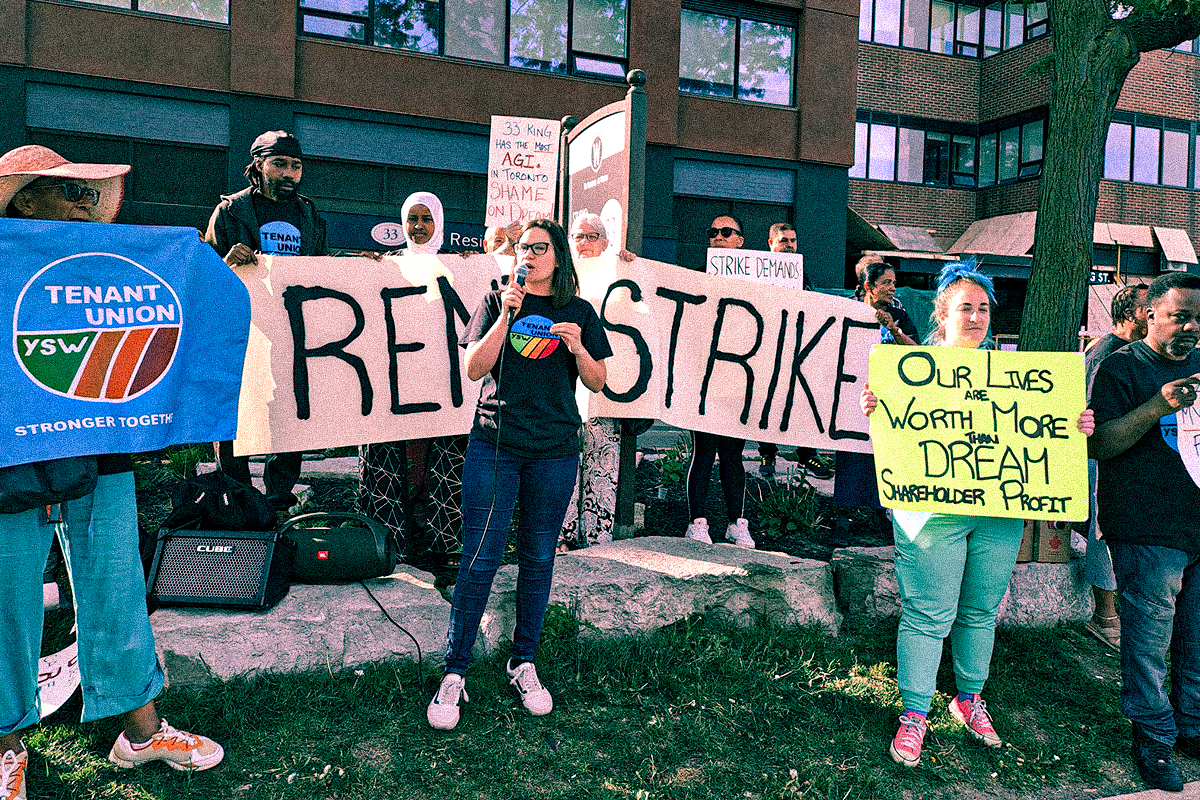 In Toronto, one of the world's least affordable cities, hundreds of tenants at 33 King Street and the Thorncliffe Park complex have declared rent strikes to fight their landlords' bid to evade rent controls.
Massive rent hikes
For weeks, tenants in Thorncliffe Park and at 33 King Street in Weston have refused to pay rent to their corporate landlords, Dream Unlimited and Starlight respectively, protesting their efforts to impose new, double-digit rent hikes.
Both the Thorncliffe Park complex and 33 King Street are rent controlled, which means that rent increases should be capped at somewhere between 1.2 and 2.5 per cent, depending on that year's provincial guidelines.
However, Above Guideline Rent Increases (AGIs) provide a legal loophole for landlords to increase rents by far higher amounts. Through AGIs, corporate landlord Starlight proposed a rent increase at their Thorncliffe Park complex of 4.2 per cent last year, and this year's proposed increases range from 4.94 to 5.5 per cent. The case of 33 King Street is somehow even more egregious; according to the York South-Weston (YSW) Tenant Union, the owners have used AGIs to increase rent at the building by a whopping 22 per cent over the course of five years, including a three per cent increase during the 2021 pandemic rent freeze!
Profits over people
AGIs are allowed by Ontario law for the purpose of funding major projects such as renovations and repairs. The AGI framework allows landlords to increase rents by an additional nine per cent over three years, on top of whatever increase is allowed under provincial guidelines.
The provincial government argues that AGIs are "critical" and "ensure that Ontario's housing stock remains safe and well-maintained", because landlords would not make needed infrastructure repairs without the ability to offload costs onto tenants. Interestingly, the province is saying the quiet part out loud here: landlords do not care about the quality of their buildings or the safety of their tenants, only about the profits lining their pockets.
Let us look to 33 King Street as an example. As noted in a press release from the YSW Tenant Union, Dream Unlimited (the corporate landlord of the building) has $16 billion in assets and reports 50 per cent of its rental income as profit; and yet, in spite of these eye-popping numbers (and their alleged "commitment" to affordable housing, which is espoused all over their website!), 33 King Street's tenants have been subjected to "the highest number of AGIs in the entire City of Toronto". The infrastructure repairs in question include window replacement and balcony restoration, projects which Dream Unlimited could surely afford to undertake while barely putting a dent in their massive profits.
In fact, in a statement provided to Fightback by a representative of the YSW Tenant Union, it was pointed out that Dream has actually received funding from the federal government to carry out the same capital repairs for which they are charging tenants. Despite this funding and their ample resources, they have chosen to make their tenants—ordinary working-class people who do not have access to Dream's billions of dollars—foot the bill, all while reducing access to amenities, completely failing to maintain tenants' units to a liveable standard (as per the YSW Tenant Union's provided statement), and even kicking tenants out of their units without compensation in order to carry out renovations.
Is 'real rent control' the solution?
In response to ever-increasing rental costs in Toronto and major rent control loopholes in Ontario, including AGIs and the exceptions in the law for new buildings, housing advocates have called for the implementation of "real rent control".
These calls for "real rent control" usually include demands such as removing exceptions for new builds (so that buildings constructed after 2018 are subject to rent control) and introducing vacancy control (so that landlords can't put their vacated units back on the market at dramatically-inflated prices). These reforms to rental law in Ontario would be welcome, and could alleviate some of the pressure on Toronto's working class—certainly, eliminating the use of AGIs would prevent tenants like those in Thorncliffe Park and at 33 King Street from being forced out of their homes by their landlords. However, rent control alone cannot resolve the impossible situation faced by the city's renters as a whole.
The average rent for a one-bedroom apartment in Toronto is over $2,500 a month. Rent control limits how much that rent can increase, but it does not bring the price down. If we use the famous 30 per cent rule, anyone looking to rent a one-bedroom apartment in Toronto needs to make over $100 thousand a year—tens of thousands of dollars more than Toronto's median individual income of $39,200, and certainly far more than the maximum monthly payment of $1,228 from the Ontario Disability Support Program (ODSP). Telling landlords that they can only increase their unit's rent from $2,500 to $2,562.50 does not make that unit affordable. On a related note, rent control also does not solve the problem of homelessness. More than 7,000 people are homeless in Toronto, and 76 per cent of them say that the main barrier they face in getting off the streets is the city's exorbitant rents.
Ultimately, the problem is that "real rent control" does not strike at the heart of the issue: housing is a basic necessity of life, but the vast majority of the housing supply is in the hands of the capitalists, and their only concern is squeezing as much profit out of their "residential assets" as possible. Despite the massive need for housing in Toronto—there are over 85,000 people on the waitlist for social housing in the city, and the average wait for an affordable two-bedroom unit is 13 years—developers are far more interested in building a seemingly-endless supply of condos, which are then snatched up as investment properties and either rented out at unaffordable rates or left to sit empty. This situation is bound to continue unabated, and rent in Toronto is bound to climb higher and higher, as long as the housing supply is in the hands of the capitalists—who will doubtless respond to any threats to their profit with capital flight. It is clear that the working class needs to fight back.
Labour must join the movement!
Workers in Toronto are deeply affected by the unaffordability of housing in the city. In the words of the Advocacy Centre for Tenants Ontario, renters are "balancing on a knife's edge". Every day, huge numbers of working-class Torontonians are forced to choose between buying food and paying rent. Many are at imminent risk of losing their housing, either due to job loss or rent increases. The huge impact of the housing crisis on the working class makes this a critical issue for the labour movement.
An anonymous source who was a delegate to the Canadian Union of Public Employees (CUPE) Ontario's annual convention, held May 31 to June 3, has shared that the convention passed an emergency resolution committing the union to financial and public support of the Thorncliffe Park rent strike. This is certainly welcome news, although the union still has not publicly supported the strike. However, the labour movement needs to go further than statements of support and monetary donations.
While rent strikes at individual buildings are admirable and can defeat individual landlords, such a widespread crisis requires a strong and united response. Labour unions, which represent over a million workers in Ontario alone, can lead this response, and put forward bold demands which actually address the problem at the core of the housing crisis.
Workers need housing, and the capitalists will never be willing to provide it—not on the scale at which it's needed. Meanwhile, if the estimated 65,000 empty condos in Toronto were seized and converted into public housing units, we could house not only the entirety of Toronto's homeless population, but also about three-quarters of the people on the city's waitlist, practically overnight. If developers and corporate landlords are going to withhold access to one of the basic necessities of life for the sake of their own profits, then these developers and landlords should be expropriated. With housing removed from the clutches of the capitalists and placed in the hands of the working class, we could not only massively reduce rents, but create a rational plan which ensures good quality public housing for all Torontonians.
In the meantime, the rent strikes at Thorncliffe Park and 33 King Street continue. Asked if they could provide an update on how the strike is going, the YSW Tenant Union shared the following:
"The rent strike is going well. Over half of the building is withholding rent, and tenants are holding on despite a campaign of pressure from the landlord. Tenants have weekly canvasses and are keeping each other informed and protected. The landlord is harassing everyone with several calls a week to pressure them to pay rent, but folks are not caving and more people in the building are joining. They are also now exchanging experiences with buildings nearby who are considering rent strikes as well, so there is a lot of hope in what the strike can do."
This is very inspiring, and surely support for these strikers from the labour movement would be well-received. The other unions in Ontario should not only follow CUPE's example and take up support of these strikers, but should go further by organizing solidarity pickets. Furthermore, rather than responding to individual rent strikes on an ad-hoc basis, the unions should take up a policy of support for all rent strikes, and respond to new strikes with immediate solidarity and demands for expropriation.
Victory to the Toronto rent strikers!
Expropriate the developers and corporate landlords!
For a massive program of public housing and good quality housing for all!