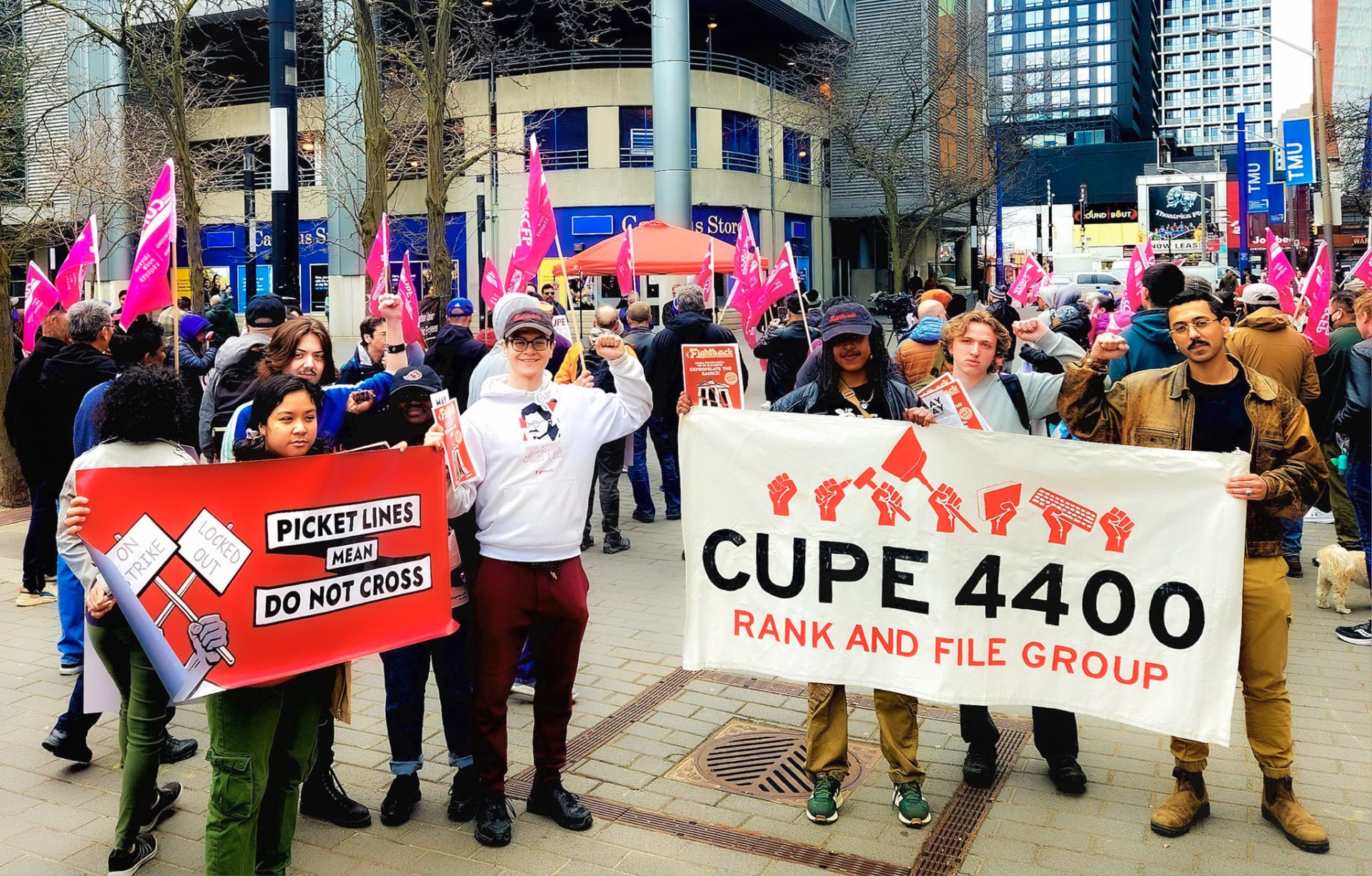 One hundred and six maintenance and custodial workers at Toronto Metropolitan University (TMU) represented by CUPE Local 233 are now on strike against cuts to real wages and benefits.
Pension theft and wage cuts
Since September, CUPE 233 has been bargaining for control over their pension. In 2021, TMU forced all employees to increase how much they contribute to their pension by 0.4 percent—without increasing their benefits. While the TMU Faculty Association represented by OPSEU local 596 challenged this and the school was found to have violated their collective agreement, the pension cut persists for CUPE 233 members.
On top of this, in 2017 the school secretly began claiming any pension contributions above the legal minimum as an "employer-only credit," allowing TMU to appropriate $8 million from the fund.
"They're unilaterally making workers pay more but at the same time filing documents that claim they can claw millions of dollars out of our pension fund," said David Simao, chair of CUPE's provincial university sector committee.
In addition to the two-tiered pension deal, the university's wage offer fails to keep up with inflation. The entry-level wage for caretakers, the lowest-paid staff at the university, went up by just under six per cent between 2018 and 2021. After the administration forced the maintenance and custodial workers to work through the pandemic without hazard pay, this is a clear insult.
The same administration has been raising student tuition fees while students are already struggling to pay for housing and food. Meanwhile, TMU president and vice-chancellor Mohmmad Lachemi made $426,973 last year alone. The administration as a whole gifted themselves a 15 per cent raise last year. "How can TMU management tell these workers they don't deserve wages that keep up with inflation, when [the] administration gave themselves a 15 per cent raise?" Simao said.
Students: Support the workers!
On April 17, over 200 people including workers from CUPE 4400, CUPE 79 and other locals along with Socialist Fightback students at TMU joined a solidarity rally for the maintenance workers. The general attitude among CUPE 233 workers is that they are prepared to strike as long as they need to until their demands are met. Many CUPE 233 workers said that they will not allow the administration to steal the pension they need to retire.
CUPE 233 is not alone in their struggle against the bosses—currently, there are over 3,000 teaching assistants and contract instructors represented by CUPE 4600 at Carleton University on strike. The university has offered these workers a wage increase of only three per cent per year, well below recent inflation rates.
This is not just a problem for the education sector, but the entire working class. In 2022, while inflation was at 6.8 per cent, wages on the whole only grew by 5.1 per cent. This is simply unsustainable. How much longer will workers be expected to tighten their belts while university executives only get richer?
Lachemi treats TMU as a business. And, to crush the workers, the administration has insisted on keeping the campus open during the strike and to date has offered no academic amnesty for students who refuse to cross Local 233's picket lines. Lachemi himself was seen personally crossing the picket lines.
This clearly undermines the local 233 strike. And, it plays directly into the hands of management. If the university administration can rob the CUPE 233 members' pension fund and cut their wages, they will quickly turn to attack other workers, and students too.
Socialist Fightback at TMU calls on the Toronto Metropolitan Student Union (TMSU) to campaign for student-worker solidarity. TMSU should use their resources to publicly call on students to join CUPE 233 on the picket line and educate students on the need to stand in solidarity with them. Lachemi has, under the direction of Premier Doug Ford, cut the school's budget every year for three years, at the direct expense of workers' wages, pensions and the quality of students' education. If allowed to, he will only attack us further.
The TMSU must use this opportunity to mobilize the student body, and organize a student solidarity rally with CUPE 233. This must happen this week while the strike is still going on. The TMSU should instruct the rank-and-file student body to contact their professors about not crossing the picket line and pause exams until the CUPE demands are met. Instead of staying quiet on the subject to avoid facing student accountability, the TMSU should work with CUPE 233 and rally the other unions on campus to join them on the picket line and begin a hard picket to shut the school down! A united struggle is the only way of achieving CUPE 233's demands and the student union must stand alongside them. An injury to one is an injury to all. The blatant attacks by the administration have targeted both the workers and the students. Connecting the students' issues to the workers' issues is the only way to achieve victory and will set an example for the entire labour and student movement. Unite and strike to win!
Victory to CUPE 233!
Students and workers united, can never be defeated!
Picket lines mean do not cross!