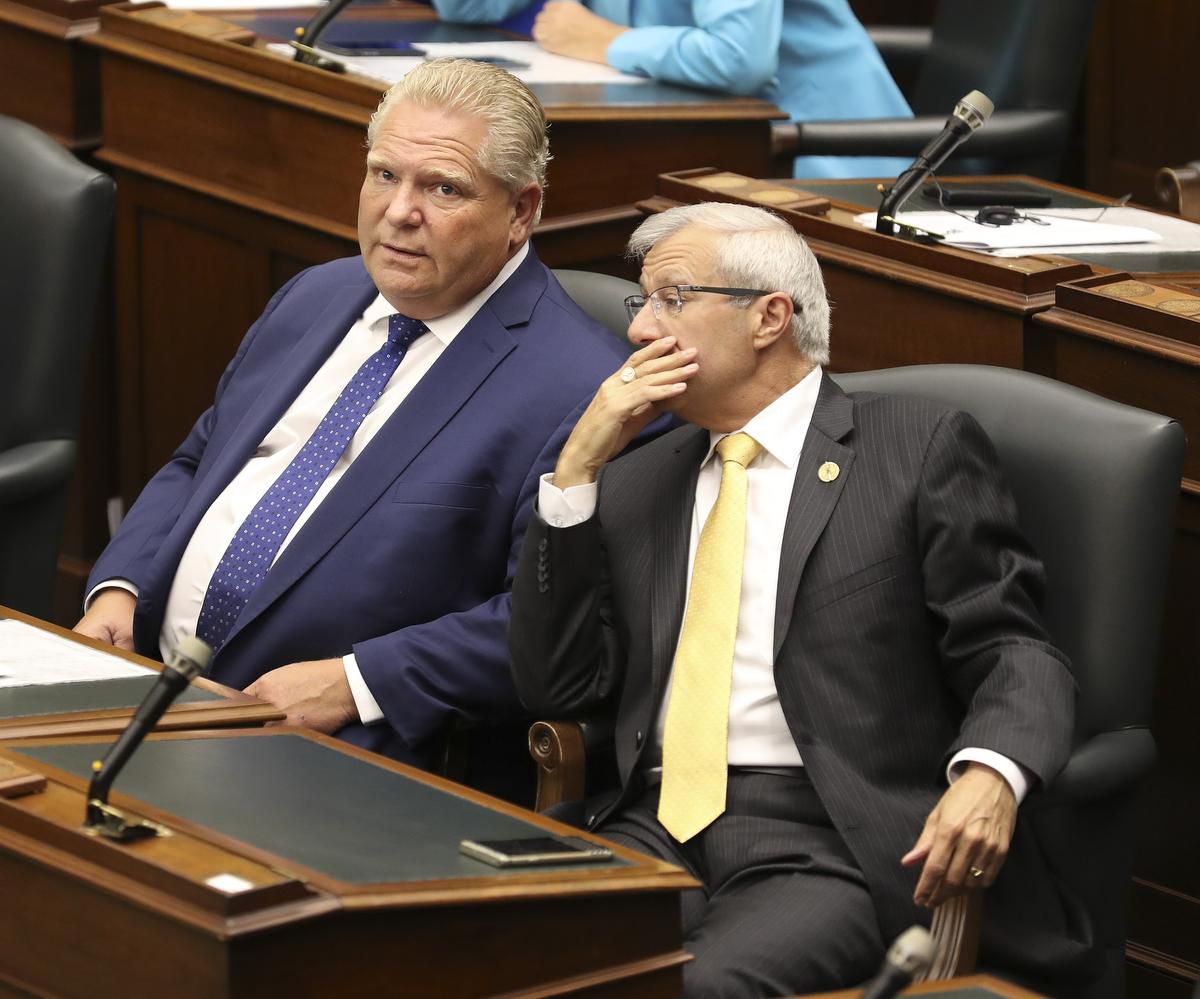 On Sept. 21, Ontario Finance Minister Vic Fedeli announced that the $6.7-billion deficit his government inherited from Kathleen Wynne's Liberals for 2018-2019 was in fact $15 billion—more than double the anticipated amount. Sadly, this remarkable discovery also came with grave consequences. "The truth may not be much fun, but at least you know it's the truth," Fedeli said. "The task ahead is not an easy one. The hole is deep and it will require everyone to make sacrifices without exception." The message was clear: deep cuts are coming, and there's nothing we can do about it.
Unfortunately for Mr. Fedeli, he is not the great detective he makes himself out to be. In fact, he knew as early as April of this year that the Liberal government was understating the deficit. On April 25, a widely publicized report was released by Auditor General Bonnie Lysyk which claimed that the Liberal government was underestimating the 2018-2019 deficit by as much as 75 per cent. This was accomplished, she said, by a series of accounting tricks that overstated revenues and understated expenses. Is it possible, however, that Mr. Fedeli somehow missed the release of Lysyk's report? This is difficult to believe considering that Fedeli was the Conservative parliamentary leader at the time. Not only that, but he commented on the report, stating that the Liberals had "deliberately misled" the people of Ontario…in April. Mr. Fedeli has discovered the $15 billion deficit in the same way as a man who claims to have discovered his own nose. That is, either he already knew it was there, or he is the most oblivious man alive.
Why, then, is he announcing his "discovery" now? Mr. Fedeli knows full well the answer to that: because it is convenient now.
Up until now, the Ford government has gone out of its way to pacify the social conservatives who helped to get him elected. This was seen most clearly by Ford's hasty repeal of Ontario's updated sex-ed curriculum, as well as his order for Ontario universities to adopt a "free speech on campus" policy that gives a free hand to far-right agitators. The Conservatives, however, have yet to properly reward their most trusted friend. That friend, of course, is big business—and they want their cut.
Above all, they are eager to receive the corporate tax cut that Ford promised them during his campaign. Under his plan, the current corporate tax rate would fall from 11.5 per cent to 10.5 per cent. This is seen as all the more essential since Donald Trump lowered the U.S corporate tax rate from 35 per cent to 21 per cent, which places competitive pressure on Canadian business.
Additionally, they are hopeful that Ford will reduce Ontario's incredible debt burden, which at $348 billion is the largest sub-sovereign debt load in the world. On Sept. 18, just a few days before Mr. Fedeli's "discovery," the Financial Accountability Officer warned that two of the four credit rating agencies had "revised their rating outlook for Ontario's debt from stable to negative, reflecting their assessment of the province's increased credit risk." This is bad news for big business, since it creates an unpredictable environment for investment. Soon after, Ford promised he was "committed to setting us on a responsible fiscal path that will strengthen our credit standing." In other words, he is ready to go out of his way to offer comfort to his corporate pals, whatever the cost.
The problem, however, is that someone must pay for this wonderful gift to Canadian big business. And who else but the working class? By "discovering" overnight a $15 billion deficit, the Ford government is hoping to shock the people of Ontario into accepting that they have no choice but to "sacrifice" in order to plug the deficit. Ford has already indicated what forms this "sacrifice" may take. In a recent report, the Ford government suggested introducing a "means-tested eligibility formula" for all social programs, suggesting that Ford's cuts will start from the poorest up. The sacrifice, however, will not be shared by everyone. While social services are being gutted, Canada's richest will be revelling in record profits, soon to be made even larger with Ford's help. In 2017, Canada's largest six banks alone gave out $14.3 billion in executive bonuses. This sum just so happens to be slightly less than the entire size of Ontario's deficit. With that money alone, we could save every job now being threatened by the Ford government. However, under the capitalist system, that wealth is outside of our hands.
In addition to service cuts, Ford has also floated the idea of privatizing Crown corporations to fill the $15 billion hole. A recent report commissioned by the Ford government recommended the "divestiture" of the LCBO, Ontario Power Generation, and Ontario Lottery and Gaming. This, the report argues, would generate a "one-time cash payout" which would help to reduce the deficit. Of course, this was the same argument made by former Premier Kathleen Wynne during the privatization of Hydro One. That selloff led to sharp increases in hydro rates for consumers, in return for a meagre cash payout from Hydro One's new shareholders. That payout, we remind you, did nothing to avert the current $15 billion deficit that now exists. On the contrary, the lost revenue from Hydro One will likely result in a net loss to public coffers in the long run. Having learned nothing, Doug Ford now aims to emulate his predecessor in the same shortsighted manner.
You don't need to be a detective à la Mr. Fedeli to know what happens next. The Ford government intends to plug its deficit by drawing a target on the back of every last social program, every last Crown corporation, and every last job in Ontario. The only force that could possibly stop them is the organized labour movement. However, the incredible cowardice and downright stupidity of Ontario's labour leadership is a comforting indication to Ford that resistance will not be on the agenda. Up until now, the labour tops have hardly raised a finger in response to Ford's attacks, including his outright violation of the democratic right to strike. Their passivity does not bode well for the people of Ontario.
This is the decisive moment. If the labour movement isn't willing to fight the mountain of austerity being promised by Ford, then we have to ask, what will it fight for? Just this month, around 40,000 high school students participated in a walkout against the Ford government's changes to the sex-ed curriculum. In doing so, these teenagers were miles ahead of the fossils that currently reside in the head offices of Ontario's trade unions. If these people had even a fraction of the students' courage, the Ford government would be running for cover. This, however, is not the case today—and this needs to change. Every last gain made by the labour movement now threatens to be unravelled by this government, and the very existence of organized labour itself is being called into question. The kids know well what needs to be done, and that is to resist. Austerity is coming. The labour movement has no time to waste.