Capitalism has utterly failed the youth. With rising inflation, skyrocketing tuition, and no prospect of a future, young people are guaranteed a worse quality of life than their parents. Left behind by a system that prioritizes profit over human life, young people across Canada are rejecting capitalism and striving for revolutionary change.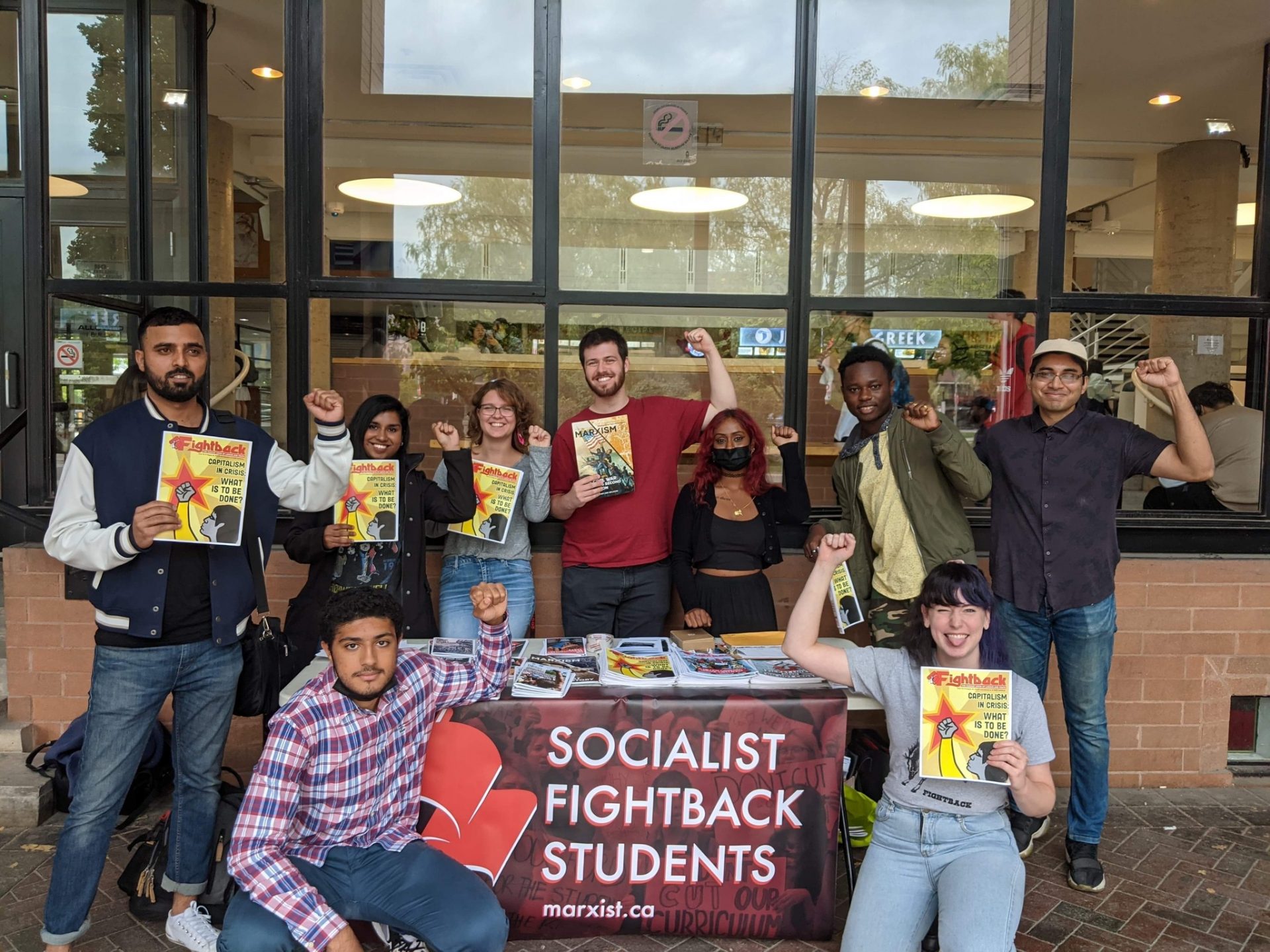 It is in this context that SFS (Socialist Fightback Students) has spread to campuses across the country. Operating on 15 campuses across Canada, with big centers of activity in Toronto, Montreal, and Edmonton. We have also expanded to Vancouver, Calgary, and Quebec City, setting up new chapters at University of Calgary, University of British Columbia, and Université Laval respectively. We have organized public talks, socials, and reading circles for revolutionary youth to get involved in. The interest from the youth has been incredible, with over 2,000 students signing up in September across the country!
Ontario
With rent prices skyrocketing across Toronto, it is not shocking that many young people are interested in socialist solutions and anti-capitalist politics. This was reflected in the huge interest we received at Toronto Metropolitan University (TMU), University of Toronto, and York University where over 1,000 students signed up to get involved in just two weeks.
This surge of interest was reflected in the events held on the campuses. We held events at the University of Toronto, Toronto Metropolitan University, and York University on topics ranging from the crisis of capitalism, Marxist theory of capitalism, and the need for revolutionary optimism. The events were well attended, garnering crowds of over 60 students on all three campuses, showing the general radicalization and interest amongst the youth. Beyond Toronto, We also organized events at Carleton University in Ottawa, McMaster University in Hamilton, and the University of Waterloo. 
At one event in Toronto, three young students stood up and proclaimed that they were already Marxists, and wanted to overthrow the capitalist system. Such is the revolutionary mood amongst the youth today!
Quebec
In Quebec, there has been a similar interest in socialist ideas. In Montreal alone, we collected 700 sign-ups in the first few weeks of September. 
At English speaking campuses, we held events at both Concordia and McGill throughout this semester, with an average of 50 or more students in attendance. Topics included the crisis of capitalism, the environment, and other theoretical Marxist topics. The energy at these events has been electric. One student, attending an event at Concordia University, stood up in the discussion and proudly stated: "History is on our side– We cannot lose!" This sums up the mood of revolutionary optimism.
Similarly, our events on the Francophone campuses in Montreal have been the biggest we have ever had! We held events on the capitalist crisis, The Communist Manifesto, and more. The discussions at these events were particularly lively and wide-ranging, covering topics like reformism vs revolution, how to fight oppression, and the role of a revolutionary party. Ten years after the historic Quebec student strike, many young Québécois students are questioning how future movements can win, and are increasingly turning towards Marxism.
Alberta
Out west, we have had similar successes. The youth in Alberta are facing a crisis unlike anywhere else in the country, with a failing healthcare system and a deeply conservative government. We held events at both University of Alberta, MacEwan University, and University of Calgary. Topics focused on the crisis of capitalism, the fundamentals of Marxism, and the need for revolutionary optimism. This year the first event ever was held at the University of Calgary, with over 20 in attendance. This is an exciting development and marks the growth of Socialist Fightback Students beyond Edmonton into the rest of the province.

British Columbia
In B.C, where workers are facing soaring rent prices alongside record high inflation, we have been growing quickly as more and more people look for socialist solutions to the crisis of capitalism. On Vancouver island, at the University of Victoria, we held several events this semester such as our event on the crisis of capitalism and inflation, which brought out around 35 students. 
Excitingly, we held our first event at the University of British Columbia (UBC) in Vancouver. Our first meet and greet
drew out 65 students, which is the largest gathering we have ever organized in Vancouver. This was followed by a number of other events covering topics like "How to fight oppression" and "The Quebec Student Strike" which drew similarly sized crowds. This is an excellent start to what will no doubt be a long tradition of socialist organizing at UBC.
Halifax
On the east coast, students have been similarly struggling with the everyday burdens of capitalism. At Dalhousie University, we have seen increasing interest in our activities this year, with our first event bringing out around 15 students. For a small group of only five students, this is an excellent achievement and sows the seeds of future organizing in the city of Halifax and beyond.
Join the fight against capitalism!
Year after year, the crisis of capitalism only gets more dire. It is not surprising that in the face of war, disease, and economic depression, many young people are losing hope. This explains the record levels of mental illness amongst the youth. This mood of depression has affected large parts of the left, with groups collapsing, falling into despondency, and losing faith in the ability of the working class to change society.
However, the Marxists have not lost hope in the slightest. The development of consciousness does not proceed in a straight line and this mood will not last forever. As well, side by side with this demoralization, a growing number of youth are also inspired to enter the struggle and are looking for an alternative. That alternative is to fight for a socialist world. Marxism is a long view of history, and we have an unshakable faith that the working class will succeed in overthrowing capitalism if we can build a revolutionary organization to lead that struggle, starting with the youth. This revolutionary optimism is what Socialist Fightback Students has to offer, and this optimism is confirmed by the big successes of our recent activity. If you are frustrated with capitalism, we urge you to not give up, and to instead organize! Contact us to join your local Socialist Fightback Students chapter, or (if one doesn't already exist) build one on your local campus. Together, we can fight for a revolutionary socialist future.
Where we organize:
Don't see your campus? Join and help us build an SFS chapter! Contact us here