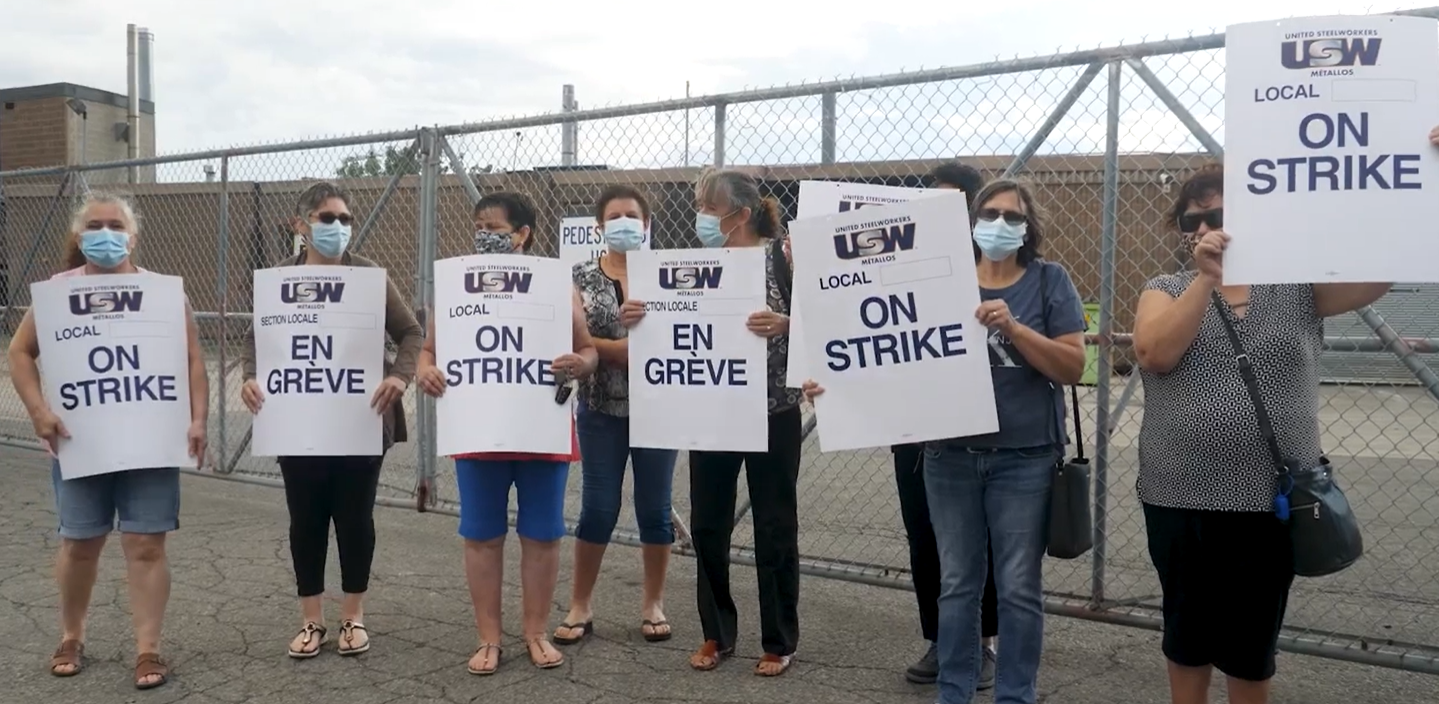 United Steelworkers Local 3950 members at National Rubber Technologies have been locked out for over two weeks, as the company looks to claw back their severance pay and vacation rights.
The workers, who recycle scrap tires on Cawthra Avenue in Toronto, arrived to find their workplace blockaded and its doors locked just days after their agreement expired, on June 30. As the union notes, this is management's retaliation against its workers, after they refused the company's demands for dozens of "concessions"—including severance pay cuts and forced overtime.
According to one worker, the company presented an offer with 63 clawbacks. That offer included an end to their severance pay. The offer also would replace their vacation time with biweekly percentage pay, requiring them to take a leave of absence at the company's discretion to get time off. And, while the company technically offered a pay increase, it amounted to just $0.25 per year, far below inflation. Its small incentive bonus, further, requires workers maintain perfect attendance—down to the hour.
"To them, we're replaceable," the worker said. "They're filthy rich but they're coming after us."
After the company's offer was rejected by about 85 per cent on June 20, the company threatened to lock the workers out. The company has since threatened to divert production and there are rumours it may close down its operations entirely.
For all of the plant's 47 workers, the increased overtime and cuts would come on top of already exhausting working conditions."If it's 30 degrees outside, it's 45 degrees inside. The presses are very hot and it's go, go, go, go go" one worker said in a union promotional video.
The company moved to "lean manufacturing" in 2008, laying off 425 of its workers to cut costs. Since then, according to another worker, while the staff have been cut from around 500 to fewer than 50, the plant's output has only risen.
That increase in output has also come with a rise in injuries. All told, the plant reported 111 injury claims from 2012-2019, chiefly for back injuries, slips and falls and "overexertion". But that likely understates the scale of workplace incidents. One worker described—over the decades he's worked at the plant—seeing broken bones, burns, lost fingers, lost eyes, lost hands and more. "No one who works here comes out normal," he said. "They've taken our skin, our limbs, our sweat and our blood."
Meanwhile even those remaining workers, who've worked at the plant for decades, are largely stuck making below $20 per hour.
These attacks—after years of overexertion and job cuts—are a clear insult to the workers. But this isn't an isolated phenomenon. Across the country, from Nestlé, to Coca Cola, to Fenner Dunlop and elsewhere, employers are trying to use the present crisis to push workers to accept cutbacks. In Sudbury, 2500 USW members at Vale remain on strike to fight cuts to their retirement health benefits after years of strenuous work.
Canada's bosses are doing their best to make workers pay for the crisis. This lockout and others like it must be fought by the whole of the labour movement.