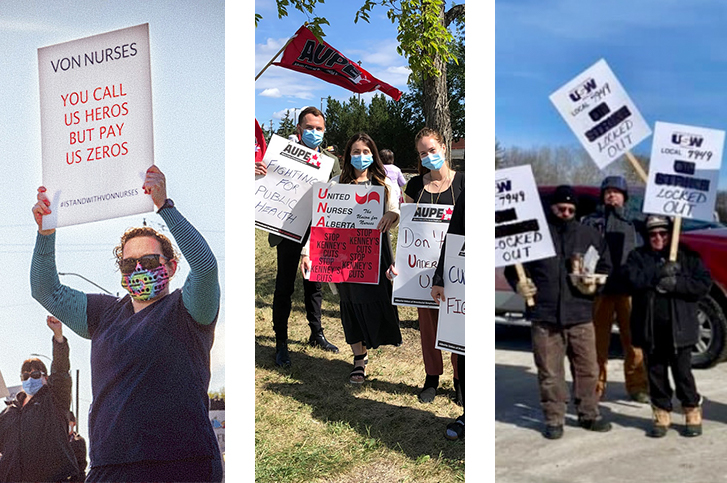 With the pandemic appearing to wane, bosses across Canada are eager to recover their profits by gutting pensions, cutting wages and undermining job security. Inflation is also taking a big bite out of take-home pay. Across sectors and across the country, more and more workers are being forced out onto picket lines to defend their standard of living.
Attacks on manufacturing workers
Many of Canada's "essential" manufacturing companies have been the first to attack their essential workers.
In food and beverage manufacturing, 2021 began with Molson Coors locking out over 300 workers near Toronto, seeking to impose two-tiered pensions and introduce gruelling 12-hour workdays. In Calgary, Coca Cola plant workers were forced to strike against job cuts and outsourcing, just weeks later.
In May, Nestlé reneged on longstanding promises to provide its "supplemental" Toronto workers job security and benefits, prompting its 470 unionized employees to strike. In August, meatpacking workers at Olymel, near Montreal, struck for four months following threats of around 500 job cuts.
As of writing this article, Cargill—responsible for some of Canada's worst COVID-19 outbreaks—faces the threat of strikes in Alberta and possibly Ontario. Even after multiple deaths, management still expects its workers to accept benefit cuts. 
Outside of food and beverage manufacturing, employers have been no more compassionate.
In Bracebridge earlier this year, management at Fenner Dunlop—which manufactures conveyor belts—locked out its workers in an attack on their short-term disability benefits. In Toronto, National Rubber Technologies demanded its recycling plant workers accept wide-ranging cuts to severance pay and vacation. The workers were locked out before their union even tabled a counter offer.
Nearby, management at De Havilland refuses to offer its unionized aircraft workers guaranteed future employment. When the workers began their strike, the company reportedly brought in scabs via helicopter and won an enormously undemocratic injunction, which made most picketing illegal.
Not to be outdone, after imposing cut after cut to pensions and job security in the years following the 2008-09 crisis, many of Canada's auto-sector employers have also used the pandemic to undermine their workers' rights. 
As 2020 ended, Ford "enhanced" the "temporary employee plan" and the tiered wages it previously secured, with threats to shut its plants down. In May, auto supplier THK Rhythm locked out its workers for refusing job cuts.
In January 2021, workers in Windsor barricaded the Stellantis assembly at Vimy and Walker to block management's attempt to replace unionized Auto Warehousing Company repair jobs with Motipark contractors. Since then, Stellantis itself announced plans to slash production in the plant to just one shift by Spring 2022. That will eliminate 1,800 jobs in a city already marked by the highest unemployment rate in Canada.
Much of the auto sector elsewhere, meanwhile, has further imposed temporary layoffs—notably at Chrysler in Brampton, Ford in Oakville and General Motors in St. Catharines and Ingersoll—citing global parts shortages. After weathering the pandemic, many of these workers found themselves thrown out of work, then brought back and then thrown out again, throughout the year, and left reliant on Employment Insurance, marked by its typical delays and unreliability.
"There's no consistency," Mark Sciberras, president of the Unifor local branch at Ford Motor Co.'s Oakville, Ont. operations, told The Canadian Press. "One week to the next, you don't know if you're working."
Miners face benefit clawbacks and broken promises
In the mining sector, the attacks have been much the same.
In May, ArcelorMittal reneged on its past commitments to improve pay and workplace safety in Port-Cartier, Fermont and Fire Lake, prompting a strike by 2,500 workers.
Soon after, management at both Rio Tinto in Kitimat and Kemano and at Vale in Sudbury and Port Colborne demanded new benefit cuts from their workers, forcing additional defensive strikes.
The strike at Vale came on top of past pension cuts and after the company's own data showed a tripling of workplace injuries since 2016. "You work for 30 years. You destroy your body, then they take your health benefits," one Vale mine worker said.
Retail workers pushed to live with less
Service and retail workers, already some of the worst paid and least secure in Canada, were not spared either. 
Through the end of 2020, 1,400 Dominion Grocery Store workers were pushed to strike against pandemic pay cuts initiated by Loblaw Companies Ltd. At the time of writing, workers at Alberta's Superstores, owned by the same company, are on the edge of striking—also after pay cuts and attacks on their job security.
This past spring, B.C. hotel workers, unionized with Unite Here Local 40, were locked out by Burnaby Hilton management after a round of "mass firings". Workers faced similar job cuts from management at the Pacific Gateway Hotel and others across Vancouver, prompting a city-wide strike.
Meanwhile, Wine Rack workers in Toronto were subject to company orders blocking them from communicating with their union, and refusals to increase their poverty wages. When the workers rejected the company's offer, Wine Rack withheld grocery cards, meant to assist struggling workers during the pandemic, from the whole bargaining unit. Instead, the company invited those who couldn't make ends meet to scab.
Right-wing governments attack public sector workers
Right-wing provincial governments have also attacked the rights of frontline health and education workers this past year, often mimicking those attacks seen in the private sector.
In Alberta, Jason Kenney's government plotted to fire 11,000 healthcare workers into mid-April. And, when these health workers organized a wildcat strike, around 800 were reprimanded, which included unpaid suspensions.
Meanwhile, in Manitoba, bus drivers, refugee aides and university staff have also struggled against austerity measures initiated by the province's right-wing government. In Ontario, nurses, hospital staff, education workers, and more have been thanked for their pandemic service with legislated wage freezes. In Quebec, nurses who are faced "barbaric" working conditions are now refusing mandatory overtime. Education support staff and CEGEP teachers have also been pushed to strike against cuts by the right-wing government. In New Brunswick, at the end of September, 94 per cent of hospital staff represented by the Canadian Union of Public Employees also recently voted to strike against stagnant wages and overwork.
The federal Liberals have also eagerly attacked workers across Canada. The Trudeau government cut pandemic support for struggling workers again and again, partnered with the Conservatives to attack Montreal Dockworkers' right to strike with back-to-work legislation and continued to undermine the safety of postal workers.
Once the pandemic is resolved, these attacks will intensify. Federally, Prime Minister Trudeau's mandate to cabinet explicitly tasked his Ministers with fighting the pandemic while avoiding "any new permanent spending." With the federal budget deficit exceeding $300 billion last year and federal government debt approaching 49 per cent of GDP, that will most likely mean cuts to the transfers which help fund provincial health and social programs. It can be quite reasonably expected that the governments of Doug Ford, Jason Kenney, Scott Moe and others will be quite willing to work with the federal government to cut these programs. That will mean layoffs, service reductions and facility closures, unless the labour movement puts up a fight.
Not an accident
Throughout the past year, bosses across sectors have thrown enormous resources into attacking the working class. They've provoked strikes, locked workers out, deployed small private security armies and transported scabs with helicopters. These expenses—significant from employers who claim they can't afford wage increases, decent pensions or job security—are, for the most part, deliberate investments aimed at weakening the working class.
COVID-19 plunged Canada's economy into its deepest recession on record. And, the recovery has been slow and uneven since. Despite this, Prime Minister Trudeau warned another "global recession" could be on the horizon.
Bosses need profits in order to remain in business. But profits don't fall from the sky. Profits are the unpaid wages of the working class—and increasing profit means increasing revenue, cutting wage and benefit "costs", or both. With Canada's economy and much of the global economy in crisis, the bosses will be moving to make the workers pay. Inflation, due to money printing, corporate bailouts, and supply blockages, also forces workers to struggle to keep up with the rising cost of living. One way or another, the capitalist system is hell-bent in attacking the conditions of the working class.
This offensive, if it is to be defeated, requires a united and organized labour movement. There will be more and more picket lines in the years to come, and it is vital that they be supported by any means necessary. The labour movement must be ready to mobilize in every community to defend picket lines, and spread the struggle. In response to scabs, injunctions, and legislation, unions must respond with mass solidarity and a hard picket policy. Weakness only invites aggression, and workers must be ready for the coming fights.