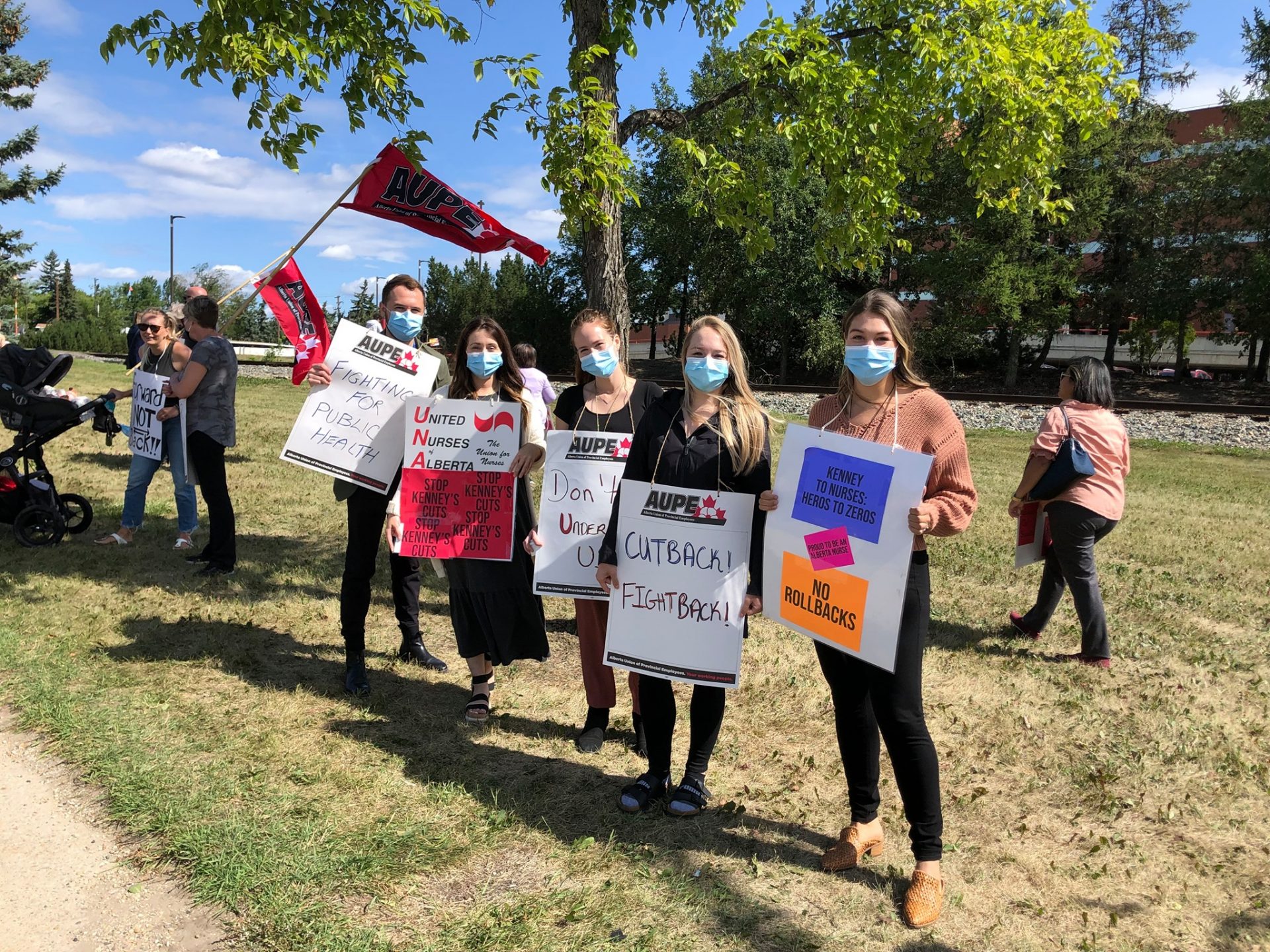 Alberta Health Services (AHS) has informed the United Nurses of Alberta (UNA) that it is invoking the emergency measures clause in their collective agreement to address staffing shortages. These emergency measures allow the AHS to force nurses to work mandatory overtime, impose longer working days, cancel vacations, and direct nurses to other hospitals to cover for staff shortages.
The clause is intended for unexpected emergencies, but David Harrigan, director of labour relations for UNA, argues that the current situation doesn't meet the criteria outlined in the agreement.
In an email, Harrigan wrote: "An emergency is an unforeseen combination of circumstances or the resulting state that calls for immediate action. With the exception of [Chief Medical Officer of Health] Dr. [Deena] Hinshaw, every medical professional in the province foresaw this."
It's disappointing, but not surprising, that poor planning has resulted in heavier workloads and worse conditions for nurses. This situation highlights the contempt that the United Conservative Party (UCP) government has shown for nurses, doctors and general support staff throughout its term.
Both Premier Jason Kenney and Health Minister Tyler Shandro are currently on vacation. Kenney's office stated, "Many Albertans are taking holidays this summer, especially as society returns to normal following widespread vaccinations." Meanwhile, nurses may have to cancel their vacations, work mandatory overtime, or be redeployed to other facilities under the emergency measures clause. Similar to the holiday travel scandal last Christmas, prominent UCP figures are on holiday while others bear the brunt of the pandemic.
Also notably absent is Alberta's Chief Medical Officer of Health, Dr. Deena Hinshaw. Hinshaw hasn't spoken publicly since Aug. 13, despite the closure of operating rooms due to staffing shortages and the looming fourth wave of COVID-19. Alberta currently has 11,426 active cases of COVID-19 with 3,056 new cases identified over the weekend of Aug. 27-29. In comparison, Ontario, with a population three times larger than Alberta—14.78 million compared to 4.44 million—currently has 6,026 active cases.
In a recent statement, the Canadian Union of Public Employees (CUPE) has called out Kenney for being on holiday while the COVID situation in the province deteriorates as well as the UCP government for its general mishandling of the pandemic.
The CUPE statement points out:
"Last year Alberta was facing just over 1000 active cases as school resumed. To protect students and education workers, masks were mandated and a cohort system was put in place. This year, there are nine times more active cases in the province and the UCP has not mandated any protective measures. CUPE is calling on the government to implement all of last year's protection measures this year."
On top of all this, the UCP has demanded that nurses accept a three per cent rollback in wages and the loss of other benefits, such as the elimination of semi-annual lump sum payments and reduced shift and weekend premiums, in order to reduce health-care spending. Overall, nurses stand to lose approximately five per cent of their income, which has not been increased since 2018 despite inflation.
General support staff—including laundry, cleaning and environmental services and food services—are also being told to accept a four per cent rollback.
While Finance Minister Travis Toews claims that the province must find efficiencies in the public sector, it's clear that this is an attempt to push already exhausted health-care workers to a breaking point to justify privatization. AHS has been engaged in discussions with private-sector Greenstaff Medical Canada to hire contract nurses at higher wages than those employed by the province. Contract nurses will allegedly be offered $55 per hour for general acute care and $75 per hour for work in the ICU. Nurses employed by AHS are paid between $36.86 and $48.37 per hour.
Heather Smith, UNA President, says, "It certainly brings into question the whole demand by the government to reduce nurses' wages when Alberta Health Services seems to be willing to enter into contract to pay above, way above in some cases, the current wage rate."
However, this hasn't deterred UNA members, who held info pickets at 30 hospitals on Aug. 11 and will be participating in a national day of action on Sept. 19. Furthermore, nurses in Alberta are preparing to strike. On Aug. 26, UNA and AHS agreed on which services will be considered essential in the event of a strike or lockout. This agreement on essential services brings nurses one step closer to a strike, which even the corporate media is saying is inevitable at this point.
Nurses are under attack by AHS and the UCP government. However, public support for health-care workers is high. Alberta workers overwhelmingly support health-care workers and will join their fight for better working conditions and wages.
Nurses are now at the forefront of the fight against Kenney and the UCP's austerity agenda. A strike in the health-care sector would be a significant turning point in the fight against UCP austerity and in the class struggle in Alberta generally. With other health-care workers under attack, including doctors and support staff, the potential is there for health-care and public sector workers to take the fight to the UCP and win.
Solidarity with nurses and health-care workers!
Fire the UCP!
Strike to bring down Kenney!