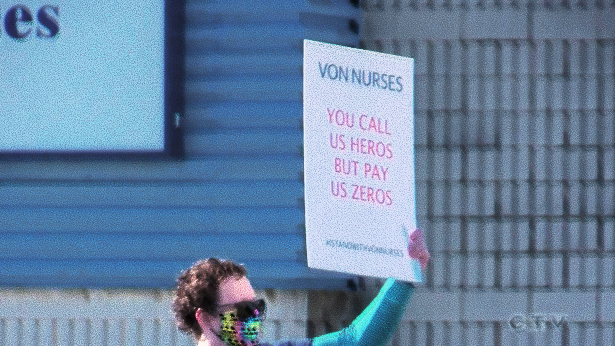 While at the beginning of the pandemic, essential workers were being praised as heroes, they are now facing a crisis of cuts and lockouts. There is a wave of attacks on union rights and decent working conditions across the country. With the rising cost of living, these attacks are creating an unbearable situation for working class people. The challenge before our heroes now is not only to fight the pandemic but also to fight the bosses.
Bosses Capitalize on the Pandemic
Tens of thousands of Canadians have lost their jobs in the pandemic and many more are barely making do. The looming threat of job insecurity has forced many workers to keep their heads down to avoid making their situation worse. Unfortunately, the capitalists have come to the opposite conclusion and are seeing the pandemic as a ripe opportunity to smash the unions and lower the bar for working conditions. Across Canada, there has been a rising trend of lockouts. At the beginning of this year, hundreds of unionized workers from Molson Coors, Fenner Dunlop and Elements Casino Flamboro were locked out within days of each other. At the same time, workers at Newfoundland and Labrador's largest auto dealership also found themselves thrown out on the curb. On the other side of the country, taxi dispatchers and call takers found themselves locked out as management at Kelowna Cabs attempted to push through a contract that would move dispatcher jobs to cheaper labour markets overseas. Right now, over 200 workers at THK Automotive in St.Catharines are facing a lockout. They were locked out the day after their union contract expired, even before any attempts were made at negotiation. Similar to the struggle at Molson, the bosses at THK made sure there was enough inventory in the weeks prior to keep business moving while workers are locked out. Just this week, 830 unionized workers for Reliance Home Comfort, a home repair company, got locked out. Workers at Nellie's Shelter were threatened with a lockout by management if they refused to accept sweeping cuts to sick leave and benefits among other things. While posting tweets about their support for frontline workers, the capitalists have been determined to break the backs of their own workers. In the middle of a pandemic and economic crisis, lockouts are particularly vicious, but they seem to have become a preferred method for the bosses to break unions and push through cuts.
There has been a similar union-busting trend emerging in the public sector. Most recently, the Federal Liberals legislated hundreds of CUPE 375 dockers back to work and forced an end to their strike against precarious work and grueling shift schedules. A few months into the pandemic, Ontario Premier Doug Ford introduced legislation that suspended collective bargaining rights of health care workers. This came on top of a previous bill by the Ford government that froze public sector wage increases at one percent. Considering inflation, the wage freeze effectively means thousands of essential workers are facing a wage cut. While official inflation hovers around two per cent, the price of necessities such as food and housing are skyrocketing past official rates. Since the pandemic, official rent inflation in Ontario has been around five per cent. The Canada Mortgage and Housing Corporation spring 2021 forecast predicts housing prices to increase between 10 to 17 per cent. Food prices are also set to skyrocket with increases between four to seven per cent. While the capitalists are forcing through cuts for the sake of profits, the working class is facing an impossible situation where they cannot meet their most basic needs. The bosses and politicians seem to believe that the workers are too weakened by the pandemic to fight back and will accept the cuts. What they do not realize is that these cuts can become the tipping point and provoke a struggle. Already there are numerous instances of workers taking strike action across Canada and fighting back against the attacks.
Workers Fight Back
Unsurprisingly, it has been frontline healthcare workers who have been at the forefront of the growing fight back. In the middle of the pandemic, the United Conservative Party in Alberta laid off thousands of health care workers. In response, nurses walked out of work in a mass wildcat strike. Nurses in Sarnia-Lambtonare are currently on strike against management at the Victorian Order of Nurses who tried to push through a contract with a zero per cent wage increase. ORNGE Ambulance workers have also recently voted 94 per cent in favor of strike action against the one per cent wage freeze. An ORNGE worker summarized the hypocrisy of the government perfectly, saying, "I think about Doug Ford going to the ORNGE headquarters and calling our members heroes, talking about how they risk their lives each and every day making sure we're staying safe, yet he introduces outrageous legislation that caps their wage increases at one per cent." Hundreds of workers are currently on strike at a Nestlé plant in Toronto fighting against tiered wages and pensions. Housing and homelessness support workers recently claimed a victory over management at WoodGreen Communities Services for reinstatement of one remote work day by effectively organizing a community information rally and petition. At an Indigo store in Mississauga, management cut custodians and shifted cleaning duties onto their minimum wage workers. In response, the workers successfully organized a unionization campaign and even sparked organizing at sister Indigo stores.
Prepare for Struggle
The wave of lockouts provides an important lesson: the bosses have no intention of negotiating. Instead of operating on good faith, they are trying to starve out workers through lockouts. Every lockout that pushes through cuts sends a message. To the bosses, it shows them lockouts are effective. For the workers, it creates further demoralization in an already difficult situation. On the other hand, every victory against attacks to union rights teaches us that workers can strike and win. Organized labour must prepare now to unite as struggles continue to emerge, and ensure no picket line is crossed. If striking workers are left on their own, the bosses can simply wait for union funds to run out or for back-to-work legislation to be imposed. No one workplace can hold out against their bosses alone. Solidarity strikes will send a message to the bosses that unions will not let the bar be lowered for the most essential and vulnerable in society. Workers must not be left to struggle on their own when they are fighting a common fight against a common enemy.