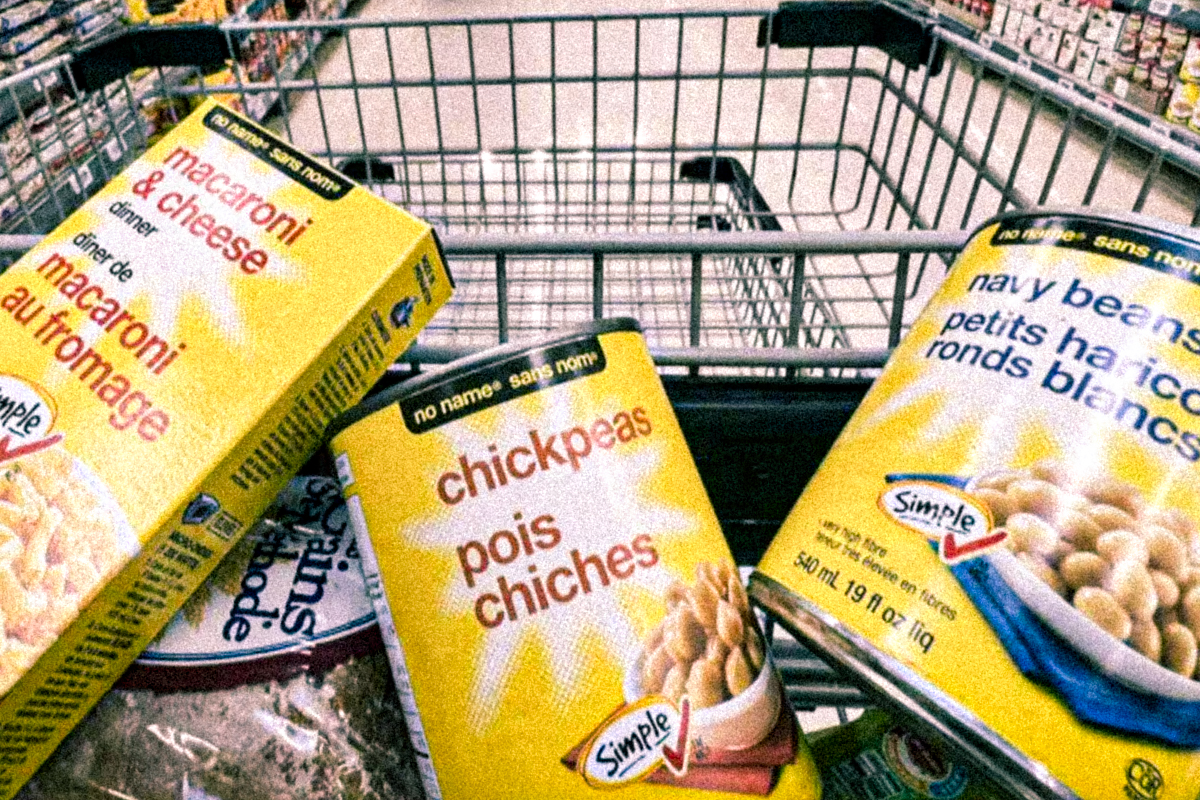 On Jan. 31, Loblaw's much-publicized "price freeze" on its No Name line of products ended, along with price freezes at other grocery stores. Working people are already being crushed under the weight of their grocery bills, and food prices are expected to rise even higher, at least five to seven per cent according to Canada's Food Price Report. Tired of going hungry, shoppers are getting angry.
The end of the price freeze was met with accusations of price-gouging and profiteering. This was especially noticeable on Twitter, where the Loblaw Company's account spent Jan. 31 defending the corporation. Despite the social media intern's mild-mannered pleas, no one was buying what Loblaw was selling.
This isn't just a problem of social media gaffes. A recent opinion piece in the Globe and Mail written by prominent and prolific food-industry academic Dr. Sylvain Charlebois concluded by saying that "the food industry, and particularly grocers, are facing a crisis of confidence, no less."
Fuel for the fire
It's easy to see why people are angry. The price of groceries is reaching unbearable levels in Canada. New data from Statistics Canada shows that the grocery inflation rate was 11 per cent in December compared to a year earlier, and 9.8 per cent over 2022 as a whole compared to 2021. A report published by Dalhousie University found that "almost three out of four Canadians have made significant changes to how they grocery shop due to higher food prices," adding that 23.6 per cent of people are now buying less food due to higher prices. Food bank usage has skyrocketed, but food banks are simply not equipped to handle this level of need.
Meanwhile, the grocery monopolies seem to be rolling in profits. It's worth pointing out the level of monopoly power that large grocers wield in Canada. The top three companies, Loblaw, Empire (which owns Sobeys), and Metro together account for 75 per cent of sales across the country. The same report on grocery store profits states bluntly that "the food industry's competitive landscape remains subject to overwhelming oligopolistic pressures."
Loblaw owns many retailers including Loblaws, Zehrs, No Frills, Real Canadian Superstore, Your Independent Grocer, and Shoppers Drug Mart. All in all, it is by far the largest and most profitable grocery retailer in Canada. The greed and exploitation of Loblaw is personified in Loblaw President and Chairman Galen Weston Jr., the fourth-generation figurehead of the family retail, real estate and bakery empire and one of the richest people in Canada.
Likewise, Loblaw is also the most hated, having spent years openly gouging customers and employees alike. The company ran a scheme to fix the price of bread over a 14-year period, costing someone buying a loaf of bread per week around $370 extra according to analysis in Macleans. What was Loblaw's response? When they were caught, the company offered customers a $25 gift card. During the first year of the pandemic, as front-line workers ensured that people had access to essential goods, Loblaw gave its workers a measly $2 per hour wage increase in exchange for risking death. This "hero pay" was promptly cut just months later. More recently, the company served warehouse workers layoff notices as a bullying tactic during contract negotiations.
In a move in mid-October that was supposed to improve Loblaw's public image, Galen Weston Jr. announced in an email that the company would be freezing the price of products in its No Name discount brand for three months. This followed months of significant price increases, affecting people who were already pinching pennies to afford groceries week-to-week. Far from having the desired effect, the backlash was enormous. A headline letter to the editor published in the Globe and Mail compared it to a car salesman offering a deal by saying "I doubled the price and gave you half off." Not only that, but a statement in response from Metro was that this supposedly goodwill-price-freeze is actually standard practice among the big grocers during the winter months. This prompted questions about further ongoing collusion between grocery retailers.
Attitudes towards the corporation continue to be volatile. In January, a Toronto news anchor posted a photo online of a package of five chicken breasts being sold at Loblaws for $37. The reaction was immediate and sharp, with blogTO reporting that "everyone in Canada is mad at Galen Weston Jr." Since then, shoppers have continued to post photos of price comparisons, sale stickers on standard prices, and other examples of the store scamming customers. The social media kerfuffle at the end of January was a continuation of this trend.
Profits or profiteering?
"It's easy to blame grocers for higher grocery prices. But on a $100 grocery bill, we make less than $4 profit," Loblaw claims. And yet, Loblaws and other major grocery stores have seen their profits balloon in the recent period. Another report from the same lab at Dalhousie found that "based on the performance of their gross profit, Loblaw Companies Limited are outperforming even their best gross profit performance in recent years." An investigation from the Toronto Star, poured over the grocery giants' books to answer the question of whether grocers are profiting from inflation, and ran their analysis by five economists. As should come as little surprise to anyone who's visited a grocery store, the data showed that grocery giants are indeed profiting from inflation.
An even more recent study explains how the claim that Loblaws only makes four dollars on every $100 of sales is misleading:
"That's like saying selling multimillion-dollar mansions is a low-margin business because the real estate agent only makes 2.5 per cent," Stanford said.

"We have to be skeptical about who's interpreting the numbers here," he said. "The supermarket executives will really try to spin their numbers to put them in the most flattering light."

Executives with Loblaws and Empire testified that profit margins have remained "stable" and "flat" since inflation started to take off.

This is misleading because it minimizes how small changes in gross profit margin translated into massive amounts of money, said the CCPA's Macdonald.
Furthermore, the article explains:
If the supermarkets were only passing along the price increases from their suppliers, their gross margins would remain stable. But all three companies have increased their margins, suggesting they are passing along those price increases — and then some.
One doesn't have to understand margins to know that Loblaw is bending the truth. After years of watching them profiteer at the expense of workers and customers, there is no reason to believe that Loblaw is suddenly acting with the greater good in mind.
It is true that the price-gouging of the grocery monopolies is not the underlying force behind inflation. As we have explained elsewhere, the current inflationary crisis was caused by capitalist governments essentially printing money to hand out to big corporations over the course of the pandemic, and is helped along by supply chain problems and the war in Ukraine. However, the spike in inflation has created the opportunity for retailers to further price-gouge, and they certainly have been taking advantage. In the United States, by some estimates, so-called "markups" are responsible for more than 70 per cent of price increases since late 2019. Agribusiness billionaires collectively increased their wealth by 42 per cent since the start of the pandemic. In the third quarter of 2022, Loblaw's profits rose 30 per cent. It's no wonder that people are getting angry.
The question is: What to do about it?
'Greedflation', investigations, and a grocery code of conduct
New Democratic Party (NDP) leader Jagmeet Singh has made this one of his go-to issues in recent months, pointing out that grocer's profits are up while many Canadians struggle to afford food, and calling out "greedflation" as a cause of high grocery prices. In October 2022 an NDP motion passed unanimously in parliament calling for the Standing Committee on Agriculture to investigate rising prices. The resulting Competition Bureau investigation will look into whether the monopolization in the grocery sector is making price hikes worse. They might as well be asked to investigate whether water is wet. As it stands, the bureau can't compel anyone to submit evidence, and has a history of toothless findings.
Meanwhile, others such as Dr. Charlebois have put forward the idea that the forthcoming grocery code of conduct could be a solution to high grocery prices. The agreement has been in the works over a year and would voluntarily standardize certain terms of commercial relationships between suppliers and grocery companies.
Even a cursory look at the parties involved in and the structure of the agreement shows just how unlikely it is to solve the issue in the interests of Canadian workers. It was described by Dr. Charlebois as a "voluntary, government-coordinated and industry-led code." That is, the Canadian state is acting as a central body to organize the collective interests of the agri-food capitalists. Workers cannot depend on the goodwill of the state nor the capitalists who own the grocery and food companies—they are precisely the people profiting from working-class hunger and poverty.
What these solutions miss is that the real problem we are facing is not one of greed or conduct, but of capitalism. Trying to address grocery prices in a situation of general inflation is like trying to put out a fire in a single room while a house is burning down. Even if there was no additional price gouging, food prices would still be going up, workers would still be straining under the pressure, and the grocery monopolies would still be carrying on with their profits intact. The real question is: Why should the capitalists get to keep their profits, while the vast majority is made to pay and suffer under the crisis?
Expropriation is the only solution
Since the $37 chicken incident, there have been an increasing number of calls to boycott Loblaw. However, this poses the problem: Where else are workers supposed to shop? As The Tyee points out,
"Canada is home to one of the most concentrated food systems in the world. Cargill and JBS Foods slaughter 95 per cent of Canadian cattle, while Weston Bakeries and Canada Bread account for 80 per cent of the bread market. Loblaws, Sobeys, Metro, Walmart and Costco all hold roughly 80 per cent of grocery market sales."
Ultimately, whether workers give their money to this or that monopoly will make little difference. This only highlights the larger issue, that our food supply is controlled by a few capitalists and run for their profit.
Others, like Oxfam and NDP MP Niki Ashton, have called for higher taxes on the grocery monopolies. In that case, there is no guarantee that the corporations won't respond with tax dodging (of which the Westons are already under suspicion) or capital flight. Moreover, higher taxes won't lower grocery prices, and after the federal government gifted $786 billion of public money to their capitalist friends under the guise of COVID support, there's no reason to believe that those tax dollars would be used to the benefit of the workers.
There is a saying that "you can't control what you don't own." Our food supply is far too important to be left under the control of a handful of bourgeois profiteers. It is the workers who keep the grocery sector running, in the face of personal risk during the pandemic, and it is the workers who should control it. Not only the grocery monopolies, but the entire system of food production and distribution, must be brought under the collective ownership of the working class. Only then can we keep the capitalists from bleeding workers dry just to put food on the table.