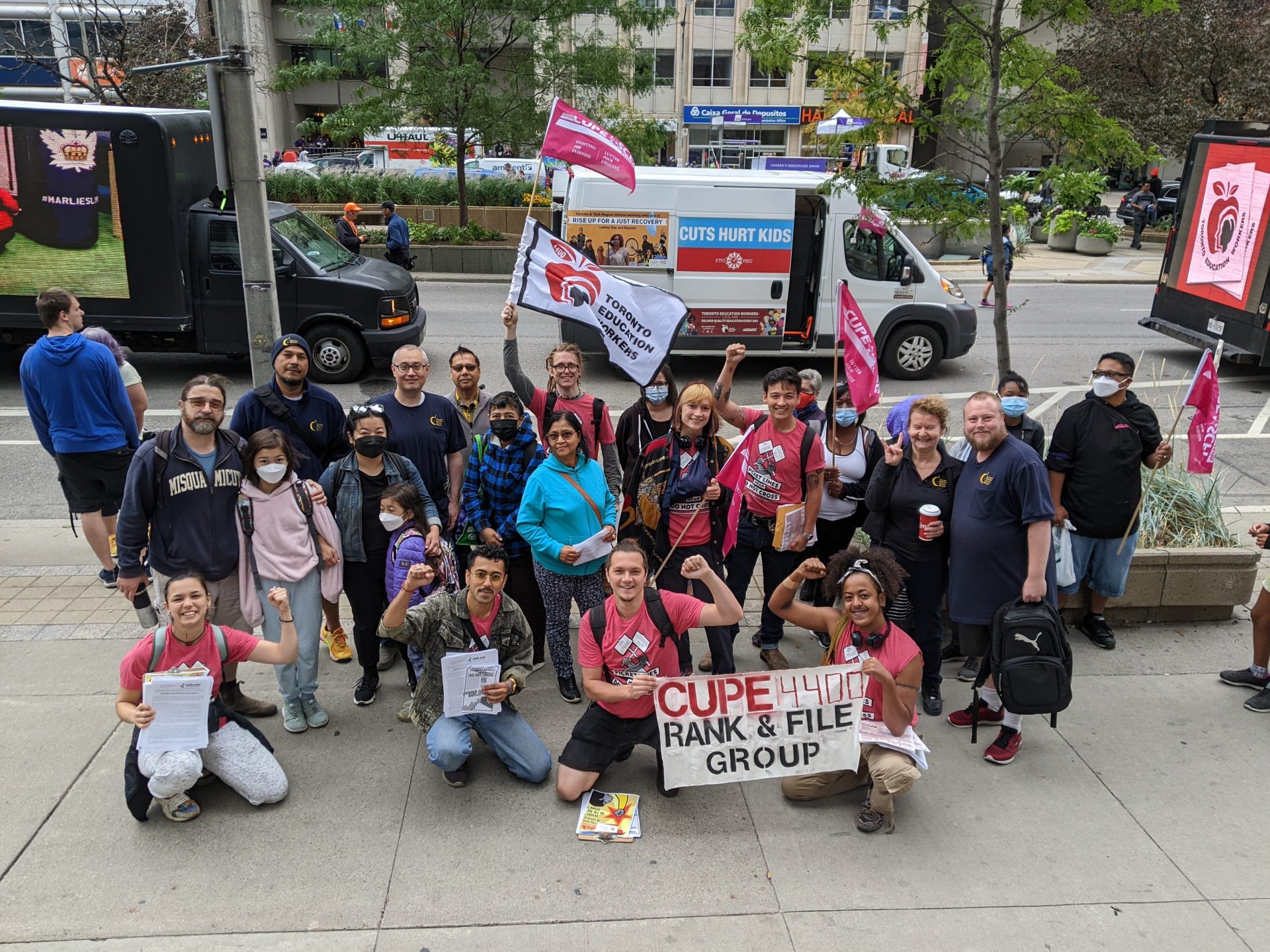 The CUPE Ontario Convention 2023 will take place in Toronto from May 31-June 3, concluding at Queen's Park with a rally in conjunction with the Ontario Federation of Labour. This will be the first democratic meeting since the November education worker strike, when back-to-work legislation was defeated for the first time in a generation. Delegates will have the opportunity to share lessons from across the province, and importantly, to critically discuss mistakes that were made in order to strengthen the movement for future labour struggles.
The convention is being held at a critical moment. Society is in crisis not just in Ontario, but across the globe. Living conditions are in steep decline and millions of people are being pushed to the brink. Breadlines reminiscent of the Great Depression have popped up in all major cities and food bank usage has reached unprecedented levels. Inflation is eroding wages and increased interest rates are bankrupting millions of families. Let's not fool ourselves, the class war is at our doorstep—let us prepare for it!
With the distinct possibility of a victory for rightwing populist Pierre Poilievre in the next election, we need to expect a massive attack on workers. And we shouldn't expect much better from the Liberals—the Trudeau government is starting to pivot towards austerity, with $14.5 billion in cuts in the recent budget. The labour movement must prepare to put up a militant resistance against attacks.
This has already begun in Europe. Britain was shaken by the greatest strike wave since the 1970s with half a million workers on strike on both Feb. 1 and March 15. The German "megastrike" shutdown the transportation system on March 27. And most impressively in France, a sustained mass movement with millions has been demonstrating against the government for the past three months.
This is what we need to be preparing for today as Canada is heading in the same direction. The first shots of this class war have already been fired with the Ontario education workers strike last fall. Naturally, this struggle will be a centerpiece in the discussions during the convention.
The heroic struggle of 55,000 education workers, threatened with hundreds of thousands of dollars in fines, managed to defy the government, stage an illegal strike, and by threatening a general strike, defeat back-to-work legislation for the first time in Ontario. While the victory against Doug Ford should be celebrated by all trade unionists and workers, after the end of the illegal strike, our union leadership went into full demobilization mode and accepted a poverty contract for its members. We need to fully draw the lessons from this experience, from the partial victory, but also from the subsequent mistakes, so that in future struggles the workers can win the good wages and conditions they need.
With this in mind, the CUPE 4400 Rank-and-File Committee has submitted three resolutions to be debated on the convention floor. Our motions (included below) will demand that CUPE Ontario:
1) Adopt the demand for COLA (cost-of-living adjustment) in the fight against inflation,
2) Adopt a hard-defy policy – striking against any future attempt at back-to-work legislation, and
3) Commit to genuine rank-and-file democracy and engagement.
While CUPE Ontario's Draft Action Plan for 2023 highlights the need to fight inflation and speaks in glowing terms of last November's strike, there aren't concrete proposals for defying unjust laws in the future Our resolutions aim to give the Action Plan some teeth.
We point to COLA as the only serious way to combat the inflation crisis. Such a clause would index collective agreements to the inflation rate, protecting our standards of living. Our proposal for a hard-defiance policy aims to make back-to-work legislation a thing of the past. Any time a CUPE local is legislated back-to-work, we will use the same tactic that secured our victory in November; threat of a general strike. These two motions show a clear path forward towards the kind of militancy we will need in the coming period.
The resolution for CUPE to commit to genuine rank-and-file democracy and engagement is inspired by the experience of education workers in the fall. The Ontario School Board Council of Unions (OSBCU) took some positive steps towards mobilizing workers ahead of the strike, and also committed to open bargaining. While this example should be followed by all unions, we must be clear that in the decisive period of the education strike, the OSBCU violated its own commitments and reverted to the norms of business unionism and its lack of genuine workers' democracy.
Two major instances of this were when the demand for an 11.7 per cent wage increase was undemocratically halved and our leadership climbed down to six per cent. The final offer they presented to the members was only 3.5 per cent, a far cry from the original demand. Further, members did not get a voice in the debate over the tentative agreement. Instead, there was a one sided barrage and fear campaign orchestrated by CUPE National to secure a "yes" vote and avoid resuming strike action.
This kind of outcome risks demoralizing workers exactly when we need to be preparing to fight. On the other hand, a firm demand for COLA to defend standards of living, a policy of hard-defiance that makes use of the power of the working class, and rank-and-file democracy that keeps workers mobilized and engaged, is exactly what is needed to strengthen our union for the coming class battles.
The convention will end on June 3 with a march to Queen's Park, where CUPE delegates will converge with the OFL for its Enough is Enough Day of Action. We will be mobilizing a large contingent of socialist youth and workers to support the rally. Us socialists will be there to argue that the OFL needs to escalate this campaign towards a general strike to paralyze the government's austerity agenda, fight for COLA, linking these struggles to a broader fight against capitalism and for a socialist society.
---
CUPE 4400 motions to be presented at CUPE Ontario Convention
Commit CUPE Ontario to fight inflation with COLA:
Whereas the cost-of-living crisis continues to undermine the living standards of our members, and our collective agreements trail far behind inflation.
Whereas the only way to fight inflation is through COLA (cost-of-living adjustments), which protect our wages by tying our collective agreements to the rate of inflation.
Whereas some unions such as BCGEU have compromised with the employer and adopted a "diet" version of COLA, with limitations and conditions which reduce its effectiveness.
Be it resolved that CUPE Ontario commits to adopting a genuine COLA clause as its official policy for the fight against inflation.
Commit CUPE Ontario to a "hard-defiance" policy:
Whereas in November education workers proved that letter-writing, lobbying MPs, etc. doesn't work – only strike action and a threat of general strikes can defeat back-to-work legislation.
Whereas anti-worker governments will try to use back-to-work legislation to crush unions in the future, and we need to be prepared for that in advance.
Be it resolved that CUPE Ontario commits to a policy of "hard-defiance", organizing a CUPE Ontario-wide general strike at the next use of back to work legislation.
Commit CUPE Ontario to genuine rank-and-file democracy:
Whereas the commitment of the OSBCU (Ontario School Board Council of Unions) to rank and file democracy and engagement was a step in the right direction with noticeable results
Whereas this principle was violated when the OSBCU leadership undemocratically halved the wage demands during bargaining without consulting the membership, and denied them from speaking against the proposed agreement at their members meetings.
Be it resolved that CUPE Ontario rejects these actions of the OSBCU and recommits to genuine rank and file democracy and open bargaining.