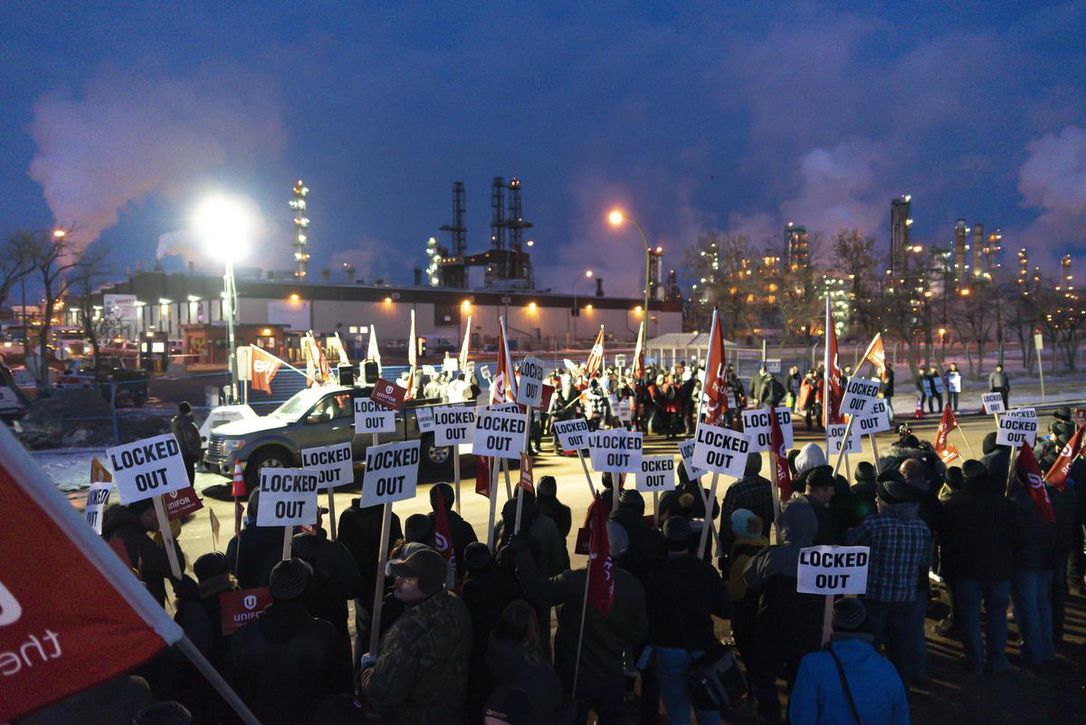 The bosses and the state are launching an all-out offensive against locked-out workers at the Co-op Refinery Complex (CRC) in Regina. In the courts, lawyers for Federated Co-operatives Limited (FCL), the company that owns the refinery, are demanding jail time for labour leaders and fines of more than $1 million. In the streets, Regina police are arresting workers, blocking access to picket locations, escorting Co-op trucks into the refinery, and removing barricades and support facilities. In government, the Minister of Labour is demanding that Unifor take down blockades before agreeing to their request for a special mediator. The need for labour to unite and stand in solidarity with Unifor 594 on the picket lines has never been more urgent.
The pressure of the state has also begun to extend to solidarity pickets outside of Regina. In Carseland, Alta., where Unifor members had erected a blockade at a fuel storage facility owned by FCL, workers took down the blockade on Feb. 9 to comply with a court injunction. The RCMP had been set to take action against the workers if fences and other obstacles were not removed by noon that day, when a police enforcement clause was scheduled to go into effect. As of this writing, trucks are once again moving in and out of the facility.
A series of sharp escalations have marked the increasingly bitter dispute between FCL and the 760 refinery workers in Regina, who have been locked out since Dec. 5 as the company seeks to attack pensions and bust the union. Since a court injunction on Dec. 24 ordered workers to dismantle barricades, Unifor members have courageously defied the injunction. On Jan. 20, Regina police arrested more than a dozen Unifor members including the union's national president Jerry Dias. In the following days, blockades were set up outside Regina in support of the refinery workers, including in Carseland and at a fuel station in Weyburn, Sask. both properties owned by FCL. On Jan. 28, Unifor was charged with contempt of court for refusing to take down its blockade in Regina.
Weakness invites aggression
By Jan. 30, Dias announced that Unifor would comply with the court injunction on one condition: that FCL return to the bargaining table. Union leaders dropped their previous conditions for dismantling the blockade, which had been an end to the company's use of scab labour and withdrawing its demands for pension cuts. Fightback warned at the time that this was a mistake: "The dismantling of the blockade, as well as the reversal in preconditions, will no doubt be interpreted as a sign of weakness by FCL," we wrote. By dropping its main leverage, the union would be re-entering negotiations on essentially the company's original terms.
FCL's intransigence, however, quickly forced the union's hand. Negotiations that started on Jan. 31 failed before the day was out and by 6 p.m. refinery workers had restored their blockade. As a press release from Unifor National described: "The employer and union were at the table for 11 hours, while the employer stalled bargaining, in a ploy to restock supplies to the scab camp, and move fuel out of the facility." It was clearly a mistake by Unifor to trust FCL by opening the blockade.
After barricades went back up, Unifor lead negotiator Scott Doherty revealed that the union had offered CRC additional concessions in the form of workers contributing six per cent to their pensions, as well as two proposals he claimed would have saved the company $20 million over the term of their collective agreement. Yet it appears CRC absolutely interpreted this offer as weakness—and as is often said in the labour movement, weakness invites aggression. CRC, Doherty said, expressed "zero interest" in Unifor's proposals and instead demanded even more concessions: the elimination of positions including master operators and maintenance workers.
Standing outside the refinery after Unifor members restored the blockade, Doherty sounded a new note of resolve. "We're not going anywhere," he said. "There's not a truck coming out of this facility again until we get a fair deal. And I don't care how many cops they bring here—we'll bring more [members]."
The government of Premier Scott Moe soon tested that resolve. On Feb. 3, in an address to the Saskatchewan Urban Municipalities Association, Moe said he would appoint a special mediator to end the labour dispute, but only on the condition that the union cease all illegal activities and remove its blockade. The next day, Regina police began issuing parking tickets to vehicles involved in blocking the gates of the refinery. On Feb. 5, police arrested four picketing workers, prompting outrage from Unifor.
On Feb. 6, CRC made new threats that made clear what levels the company is prepared to go to in its determination to crush the union. Speaking in a Regina courtroom, a lawyer representing CRC demanded that the judge impose a $1 million fine on Unifor Local 594 and jail two of its leaders if the union did not comply with the December court injunction. CRC asked Justice Neil Robertson to imprison Local 594 president Kevin Bittman for 90 days and vice-president Lance Holowachuk for 30 days if they did not obey the court order. The company also sought daily fines of $100,000 if the union defies that injunction and another injunction that limited the amount of time workers could delay trucks entering and leaving the refinery. In relation to the million-dollar fine, it is important to note that the largest fine against a company in Canada's history for the death of a worker was only half a million. Jesse Hoehn, 25 of Davidson, Sask. died on Feb. 13, 2017 while working for Langenburg Redi-Mix and his family received $560,000 for the death of their son.
Escalating class struggle
The call to throw labour leaders in jail should send a chill down the spines of workers everywhere. The imprisonment of trade unionists is a headline that Canadians are more accustomed to reading about in poorer developing nations. Many may have taken the protection of workers' rights to organize and defend ourselves for granted. But for anyone who has been paying attention, the writing has been on the wall for years.
The routine use of back-to-work legislation means that the right to strike effectively no longer exists in Canada. The death of the post-war social contract means union rights that workers in the past fought and died for are now once again under threat. Union leaders who have grown comfortable with the old regime of grievance and arbitration now face a new reality closer to the fierce labour struggles of the 1930s, when workers faced often violent confrontations with strikebreakers, police and hired thugs, as well as politicians who openly denied their right to organize.
There are already disturbing signs of a new wave of reactionary thugs happy to threaten and intimidate workers, with the approval of the employer. On Feb. 5, FCL CEO Scott Banda gave a press conference in Carseland announcing that FCL had sought an injunction to remove Unifor's secondary picket at the Co-op fuel terminal there. In his speech, Banda gave a friendly shout-out to United We Roll (UWR), a group that last year organized what RankandFile.ca described as a "well-publicized but small convoy to Ottawa claiming to defend oil and gas workers."
UWR has close connections with the racist, far-right Yellow Vest Canada movement, with much overlap between members. UWR attendees at Banda's speech included Yellow Vest members who have attended anti-Muslim PEGIDA rallies and promoted neo-Nazi propaganda. UWR members on social media have threatened to run over refinery workers on the picket lines. Unifor 594 in a statement said that Banda needed to, "stop aligning himself with the values of unsavory Yellow Vest movement, who are largely viewed as a racist group, and reaffirm his loyalty to the workers." But capitalists such as Banda have no loyalty to workers. Their only loyalty is to themselves, their shareholders and lining their own pockets.
The same day that CRC lawyers called for the imprisonment of trade unionists, Unifor released a statement outlining what it called "a path to immediately end the lockout" and return Local 594 members to work as early as Monday, Feb. 10. Their proposal involved the appointment of a special mediator empowered to implement a new collective agreement if negotiations did not produce a new deal within seven days—after which the employer would immediately remove scabs from the refinery, picket lines would immediately come down, and workers could return to their jobs on Monday. A very happy vision indeed! Who could refuse such a benevolent offer?
Scott Banda and FCL, as it turned out. Banda refused to allow any third-party mediator to arbitrate an end to the lockout. The bourgeois state at all levels eagerly backed up FCL and CRC. Several hours after Unifor released their plan to end the lockout on Thursday, Feb. 6, Regina police closed a section of 9th Avenue North surrounding the refinery, between Winnipeg Street and McDonald Street, and allowed Co-op trucks to pass through a police checkpoint. They maintained the road closure into Friday. But by the evening, Unifor had set up picket lines to delay trucks turning onto 9th Avenue North from Winnipeg Street. Meanwhile, Don Morgan, Minister of Labour Relations and Workplace Safety, put out a statement reiterating that the provincial government would only appoint a special mediator if Unifor removed the blockades.
While Regina police took down some barricades on Friday, Feb. 7, they did not stop there. In an effort to make conditions as miserable as possible for Unifor members who have already spent two months picketing in the freezing Saskatchewan winter, police also removed the workers' warming shelters and washroom facilities. Condemning the cruelty of this measure, Dias noted, "No judge ruled to freeze out the picketers and refuse to allow them to go to the bathroom." He accused the police of taking the law into their own hands. But police are merely part of the armed bodies who represent the state, and the state, in the last analysis, "is an organ of class rule, an organ for the oppression of one class by another."
This is why the provincial government has consistently supported FCL and its demands that Unifor take down the blockade—the workers' only source of leverage—before Moe will appoint a mediator. It is why the courts have repeatedly put forward injunctions that weaken the ability of the union to maintain hard pickets that keep out scabs and prevent Co-op trucks from entering or leaving. It is why Regina police arrest and fine peaceful picketers, block off picket locations, remove barricades and take away the only amenities that make life bearable for workers picketing for months on end in the bitter cold. The state is not a neutral body. It represents the interests of the ruling class: the capitalist class.
All forces to the point of attack!
Fightback has described the Regina Co-op lockout as a turning point in Canada's class struggle. The lockout has now reached a critical stage. Unifor members have been picketing in the cold for months, while the pressure of the bosses and the state only grows more intense. Hundreds of workers and activists have come to Regina to support Local 594. But that support needs to grow exponentially for workers to win in this pivotal moment for Canada's labour movement.
All unions must send as many of their members as possible to Regina and join Unifor 594 on the picket lines in their fight against FCL and the Saskatchewan government. Solidarity pickets and blockades elsewhere could help relieve pressure on workers in Regina and also give Unifor members the confidence and support to restore the blockade in Carseland. Labour federations must declare hot edicts on all FCL products and set up solidarity pickets at Co-op facilities wherever they are found. Solidarity strikes across Saskatchewan and beyond could put massive pressure on FCL and the government and decisively shift the balance of power in favour of the workers.
If the bosses and their state succeed in gutting pensions, imposing massive fines, busting the union and imprisoning labour leaders, it will set a terrible precedent that threatens all workers in Canada. The entire labour movement must unite behind Unifor 594 and support them in every way possible. The most basic rights that generations of workers fought and died for are once again at risk. To defend those rights, all workers must stand with the Co-op refinery workers. The time for action is now.
Defend pensions! Defend workers' rights!
Support Unifor 594!
The workers united will never be defeated!