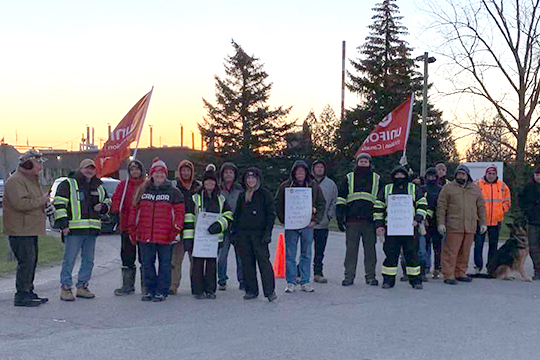 Lambton-area Clean Harbors workers are on strike against the largest waste management company in North America, demanding wage increases and protection from reprisals should they refuse unsafe work.
On Nov. 22 custodians, thermal desorption workers, lab workers and fill operators, represented by Unifor Local 914, went on strike against Clean Harbors in Corunna.
Their contract expired Apr. 29. But, over the six meetings that followed, the company rejected language protecting workers from "reprimand" should they refuse unsafe work—after the company reported 92 injury claims since 2012.
Further, Unifor national representative Gary Lynch told local media that the company refused to offer substantive wage increases, after its previous three-year contract provided only 1.5 per cent per year. And, Lynch said, the company refused to implement gender equity measures, failing to offer equal access to washrooms, showers and locker rooms.
Workers voted 100 per cent in favor of striking.  But, as Lynch told Sarnia Today on Nov. 19, leading up to the strike deadline: "The company will not budge on some of these issues. To be honest, they've filed for a Section 108 which forces a vote of the membership should the minister see fit. It's all posturing."
To make matters worse, on the first day of picketing Clean Harbors called the police on striking workers. The union told local media that the company appears to be seeking an injunction—as it did during the previous 2010 strike by 80 drivers, lab technicians and heavy equipment operators.
Throughout that 2010 strike, the company insisted on keeping its operations running. While its application for a court order failed, its actions undoubtedly put workers' safety at risk. A picketing worker was even taken to hospital after an "incident" involving a transport truck.
On Nov. 3, Clean Harbors reported a 22 per cent increase in revenue from last year and the highest quarterly revenue in its history, after taking about $14 million in government bailouts. The company is further anticipating that demand for its services will continue to increase. This could provide striking workers with an enormous source of leverage. As Sarnia Today warned, leading up to the deadline: "Operations will be scrambling if workers go on strike."
The company has demonstrated through past experience that it's willing to do what it can to undermine weak picket lines. The best way to beat back management is to mobilize the local's members and the wider community for the fullest possible shutdown. The sooner Clean Harbors is left "scrambling", the sooner it'll reconsider its position on wages and safety reprisals.
Victory to the Clean Harbors workers!