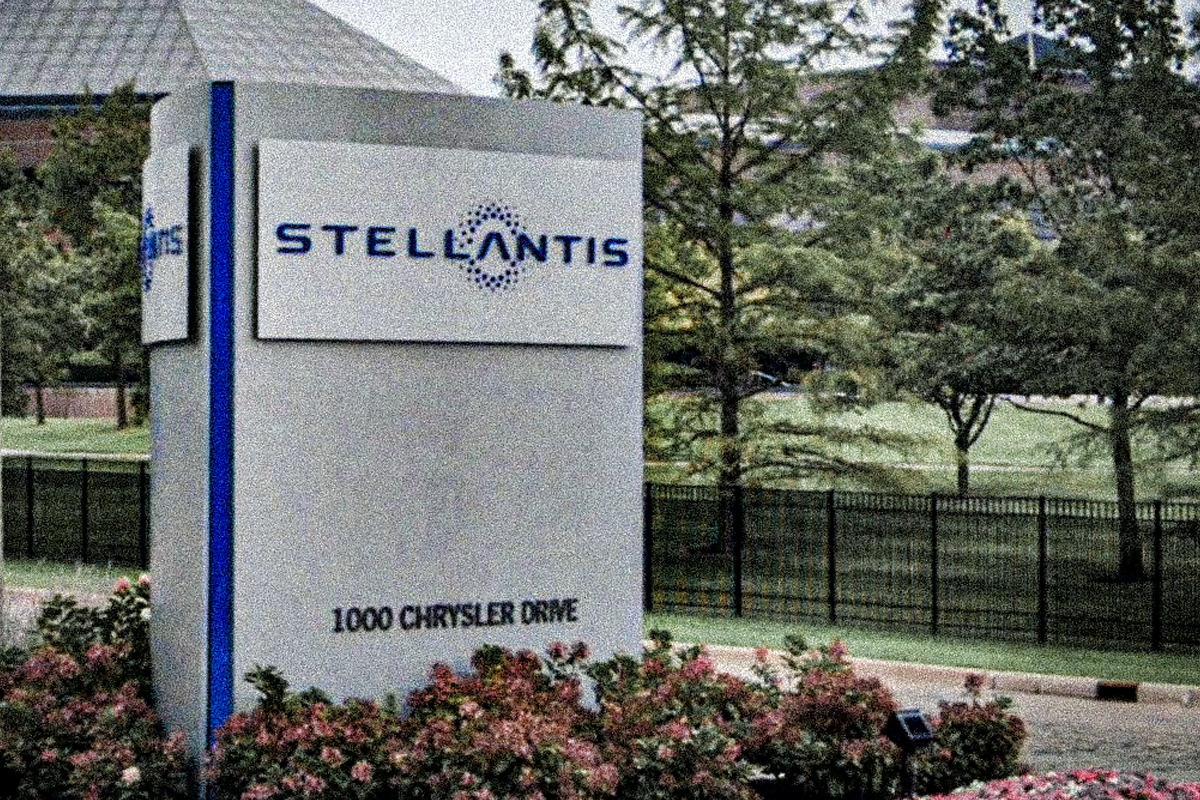 Automaking giant Stellantis—the parent company of Chrysler, Jeep, and Fiat—has successfully twisted the arms of both Doug Ford and Justin Trudeau to squeeze out billions of dollars in new subsidies for building an electrical vehicle (EV) battery plant in Windsor, Ontario.
Doubling subsidies
Originally, a deal was reached back in March 2022, and was celebrated as the biggest automotive investment in Canadian history, clocking in at $5-billion. The Ford government claimed the deal would "revitalize" the Canadian auto industry in the age of electric vehicles, creating 2,500 direct jobs and immeasurable spin-offs.
But those lofty dreams came crashing down soon after. In the United States, President Joe Biden introduced the Inflation Reduction Act (IRA), which offered more substantial subsidies to the auto bosses, not only in one-time subsidies for constructing "green" facilities like battery plants, but on a continuous basis for operations as well. Presented with these stacks of cash, Stellantis announced on May 17, 2023 it was ready to turn its back on its half-built Windsor plant in favour of Indiana. 
For weeks Ottawa and Queens Park bickered publicly over who would pony up the billions to pay the ransom for the factory Stellantis was holding hostage. Meanwhile, Stellantis grew impatient, threatening that, "continued delay in executing this agreement is bringing significant risk to the project."
Unifor, the union that represents auto workers in Canada, threw itself into the dispute on the side of subsidies. Lana Payne, national president of Unifor, tweeted, "For three weeks and every single day of those weeks, I have actively worked with all parties to push them to an agreement as soon as possible."
On June 1, Doug Ford relented and announced Ontario would pay one-third of the cost to secure a deal. The dollar amount won't be made public until after the deal is signed, but it may be up to $19-billion over 10 years.
The deal isn't closed yet. At the time of writing, Stellantis is reviewing Ottawa's offer and "have nothing further to add at this time."
This isn't the first time of late that Canadian governments have coughed up billions for car manufacturers under the threat of capital flight. After the IRA was announced, Volkswagen got up to $13.2 billion in public money over five years to keep its battery plant in St. Thomas, Ontario. The plant is set to open in 2027 and is expected to employ 3,000 workers.
The VW payout set a precedent for matching U.S. subsidies. As Greig Mordue, a former auto industry executive and professor of advanced manufacturing policy at McMaster University speculated, "I fully expect that LG and Stellantis will have an expectation that they receive something commensurate [to Volkswagen]."
In effect, Canada has entered into a subsidy war with the United States; a race to the bottom to see who can prostrate themselves before auto companies more.
This level of government aid to the auto industry is unprecedented. Mordue noted that Volkswagen's $13.2 billion is equal to about 15 per cent of the company's market capitalization of about $74 billion (US), which is the total value of its shares on stock markets.
And he complained that Canada is not getting its money's worth, "Are we prepared to give them 10 or 15 per cent of the market cap for no shares? Nobody on the board?"
Doug Ford has denied that these astronomical subsidies set a precedent for other companies looking to set up shop in Ontario, but it's clear from the case of Stellantis demanding the same treatment as Volkswagen that the precedent has already been set.
The costs likely won't end there. There's nothing to keep Stellantis and Volkswagen from continuing to demand subsidies in the future to keep their plants in Ontario. Neither company has any previous experience in EV battery production and may very well find bailouts more profitable than innovation and efficiency.
Won't the cost be worth it, though, if it results in thousands of jobs for Canadian workers?
Subsidy wars: A dead end for workers
While the deal was still up in the air, Unifor's Lana Payne warned, "a deal must be reached because come hell or high water no promised manufacturing jobs are leaving this country." And she added, "Unifor and our members will hold the government to its word not to leave workers behind just as we will hold Stellantis to the company's promises in Windsor." Very intransigent rhetoric. Though it's unclear how Payne intended to keep manufacturing jobs in this country "come hell or highwater" other than strenuously lobby for higher subsidies.
If the experience of the GM Oshawa plant closure in 2019 taught us anything, it's that governments can hand out bailouts, only for companies to take the money and run. Since the 2008 crash, the Canadian government handed out $13.7 billion to the auto sector—enough to buy majority shares in GM and Chrysler together—but that didn't stop GM from axing its Oshawa plant, icing thousands of jobs that those billions of dollars were supposed to "save."
Even Jagmeet Singh identified this problem when, commenting to reporters about the subsidies, he said, "there is no point in incentivizing a company to do business in Canada, if we don't have ironclad guarantees that this will result in jobs." Unfortunately, though not unexpectedly, he also said that competing with the IRA is "something that we've got to accept as reality."
Under the logic of capitalism there are no such "ironclad guarantees." To return to the illustrative GM Oshawa example, the company dangled a "production guarantee" in front of Unifor to get the union to agree to a two-tier contract. But the guarantee proved ephemeral. When GM announced in late 2018 that it would be closing its Oshawa plant, workers responded with militant instincts by downing tools and going on a spontaneous wildcat walkout. Unfortunately, their union leadership ordered the workers back to the job in favour of talking things out with the company. In the end, after five months of negotiations, the union "saved" only 300 out of 2600 jobs. You cannot control what you do not own, and it's the corporations that own the factories and control the jobs.
But we do not have to "accept" this "as reality".
The Canadian government has already given billions and billions of dollars to the auto industry in subsidies and bailouts for production deals that are not worth the paper they were printed on. It is time the sector was nationalized under workers' control. Under a democratic plan we can guarantee good jobs that build not only electric cars but also public transit vehicles as part of an integrated transportation and environmental plan.
And we do this not by appealing to governments that genuflect before corporations, but by mobilizing the working class. The Windsor autoworkers have a militant history. As recently as 2019 workers occupied the Nemak Windsor Aluminum plant, a GM supplier, to prevent it from being shut down. The fight is there, in the workers, if only there was the leadership to harness it.
No to subsidies!
Expropriate the auto monopolies under workers' control!