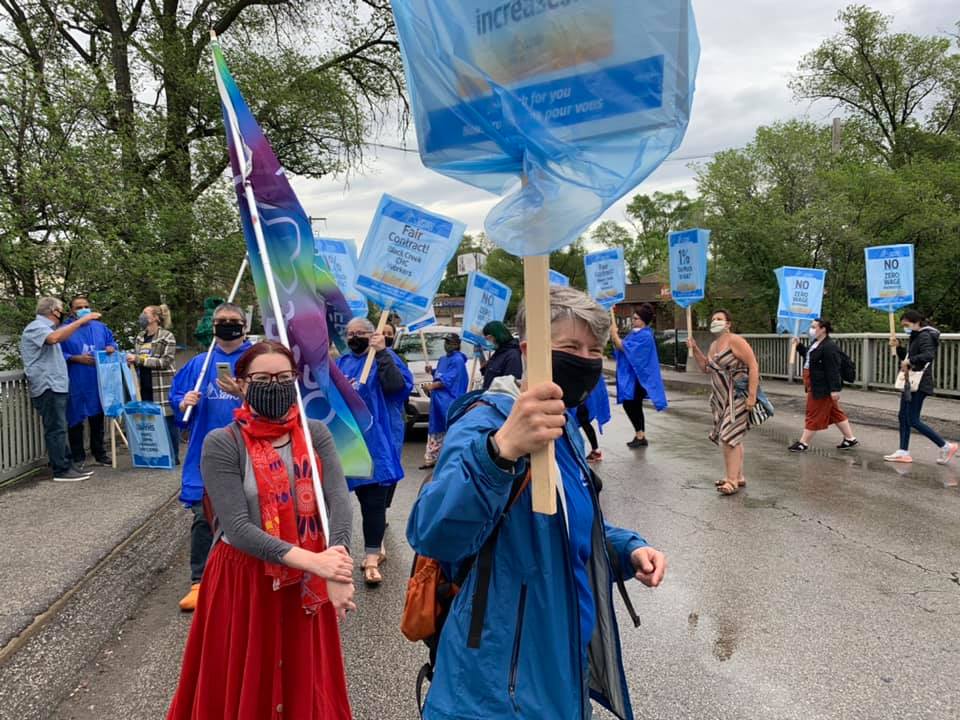 After several days of contentious negotiation, the management of Black Creek Community Health Centre in Toronto abandoned efforts to reach an agreement with its unionized workers late in the night on June 12. With no options left, and an offer to extend the strike deadline rebuffed by the employer, Ontario Public Service Employees Union (OPSEU) Local 5117—consisting of 71 front-line healthcare workers—was forced to go on strike. The workers represented by OPSEU Local 5117 provide essential medical services to some of Toronto's most vulnerable working-class communities, and provide services crucial to the fight against COVID-19, including vaccinations and rapid testing. Even though their last contract had expired in 2020, the workers of Local 5117 have continued to provide a high level of care to a community that depends on them, despite the pressures placed on them by the pandemic and the burden of having to work for months without a contract.
The demands of the striking workers centre around the one per cent wage increase per year that is permitted under Bill 124. Bill 124 itself is a deeply unpopular bill introduced by the Ford government in 2019 that serves as a way to suppress the wages of nursing and health-care professionals by limiting wage increases to one per cent each year, for three years. Considering that the rate of inflation hit 3.4 per cent this past April, this wage cap essentially legislates nurses to take a significant pay cut year after year. Despite the fact that a one per cent annual wage increase is insultingly insufficient, and despite it being implemented at community health centres in other parts of Toronto, the management at Black Creek Community Health Centre are denying their workers even this small increase in pay.
The management of the centre, represented by executive director Cheryl Prescod, has tried to spin the narrative around the breakdown in negotiations to make it seem like the union was responsible. Just before the strike she sent out a letter to the employees claiming that the union wouldn't provide proof of government funding for a wage increase. This is a ridiculous claim, as Prescod admits that she was verbally promised the necessary funding from Ontario Health, and it's even more ridiculous to expect a union to guarantee government promises.
Even aside from additional government funding, it's clear that Black Creek Community Health Centre could have easily afforded the one per cent wage increase that Local 5117 was asking for. According to OPSEU, the one per cent wage increase would only cost the centre about $50,000 a year. Furthermore, in the past five years since becoming executive director Prescod has been given a $30,000 raise, and others on her management team have received wage increases of over 17 per cent over the last few years. Asking for one-seventeenth of that to be given to the rank-and-file workers seems pretty reasonable, to put it mildly.
It is obvious that the management's decision to force essential health-care workers on strike over very moderate demands is an act of cowardly and underhanded union busting. The decision-making of the management clearly indicates that they wanted to force the union into a strike when they, and the population they serve, are at their most vulnerable—in the middle of a pandemic. This is not just an attack on these particular workers in Local 5117; it is an attack on all workers, both unionized and not. If management can bust a union of front-line health-care workers in the middle of a pandemic, then it would leave everybody more vulnerable to attacks from the bosses.
It is absolutely the responsibility of the labour movement as a whole to lead the way in showing solidarity. Organized labour must come to the immediate defense of Local 5117 in their fight for better wages, basic dignity, and for a strong union that can defend their workers and by extension the community they serve. OPSEU Local 5117 has made an open call for support on the picket line, and the rank and file must answer! Instructions on where and when the pickets are being held can be found by checking Local 5117's strike bulletin. Fightback stands in solidarity with OPSEU Local 5117 in their struggle against a greedy, union-busting employer because when workers are under attack, we must all fight back!
Solidarity with OPSEU Local 5117!
Down with pandemic union busting!
Victory to the Black Creek health workers!