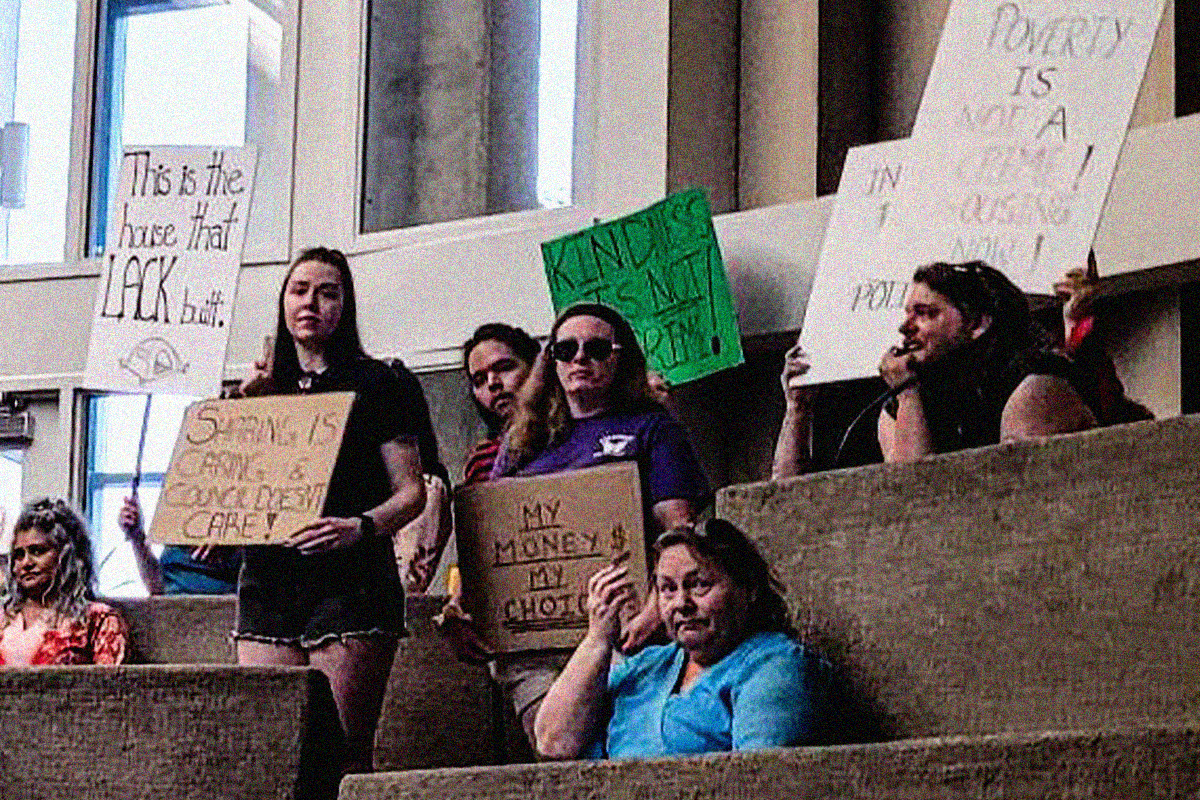 On May 24 Barrie council unanimously passed a motion that they claim is meant to "address the homeless crisis in Barrie." The actual contents of the motion are a cruel move towards making life harder for some of the most vulnerable members of the community.
The motion seeks to implement "[m]ethods to prohibit the payment to panhandlers on City Streets, intersections, and highway ramps"; a ban on handing out food to homeless people without a permit; and a prohibition on giving tents to homeless people and the use of tents on public land.
City council says that they want to encourage people to donate to existing homeless services. But it is precisely these services that are being stretched to their limit and becoming less accessible. Just a couple months ago in March, the Salvation Army ended its community meal program. Shelters in Barrie regularly turn people away, either due to overcrowding or inability to deal with the physical or mental health issues of potential clients. Shelters are also inaccessible to people whose family members need special care, and even to people who have pets. There are more than 4,000 households on the waitlist for affordable housing, with a wait time of anywhere from five to seven years, depending on the individual's circumstances. Tent encampments are some people's only option.
The notion that homeless services can be improved by preventing the average Barrie resident from giving a toonie or a cup of coffee to someone they pass on the street is as illogical as it is cruel—as is the prospect of clearing out encampments of people who have nowhere else to go.
None of this matters to city councillors, so long as the homeless are out of sight.
Out of sight, out of mind
Councillor Bryn Hamilton says that she introduced the motion because of "aggressive behavior in public spaces" and businesses shutting down due to the resulting decrease in foot traffic.
This quite clearly shows what the councillors' actual priorities are. They have no desire to improve the lives of homeless people. Even the claim that homelessness is hurting business—as opposed to, say, a pandemic followed by an inflation crisis—is flimsy at best. Their goal is quite clearly to brush the problem under the rug by making Barrie as inhospitable to homeless people as possible.
Trying to put a kinder face on the motion, Councillor Hamilton stated, "We know we've got to start taking a harder look at how we are addressing chronic homelessness in Barrie, but also more importantly what we're doing to treat the root causes of chronic homelessness." Accordingly, the motion includes a request for additional funding from Ontario to improve homeless services.
This is purely performative. A request for funding accomplishes nothing; it merely passes the blame for deteriorating services to higher levels of government. It will certainly be blame, not funding, that is passed along. Ontario is the most indebted province in Canada. The federal government has already announced massive cuts to its national housing strategy, taking it from $2.475 billion to $820 million. Cuts are on the order of the day, and so it is unlikely that this request for funding will actually result in anything.
This does not mean that the city is powerless. Far from it: in 2021 Barrie had 4,109 vacant homes. Current statistics show there are just over 200 homeless people in Barrie. That means that for every one person experiencing homelessness, there are five vacant homes—they just need to be expropriated. There is no lack of housing in the city; the property is just privately owned by landlords whose only interest lies in their profits.
Despite its window dressing, Barrie council is carrying out a callous attack against the city's homeless population. What is to be done about it?
An injury to one is an injury to all
More than half of Canadians are living paycheque to paycheque. With stagnant real wages and rising inflation, a growing number of workers are forced to face the impossible dilemma between food and shelter. Most working class people are just one emergency, one missed paycheque, away from finding themselves in a similar situation.
The precarious conditions that workers face suit the interests of the capitalists very well. The threat of homelessness is used to force workers to accept poor conditions and low pay. No matter how bad a job is, things could always be worse.
In this way, attacks on the homeless are attacks against all working class people. This is why the fightback against these attacks is something that the whole of the labor movement needs to take up. Barrie Homeless and Housing Justice Network held a rally to fight back against this motion on May 31. This was a good first step, but the motion has not been rescinded.
Unions and the broader labour movement must continue to use mass tactics against this motion until it is withdrawn. However, we can be sure that the attacks on homeless people will continue as the crisis of capitalism worsens. This means that the broader struggle against homelessness needs to be taken up as well: against attacks, against evictions, for the expansion of services, and ultimately against for-profit housing.
As long as housing is treated as a commodity there will always be people unable to afford a roof over their head. The greed of corporate landlords and the callousness of their representatives in government are part and parcel of the capitalist system. The fight against homelessness can only be won as a fight for socialism.