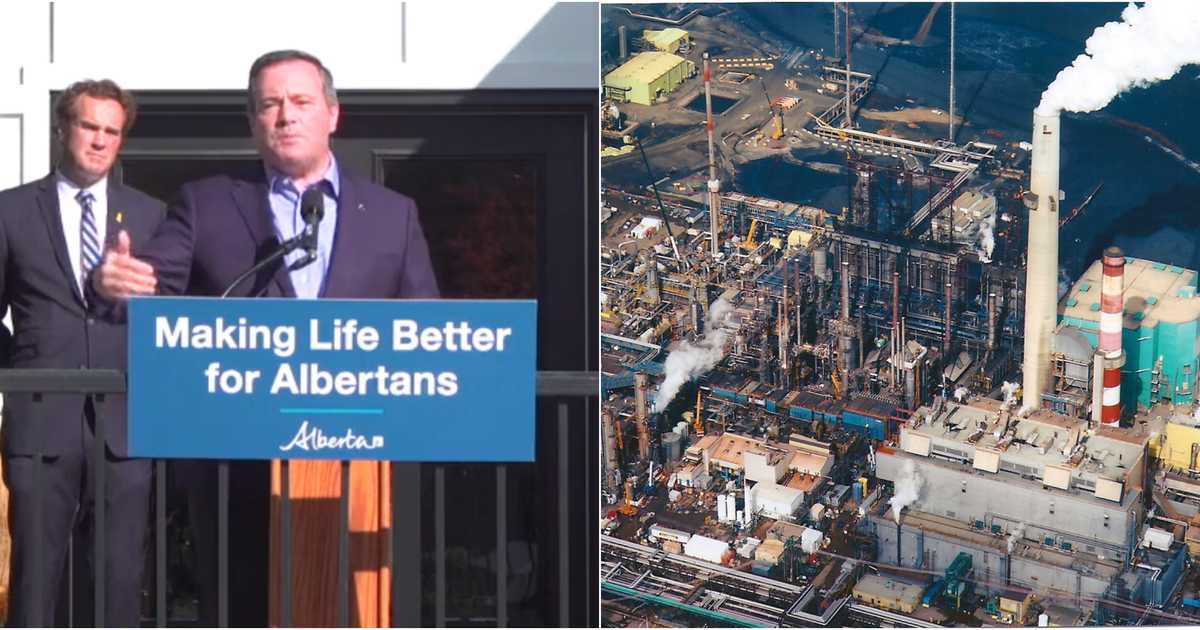 The global economic crisis, the collapse of oil prices, and the COVID-19 pandemic have hit Alberta hard. The Royal Bank is projecting that Alberta's economy will shrink by 8.7 per cent this year. What's more, by mid-summer some 330,000 Albertans had lost their jobs, wiping out the jobs added over the last decade. Jason Kenney promised that his trickle down economic policies would spark the economy through increased private investment, reversing some of these job losses. The oil corporations have received massive tax breaks and the corporate tax rate was cut from 12 to eight per cent, yet job losses continue to mount as services are cut.
In 2019, Jason Kenney handed more than $2 billion in tax cuts to oil companies with no strings attached. Suncor Energy is the third largest Canadian oil company. It received $1.12 billion from the UCP's tax cut last year. Despite this massive injection of money, Suncor announced on Oct. 2 that it is cutting its staff by up to 15 per cent over the next year and a half. This means Suncor will be cutting up to 2,000 of its 13,000 employees worldwide. These job losses are on top of the more than 28,000 direct and 107,000 indirect jobs that have been lost in the oil sector in 2020, despite all the money given to the oil corporations.
It is not as if Suncor does not have the money to keep these workers employed. It made huge profits last year and gave its executives millions in stock and cash bonuses. It had enough cash on hand to pay its stockholders dividends on September 25, 2020. It is also receiving additional funding from the Canada Emergency Wage Subsidy. If Suncor wanted to, it has the money to keep these workers employed. Instead it is laying them off to maintain the profits of the bosses.
The spokesperson for Suncor even said that the company was already undergoing a process to improve its cost structure that would have resulted in a smaller workforce over time. They said that current events have only changed the timetable. In other words, the company that the UCP was pumping money into in the name of "saving jobs" was already planning on downsizing! It is like they were betting on a racehorse that had already been put down.
The UCP's policies of austerity have also led to job losses at the University of Alberta. The money thrown away on these tax cuts for the oil corporations is about twenty times more than what would have been necessary to prevent the University of Alberta's impending layoffs. After the UCP cut the school's budget by $110 million this year, the president of the university announced in October that over 1,000 workers will be laid off, with more job losses expected. On top of this, programs will likely be cut. Rubbing salt in the wound of students, tuition is also expected to go up by seven per cent a year over the next three years.
Students in Alberta will be paying more out of pocket for a worse education with fewer options. The UCP has squandered our tax dollars on companies that are only downsizing. Corporate handouts lead to austerity. Austerity leads to greater costs for workers. Money is being taken from the pockets of the working class and put straight into the pockets of the oil barons. This is just another way that the bosses are trying to maintain their profits in this crisis by passing the bill to the working class.
In addition, on Oct. 13, the UCP announced that it would be laying off 9,700 to 11,000 staff from Alberta Health Services (AHS). These laboratory, linen, cleaning and in-patient food services jobs are being privatized, which means that any laid off workers who are able to get hired by private companies will face cut wages, lost union benefits, and increased job duties. To try to save time and money, these private companies will cut corners and make mistakes. In places like England, where cleaning services were similarly privatized, outsourcing led to significantly higher rates of hospital-acquired infections. Considering the current pandemic, we can be sure that this privatization will lead directly to higher COVID numbers, a longer second wave, and more Albertans dying. What's more, these cuts are only projected to save $600 million a year—less than a third of what was handed to oil companies in 2019!
Not only is this government willing to destroy the livelihoods and quality of life of Albertans, it is willing to take actions that will kill people. This is all being done in the name of preserving the profits of the UCP's corporate masters. This is a direct transfer of wealth from the working class to the ruling class. The working class is being made to pay for the crisis.
The unions have been at the forefront of the fight against the UCP's trickle down economics and austerity. Things will only continue to get worse under Kenney's government. The time to fight is now. The unions must begin seriously organizing for a one-day general strike and a broad movement to fight the UCP's policies of austerity and to bring down the Kenney government.