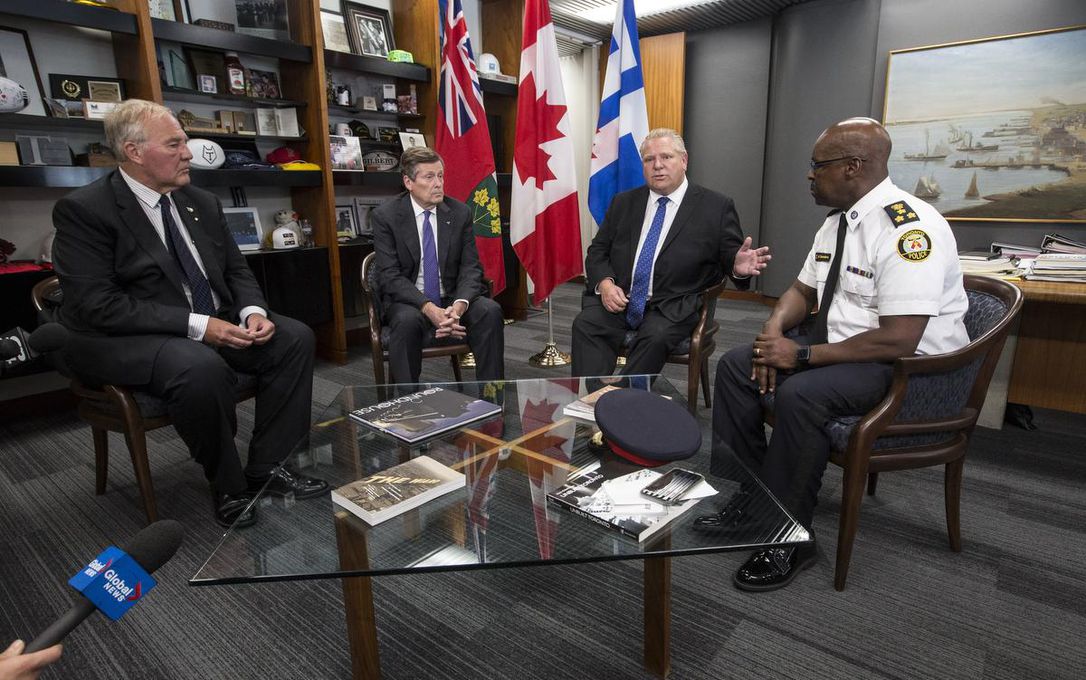 In the days since Faisal Hussain opened fire on the Danforth in Toronto, killing 2 and injuring 13 before taking his own life, both authorities and the public have been questioning what could lead to such horrific actions. Thus far, there seems to be little to indicate that Hussain posed a risk – while he had had contact with the police over ten years ago, he had no police record, and no information has been released regarding a possible motive. What has come to light seems to be the story of a man afflicted with mental illness and personal tragedy. While mental health problems are not in themselves an explanation for violence (the vast majority of individuals suffering from mental illness are not violent and are far more likely to be victims of violence than perpetrators), this tragedy has stirred a public conversation on how to meet the mental health needs of Toronto.
Doug Ford has decided to answer that question with police and tougher laws.
The Ford government has already cut provincial mental health funding by $335 million, from $2.4 billion over four years down to $1.9 over 10 years. In the aftermath of the Danforth shooting, he is now saying that he wants to divert some of these reduced funds to the police. While some of that money will reportedly go toward de-escalation training and services to address the mental health needs of first responders, this will be at the expense of much-needed community mental health and addictions programs for the general public, which is already severely lacking. In a subsequent interview with CTV, Ford made it clear that his real priority was bolstering policing, remarking, "Our sentences aren't tough enough for people with guns that commit violent gun acts … I think we have to toughen up the sentences and we can't let these people out in a few years on parole and let it happen again. Or somebody gets arrested on a Friday night and they get bail and are back out on Wednesday for retribution."
These comments came after a meeting between Ford, Toronto Mayor John Tory, Chief of Police Mark Saunders, and federal minister of border security and organized crime reduction Bill Blair. Ford added, "I think there was a consensus in the (meeting) room on that and I think the laws have to be changed." Listening to what Ford had to say, one might be surprised to learn that this meeting was held in direct response to the shooting on the Danforth, since none of the proposed measures would have had any impact on what happened. Rather, it seems that this tragic event is being used as a convenient, but flimsy cover to plow ahead with ramped-up policing, measures that were foreshadowed when Ford rolled back police oversight reforms in his first week in office.
In this endeavor, Ford has the full backing of Toronto Mayor John Tory, whose approach to gun violence has also been to ramp up policing. Earlier in July, in response to a spate of gang-related shootings, 200 additional police officers were released onto the streets of Toronto. While Tory's plan for addressing gun violence also included support for community programs, his main priority of strengthening policing was clear; allocating $3 million dollars of the city budget toward the expense of the extra police forces while allotting none for social programs, instead asking the federal government for funding as a secondary consideration.
Subsequently, the latest plan to tackle gun violence passed by Toronto city council on July 24th, just two days after the Danforth shooting, is a continuation of this policy. This new plan allocates only $1 million to community initiatives, but $7.4 million to law enforcement and surveillance, including CCTV cameras, and ShotSpotter, a controversial piece of technology that supposedly is able to pinpoint the location of gunshots as they occur. While this plan was developed in advance of the Danforth shooting, it falls perfectly in line with Ford's treatment of the Danforth tragedy as a problem of crime and an excuse to ramp up policing, rather than a broader social problem.
Whether we are considering gang violence or an isolated and senseless tragedy such as the Danforth shooting, increased policing and surveillance is not the answer. In relation to gang violence, the actual needs of poor and marginalized communities were laid out in a recent open letter from Black and community activists, printed in Now Magazine. Included in the letter was the demand that the money earmarked for police surveillance be redirected to providing social and economic support to poor neighbourhoods.
Similarly, increased police surveillance and tougher laws would not prevent senseless and unpredictable acts of violence such as the Danforth shooting or the Toronto van attack earlier in the year. While there are as of yet few details on possible motives for this particular tragedy, we must understand these seemingly senseless acts of violence in the context of capitalism in crisis, marked by growing inequality, unemployment, poverty, precarity, and deepening social malaise, combined with continued attacks on social support services and resources.
If Ford and Tory really cared about preventing either form of violence, they would seek to address these underlying social causes instead of bolstering funding to the police — a wing of the state that has a history of bullying, harassing and murdering members of poor, racialized and marginalized communities, not protecting them. This funding should be directed towards initiatives that would lift people out of poverty and social isolation and address mental illness head-on: skills training and education tied to guaranteed employment, affordable housing, social services, community mental health programs and access to recreational and cultural activities. The leadership of the labour movement has a responsibility to organize and fight for these advances, to better the living conditions of all workers.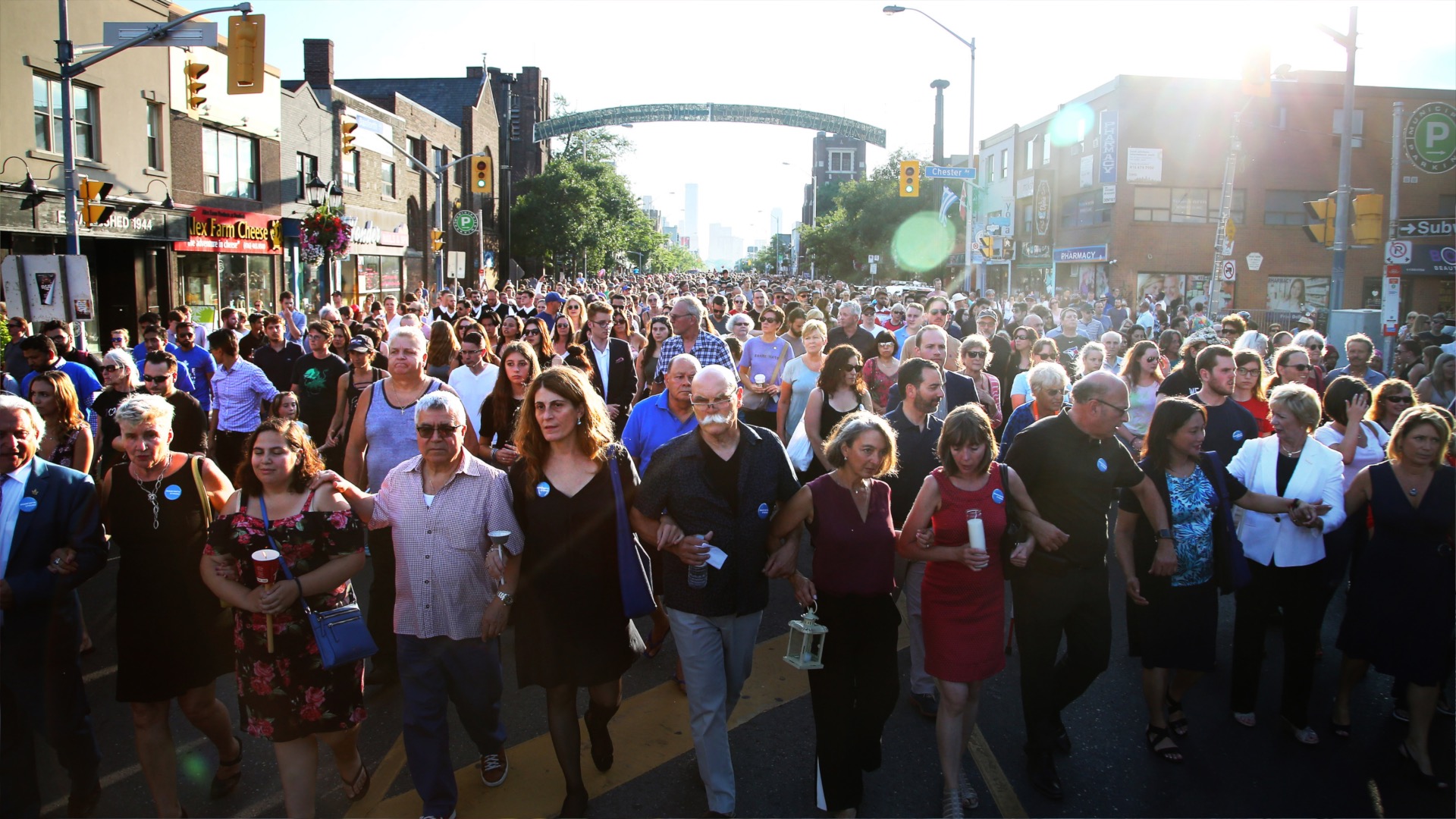 In reality, both Ford and Tory represent and defend the interests of the bankers and bosses, which are antithetical to those of the working class and oppressed. While the wealth and resources exist to provide everyone with a high standard of living and access to quality social services and programs, this would threaten the profits of the ruling capitalist class who would rather fund the repressive police force to keep the workers and youth in check, than give them even one crumb.
While the crisis of capitalism destroys working class communities and drives desperate people to senseless acts of violence — another world is possible. This is demonstrated by the outpouring of love and solidarity among people in the wake of the Danforth shooting, when hundreds or even thousands turned up for a vigil on the evening of July 25th that took over the Danforth. More proof are the growing mass movements against all the horrors of capitalism occurring all over the world, where hundreds of thousands and even millions of people come together to fight for a better world.
The solution to gun violence in all its forms is not more hired guns, but a mass movement of workers, youth and the oppressed for better living conditions for all. Ultimately, in order to end the conditions in which hopelessness and violence fester, all of the workers and oppressed must unite to fight the capitalist system that strips them of basic human dignity and a decent standard of living, for socialism where the needs of the majority are met and human potential and community are fostered.