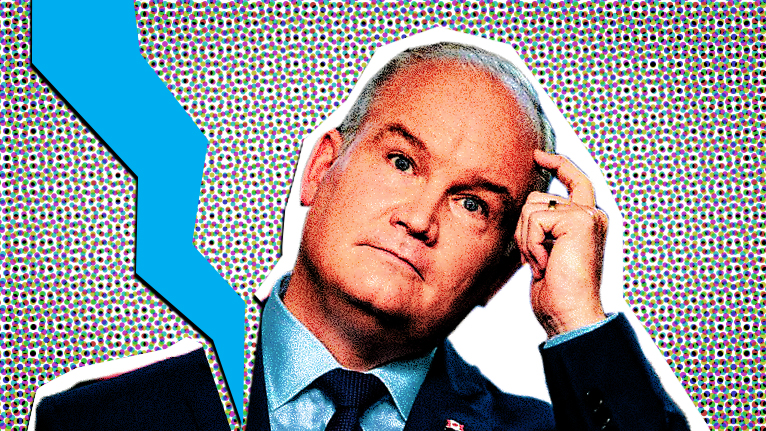 At the March 2021 Conservative Party convention, divisions further emerged between the party's corporate establishment and its increasingly virulent, reactionary membership—divisions that risk boiling over.
On the eve of another election, the Tory party is trying to rebrand leader and former corporate lawyer Erin O'Toole as "just Erin." Erin, however, comes with a membership that isn't entirely on board.
On the eve of the convention, Maclean's noted, the party faced two crucial questions—the first regarding the place of the party's ultra-religious wing "whose views, especially on abortion, drive their political engagement" and the second regarding the party's position on carbon taxes. The latter, as we've explained before, is a regressive tax that does nothing to stop climate change but which enrages a segment of commuters, suburbanites, some in rural areas and others who feel passionately they need to defend cars and fossil fuels from slander.
The party establishment, however, had its own agenda—to bring the membership into line.
Send in the clowns
One week before convention, the party confirmed the issue of abortion was supposedly "off the table." CBC News reports that anti-abortion groups have spent recent months taking over "dormant" Toronto riding associations. Yet, their resolution to open the party to allow MPs to introduce anti-abortion legislation didn't make the cut. The party's right-wing noted this was due to a technicality—reducing the number of resolutions discussed to 34—that was likely sabotage.
Those resolutions that did make it to convention, additionally, appeared watered down compared to the party's past resolutions. At past conventions, the party debated motions to call pornography a "public health risk," motions to restrict immigration and motions to end equal marriage rights. This convention's most-notable resolutions noted the importance of clean drinking water and stated that climate change is real and Greenhouse Gas Emissions are harmful. These resolutions came primarily from Eastern Canada and, specifically, from Quebec—where the party has been weak for decades.
However, the membership still voted down the resolution stating that climate change is real by a margin of 54 per cent. While B.C and Atlantic Canada were split, delegates from Alberta, the Prairies, Ontario and the territories voted overwhelmingly against it.
One delegate told CBC he opposed the resolution because "it unfairly centres on greenhouse gas emissions." Another delegate insisted the party should oppose expanding wind power, until the "health effects" of wind turbines are dealt with.
Speaking at the end of the convention, however, O'Toole warned the membership, "People don't want to hear these conspiracy theories." Instead, he said, the party needed to grow beyond its base.
O'Toole's campaign fundraising director and chair of Norton Rose Fulbright likewise told CBC News: "Our membership has to listen to Erin's speech over and over again and realize we have to grow this tent."
'Secure the future'
Instead of placating social conservatives, the former corporate lawyer Tory leader unveiled his platform, titled "Secure the Future." It promises to "rebuild main street," find jobs for the unemployed, and get Canadian oil to market.
O'Toole suggested in his convention speech that the party could even aim to win the support of union members by improving employment prospects. Several commentators noted this is a curious pre-occupation of O'Toole's party.
It's true that the party's 2018 policy book promotes anti-union "right-to-work legislation and it explicitly says unions "stifle" the country's economy. However, given that workers are able to vote and they make up the majority of Canada's population, O'Toole is pressed to try to win the support of at least some of them.
This has even driven O'Toole to lie about his own father, a manager at Oshawa's General Motors plant and a Tory MPP under Mike Harris. In the past year, O'Toole has insisted repeatedly that his father "worked" at GM and feigned empathy for unemployed auto workers at the plant. O'Toole has also had to dodge questions about his own support for anti-union legislation—notably Bill 377, which forced unions to release financially sensitive information so it could be used by employers.
More importantly, however, O'Toole's plan to "secure the future" offers no future for the bulk of society. Hundreds of thousands remain out of work. Business investment is collapsing. And there's nothing more than a "modest recovery" in sight for the oil patch—one in which employment is not expected to recover even to 2019 levels. All that is true despite the current Liberals procuring over $700 billion in corporate bailouts. The only future corporate Canada can secure, in the near term, is seemingly a future of less-secure employment and lower wages than in the past—whether the Liberals or Tories are in government.
O'Toole won't be able to win regular people with carrots when all the system can provide is the stick. That will leave the party struggling to grow its base. That, in turn, will leave it dependent on its traditional supporters.
O'Toole's suggestion that the party should aim to win votes from regular people makes sense to the party's professional politicians and even its big money supporters. They're eager to make minor concessions to win elections. But it immediately ran afoul of small manufacturing and anti-union construction interests—major players in internal Tory politics. Merit Canada chair and past Tory candidate Walter Pamic told the Globe: "I've spoken to many business owners who are also, coincidentally, members of the party or support conservative values, and they're not happy with it."
Who makes up the Tory base?
O'Toole's other efforts to soften his party's edges have also run afoul of the party's base.
Prior to 2020, O'Toole had a reputation as a "pragmatic" right-winger—not attached to social conservative fringe issues. As a candidate, however, he became a crusader against "cancel culture," a sworn enemy of Indigenous protesters, and a defender of the party's social conservative base.
Notably, last spring, CBC News reports he "courted directly" the supporters of MP Derek Sloan—one of Canada's most-prominent ant-abortion and pro-conversion therapy politicians.
O'Toole encouraged social conservatives to opt for him as a second choice. He told Sloan supporters, during the campaign, "he was the only MP in the party's Ontario caucus to take Sloan's side" in response to calls for Sloan's removal. O'Toole also promised a free vote for MPs on "matters of conscience" and to defend the "conscience rights" of anti-abortion doctors.
This likely helped swing the leadership race. The combined support of Sloan and Leslyn Lewis, the other social conservative candidate in the race, totalled over 14,000 votes—comparable to both front runners. CBC News noted "With about 21 per cent of Sloan's ballots, O'Toole was able to narrowly move ahead of [Rival Peter MacKay] on points after the second ballot." The role of these social conservatives, CBC noted, again proved "decisive." Second to Sloan, Lewis raised about $2 million and, after Sloan's elimination, had more "raw votes" than either O'Toole or MacKay on the second ballot. She was also the top choice in Western Canada—where much of the membership is concentrated, while O'Toole only led in Quebec.
In early 2021, Sloan was kicked out of caucus for accepting donations from self-described "White Nationalist" Paul Fromm. The social conservatives were not happy. That's a major factor for O'Toole as their views truly are wide-spread within the party. Nearly 70 per cent of Tory supporters reportedly believed Canada has "too many non-white immigrants." Only 23 per cent want the party to be firmer in stating it will not take away abortion rights. When interacting with supporters, O'Toole and past party leaders have had to field questions from deranged supporters at a seemingly increasing frequency. That includes questions defending statues of the founders of residential schools, questions about MP Cheryl Gallant's fears of "cultural Marxist" pedophiles running the federal government, and the "Pizza-gate" Conspiracy Theory.
Even with the maneuvres by the party establishment, anti-abortion organizers still managed to dominate nearly 40 per cent of the party's national council membership at this past convention.
Know your enemy
Should O'Toole lose the election, the divisions within the party could deepen.
As Maclean's noted, since the party was founded by a group around former Prime Minister Stephen Harper—as a merger of Western-based, rural Reform Party supporters and the Eastern, big Money Progressive Conservative party apparatus—these tensions have existed.
For the most part, while the party was in power, Harper could use his authority as a past Reform member from Alberta to keep the party's right-wing loyal. But O'Toole has no comparable tools.
Maclean's notes:
"The party's activist and donor base remains its right wing, overwhelmingly based in Alberta, Saskatchewan and the British Columbia interior. Stephen Harper lived in the party's geographic and ideological centre of gravity. Erin O'Toole doesn't. When there's tension between the party's factions, he's poorly placed to defuse those disputes. His roots are in Progressive Conservative parties in Nova Scotia and Ontario. And unlike Harper, who leaned heavily on Progressive Conservatives like Peter MacKay and Marjory LeBreton to explain to Tory alumni the benefits of unity, O'Toole has no prominent and loyal Alberta Conservative loudly protecting his right flank. If he picks up a few more points of support, none of this will matter. That's clearly his game. And if he doesn't? One veteran Conservative told me the party is unified for now, more or less, by the imperative of defeating Justin Trudeau. But if the Liberals win their majority back, Canadian Conservatism will have four years to revisit whether its various factions feel like sharing one party. And that's the kind of debate that takes place whether a leader wants it to or not."
That could very well boil over into yet another right-wing split—basing itself, at least partially, on the CPC's most right-wing elements. And, those elements will be eager to take away the rights of the working class, on a wave of right-wing backlash.