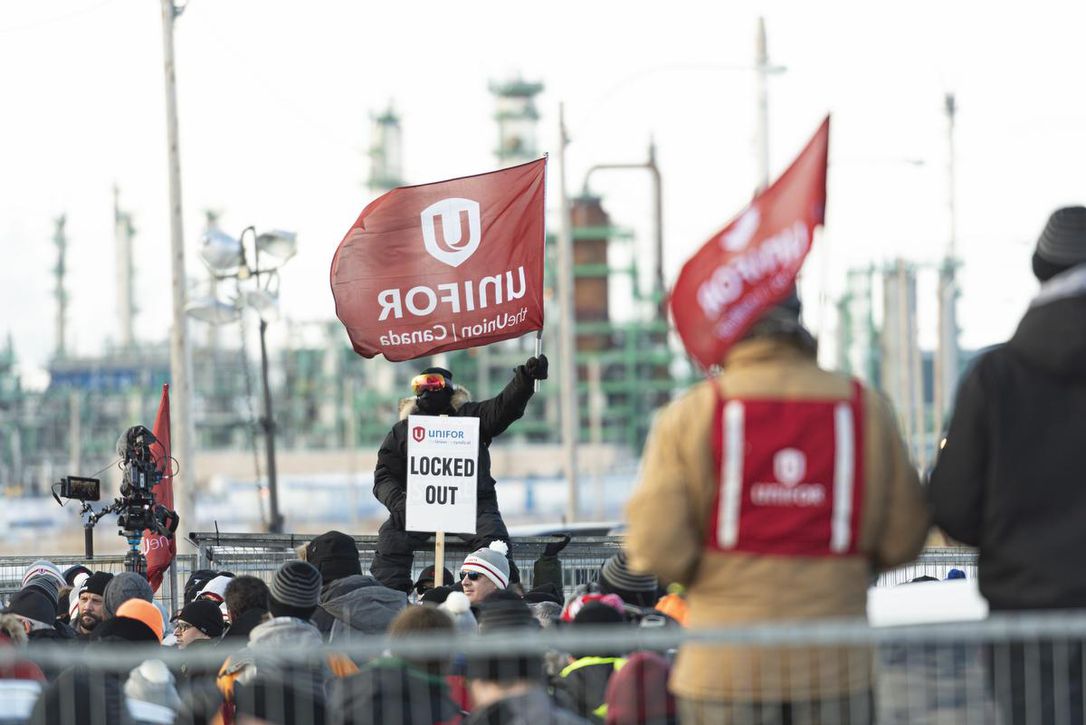 The Co-op Refinery workers have set a historic precedent for the Canadian labour movement. Since Dec. 24, these brave individuals have defied a court injunction ordering them to dismantle their barricades, and to re-open picket lines outside of the refinery. For decades, union leaders have cowered at the prospect of defying anti-union laws, arguing that, however unjust, union members had no choice but to accept them. Unifor 594 has since torn this argument to shreds, demonstrating in practice how to confront such laws. In doing so, they have set a marvelous example for workers everywhere—one that, whatever the outcome of this dispute, will not be easily forgotten.
In recent days, blockades have been set up outside of Regina in support of the refinery workers. These include a fuel storage facility in Carseland, Alberta, as well as a fuel station in Weyburn, Saskwatchewan—both of which belong to Federated Co-operatives Ltd. (FCL). Hundreds of Unifor members have also flown in from across the country to join the refinery blockade. Instinctively, these workers understand the significance of the refinery conflict, and see the issues at stake as their own.
However, while Unifor has escalated its action, so too have FCL and the courts. On Jan. 28, the union was charged with contempt of court for refusing to dismantle its blockade. This follows a $100,000 fine already levied against the union. Refusing to concede, FCL is attempting to undermine the union by force, force, and yet more force, while the courts and police are pleased to back them up.
Previously, Unifor had refused to dismantle the blockade should FCL continue using scab labour, and unless cuts to pensions—the issue at the heart of the conflict—were taken off the table. Those preconditions have now been dropped. As of Jan. 30, Unifor President Jerry Dias has announced that the union will "comply" with the court injunction, on the sole condition that FCL return to the bargaining table. It appears as though FCL have now accepted this condition, meaning that the blockade will soon be dismantled by the union.
In our view, this is a mistake. The dismantling of the blockade, as well as the reversal in preconditions, will no doubt be interpreted as a sign of weakness by FCL. To be clear: the union is now entering negotiations on more or less FCL's original terms. This may undercut the enthusiasm generated in recent weeks, including from 594's supporters, which can only further weaken the union's position. At the very least, the blockade should be maintained during negotiations, being the most valuable leverage these workers have. Unifor members have already been slapped with fines and jail time. What's a few more days if it means securing a better deal?
In addition, Dias has requested binding arbitration from Saskatchewan Premier Scott Moe should negotiations falter. This also would be a mistake. Moe is no friend of the working class. As such, it is hard to imagine that either he or the courts would ever impose a deal that isn't in the interests of FCL. Instead, refinery workers should insist on open bargaining with the company, so that whatever decisions are made are subject to the approval of their entire membership.
As negotiations begin, other union locals must step up their efforts to put pressure on FCL. The blockade in Carseland offers an example of how to do just that. These efforts must now be expanded to other FCL operations or those that handle FCL cargo. 594 may have been slapped with an injunction, but others have not. 594's fight for decent pensions and against unjust laws is that of the entire working class. For that reason, they must not be left unsupported.
In defying the law, Unifor 594 has already set a new standard for the class struggle in Canada. Their example, now unleashed, cannot be so easily put back into the bottle. Now, both the union and their supporters must hold the line, in hopes of raising that standard even higher.
Victory to the refinery workers!